During my brief stay in New Bedford, how could I not resist riding at least one SRTA route? I only had about an hour until my bus back to Boston was departing, so I had to do something quick. The 1 caught my eye: it runs every 20 minutes to a peninsula in southern New Bedford. Sounds great, let's do it!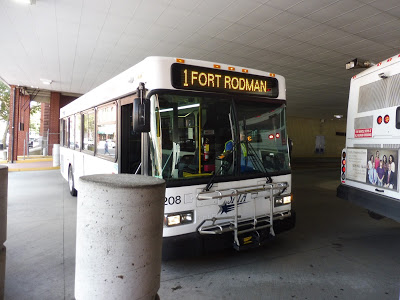 Taking good pictures in the SRTA terminal is hard!
After I tapped my CharlieCard (why does the SRTA, a system that doesn't even connect to the Commuter Rail, use it while systems like the GATRA and RIPTA don't?), we headed down 6th Street. There were dense buildings everywhere, and they continued as we turned onto Spring Street. Next, we went down Acushnet Ave, where the taller buildings from before became 2-3 story affairs.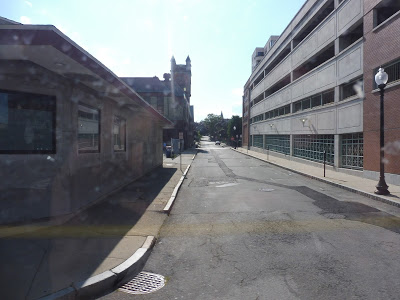 A pretty desolate side street.
We went alongside a monolithic apartment development for a while before turning onto Grinnell Street, which was lined with triple-decker apartments. They continued as we turned onto County Street, which also had a few businesses and churches along it. At one point there was a retail-heavy section where almost every building had a business on its ground floor.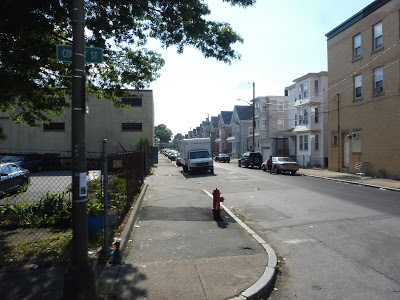 This picture is basically the 1 in a nutshell.
We eventually made turns onto Cove Street, then Rodney French Boulevard, and both of them kept up the businesses in three-story apartment buildings pattern. Next, we swung onto Brock Ave for a block, then Ruth Street, which was entirely residential for a bit. This was a jog to serve a big apartment building, and once we headed past it, we turned onto East Rodney French Boulevard.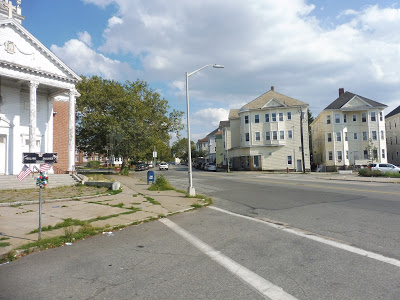 Making a turn.
We were right by the water, but it was sadly blocked by a big wall. There was some brief industrial scenery as we turned onto David Street, but it went back to those familiar triple-deckers soon enough. We came back onto Brock Ave, passing more apartments and businesses, as well as a high school.
I can see the water way down there!
One side of the street was occupied by a park for a bit, and as we continued south, some of the apartments became normal houses. We passed through another park, complete with a pond, and it was all low suburban houses after that. At the end of Brock Ave, the bus just made a u-turn and we headed right back up the way we came.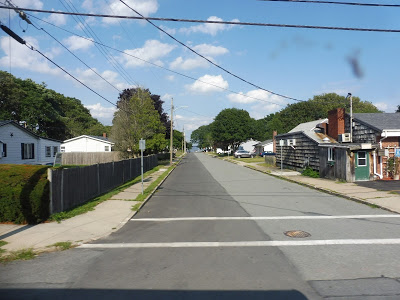 No triple-deckers? Where are we?!
SRTA Route: NB 1 (Fort Rodman)
Ridership: I can't find any SRTA ridership statistics, but I can say that when I rode this route, it was hoppin' – there were about 20 people who rode in each direction! Let me tell you, after a day on the GATRA, it was amazing to see this many people on a bus.
Pros: This is a nice short route with a lot of local ridership. It's also pretty darn frequent: weekday service is every 20 minutes, while Saturday service is every 40 minutes. I also like how only the outbound route makes the jog to serve that apartment building, since it speeds the bus up heading back the other way.
Cons: The SRTA seems like a busy enough system to be able to implement some form of Sunday service. I could totally see people using that on a route like this.
Nearby and Noteworthy: Triple-deckers, triple-deckers, and triple-deckers. Oh, also triple-deckers.
Final Verdict: 8/10
The 1 is a really solid route on a really solid network. I didn't get to experience much of the SRTA, but from my ride on this bus, it seems like a great system. Maybe someday I'll be able to come back and see some of its other routes…
Latest MBTA News: Service Updates