What the heck is this route and where did it come from? The Wareham – New Bedford Connection sprung up on the GATRA website with this announcement page, featuring two maps saying exactly the same thing, some points of interest at each terminus of the route, and the awkward sentence, "Starting February 6, 2017, GATRA and SRTA are starting a new bus service between Wareham and New Bedford." This is all a lot of hype for a route that only runs Monday, Tuesday, and Wednesday, isn't it??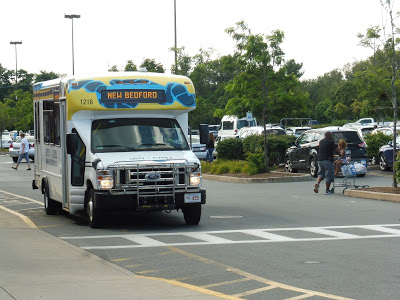 It gets its own bus, too?!
What exactly is the route? Well, this is a partnership between the GATRA and the SRTA to bridge the gap between the two systems and provide an important connection between Wareham and New Bedford. Okay, first of all, the SRTA is one of the better RTAs in Massachusetts (I'll talk about my ride on one of their routes later on) while the GATRA is one of the worst, so…that's an interesting partnership. Also, may I remind you that the route only runs Monday, Tuesday, and Wednesday???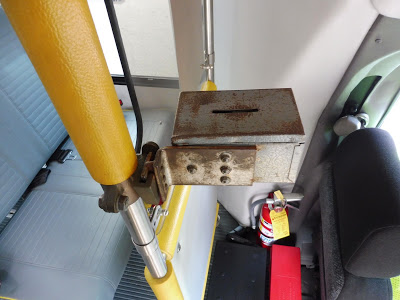 Cutting-edge farebox technology right here.
I couldn't see any fareboxes when I got on, so I assumed people just gave it to the driver. When I tried to do that, he pointed behind him at a rusty metal box. Oh my God, that is literally the farebox, isn't it? Aside from that, the minibus was fine, but I got a good laugh out of the insanely primitive farebox.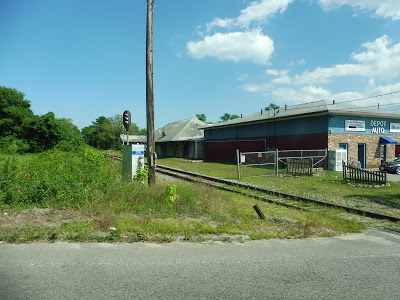 A single train track.
We headed down Cranberry Highway and turned onto Depot Street. This was residential for the most part, but there were some industrial buildings when we crossed a train track, then turned onto Minot Ave, joining the 1. It was mostly woods, aside from the occasional housing development.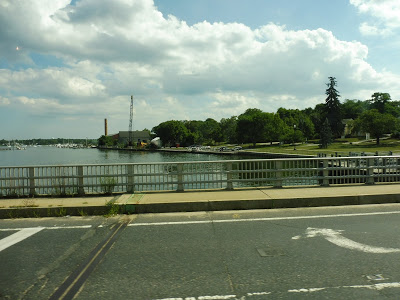 Lovely!
The street became Narrows Road, which was mostly marshy aside from a shipyard. Next, we crossed over the Wareham River and merged onto Main Street, going through Wareham Village. There were a lot of charming buildings that could theoretically house retail, but a lot of them were either vacant or boring.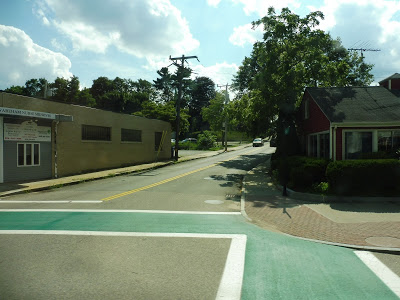 Some side street.
After leaving the village, we turned onto Chapel Street, passing the Wareham Library, Middle School, and Town Hall. There was a mix of houses and retail from there, including a Shaw's that we had to deviate into. The road turned into Marion Road, and the scenery got pretty darn woodsy for the most part.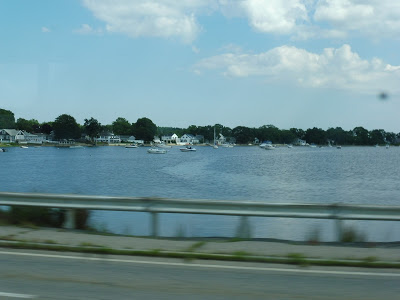 Wow!
That didn't last too long, though, as we soon crossed over the Weweantic River, giving us an absolutely fantastic view. This took us into Marion, where there were more trees and houses and the street became Wareham Road. We also got the occasional retail break, such as a shopping plaza and a fish market.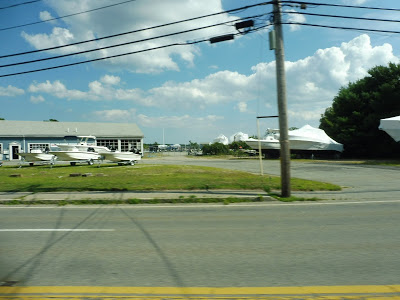 Some boats!
After going by a cove, more businesses started to show up along the road. Soon after that, we arrived at a cluster of retail, but it was basically just a few gas stations and suburban businesses. We went by a private boarding school and the Marion Police Department as we curved south on Mill Street, then it was more woods. The route unfortunately bypasses Marion Center, which looks incredibly charming – it's about a ten minute walk from the route.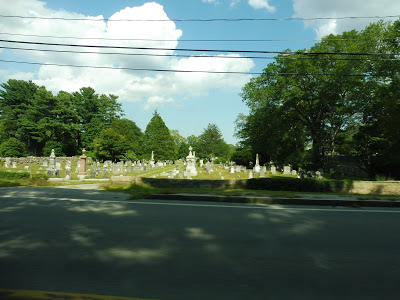 A historic-looking cemetery.
After a few industrial buildings and a cemetery, the road became entirely sparse houses and forest, eventually turning into only the latter. Suddenly, out of nowhere, a huge school came up…and then it was woods again. However, as we entered Mattapoisett, some residential and retail buildings started to appear once more.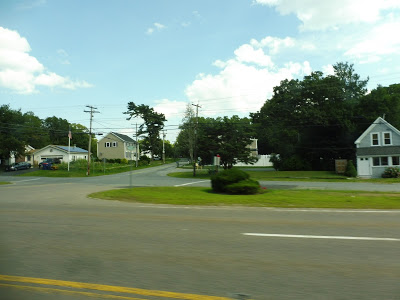 Some houses.
For the next while, it was mostly just houses and suburban businesses along what was now called County Road. There was one point where the retail with parking lots got just a little bit denser, and I think that might have been "downtown Mattapoisett," in which case…gross! It became Fairhaven Road after that mess, and it continued to be that mix of houses and businesses.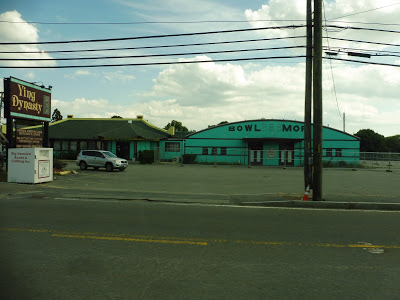 Part of "downtown Mattapoisett"…ew!
We went over the narrow Mattapoisett River, and after more of the same scenery, the road became Huttleston Ave and we entered Fairhaven. This leaned a little more on the residential side of things, but it was still that mix that we had been seeing for most of the route (albeit a little denser). All of a sudden, the road got really wide and a slew of shopping malls came out of nowhere.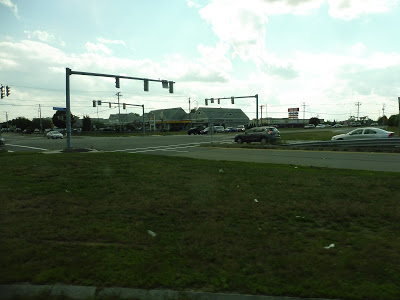 Aw man…
We turned onto Route 240 at this point, which was basically a highway. Next, we turned onto Bridge Street, then Mill Road, in order to serve the Southcoast Health System, two hospitals. We returned to Route 240 and continued north. It soon led us to an interchange with I-195, onto which we headed west for an express section!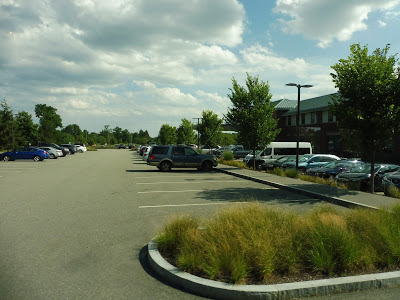 Serving the hospital.
The scenery was basically forest all the way until we crossed the Acushnet River into New Bedford. Once there, we took Exit 15 onto Route 18, another highway that went by a lot of industrial buildings. We eventually took an exit onto Purchase Street, which curved its way past a variety of dense buildings with different uses. Things started to get denser, but before we entered the heart of downtown New Bedford, we turned into the SRTA Terminal, finishing quite a long and diverse trip.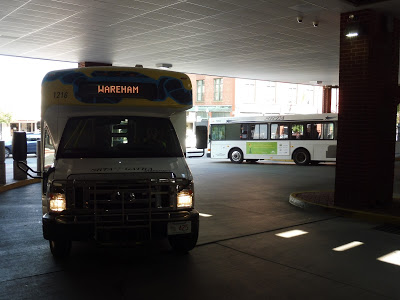 A minibus with a full-sized bus behind it…this just doesn't look right!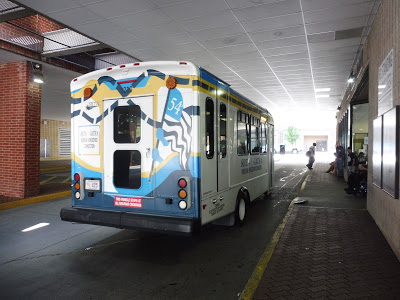 The back of the bus
GATRA Route: Wareham – New Bedford Connection
Ridership: This is a very new route, so there aren't any public ridership statistics yet. My ride had two other people – one of them was a very kind woman who talked to me for much of the trip, and made the journey unique and enjoyable. Two people is of course terrible ridership, but we'll see why it's that low soon.
Pros: This route has so much potential! It serves some decently populated towns right along their main drags and connects up important sections of the region, as well as two bus systems. Seriously, this route could be great.
Cons: The GATRA and the SRTA worked for four years to make this route happen. You would think that would mean they wouldn't, I dunno, set it up to fail? Honestly, those 2 people seem like a lot more when you see that the route runs Mondays, Tuesdays, and Wednesdays only, with trips at 7:30, 9:30, 2:00, and 4:00. Yeah, you know what, if two whole people are willing to ride this thing with that schedule, that's a heck of a lot of riders!
Nearby and Noteworthy: This is technically the only way to get to New Bedford by local transportation (Commuter Rail to Lakeville Connector to this)! Also, Marion Center looks really charming if you're willing to make the short walk.
Final Verdict: 2/10
If this route ran, say, every hour throughout the week, I could see it getting a 6 or a 7…as well as a lot more riders. I seriously think that if two people are willing to use this (and obviously more people on other trips) in its current state, it could be a really successful route if it had an actual schedule! As it is, though, this route is absolutely useless. Just look at this article try to come up with ways you can use this thing! For example, when talking about making connections from GATRA routes in Wareham, it says "the buses run just a tad earlier than the Connection, arriving at Cranberry Plaza well before it arrives. However there are several fast food restaurants in the area to get a cup of coffee while you wait." If that's not reaching to make the route sound good, I don't know what is.
UPDATE: 5/10
Thank goodness, it finally happened – this route now runs five days a week! It still has the same schedule every day, but this is a vast improvement over how it ran before.
Latest MBTA News: Service Updates