This is one of the biggest jumps I could possibly make – we're going from the PVTA in western Mass to an MBTA station just a few towns away from Cape Cod. And just like the Cape itself, Middleborough/Lakeville is a boring place. Boom, roasted! Sorry, I just don't like the Cape that much…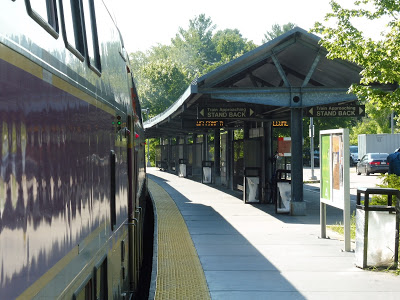 Looking down the platform.
Yes, we've got a typical Old Colony station on our hands. You've got all the classics: a typical 90s shelter, some benches, and some wastebaskets. The platform extends beyond the shelter itself with a few more benches, but this is actually a longer shelter than usual.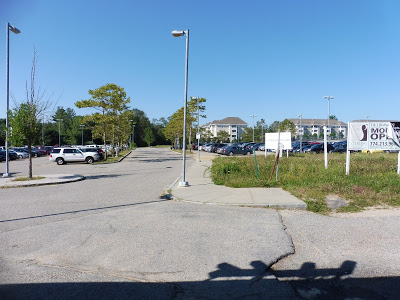 Some of the parking lot, with some transit-oriented development in the background.
Of course, this station offers a ton of parking: 769 spaces to be exact. The T got rid of its availability percentages on its new website, so unfortunately, I have no idea if this lot is big enough. Bikes get a scrawny 8 spaces, but it's something, and we're in a pretty suburban area. Finally, the GATRA runs two buses here, and I totally definitely did not ride one of them…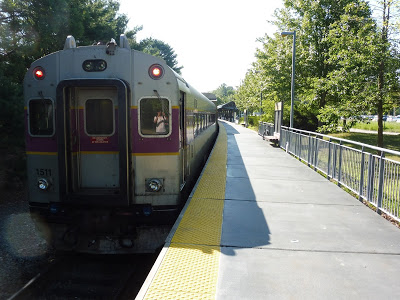 Oh darn it, there's my reflection in the train window…
Station: Middleborough/Lakeville
Ridership: This is a busy station for Commuter Rail standards, with 886 riders per weekday. I came here on a reverse-peak morning rush trip, so of course my train was quiet, but there was a steady stream of people getting on to go back into the city.
Pros: It's a typical Old Colony station. That's basically all there is to it.
Cons: Aside from the boringness and the fact that they opted to make a huge park-and-ride instead of serving the downtown, not much.
Nearby and Noteworthy: Middleborough has what appears to be a decently-interesting town center, but the station is located far from it. Instead, you can visit such amazing places as: CVS! Sterling Place Apartments! And the Massachusetts Department of Environmental Protection! Wowie!
Final Verdict: 7/10
Not much to say – it's what you would expect from an Old Colony station. Yay!
Latest MBTA News: Service Updates