It's so weird imagining a deviatory loop getting busy, and yet here we are! The 34 and 35 run a crazy figure-8 loop around the UMass campus in opposite directions, and we're about to see how many deviations are possible within it!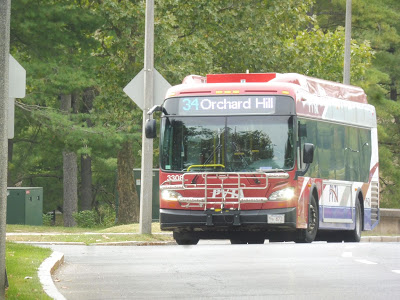 The 34 coming into Southwest.
We headed down Massachusetts Ave for a bit, passing mostly parking lots and Haigis Mall. We turned onto North Pleasant Street next, running past the three UMass stops that most other routes serve: the Studio Arts Building, the Integrative Learning Center, and the Graduate Research Center. After all that, we made our way onto Eastman Lane at a roundabout.
A pond along Eastman Lane.
We went by some housing for a bit, then it became woodsey until the UMass Police Station. There, we turned onto East Pleasant Street, then deviated into Olympia Drive. Also, within that deviation, we had to make another deviation onto Mather Drive! This whole thing was to serve UMass Admissions, a housing development, and a fraternity.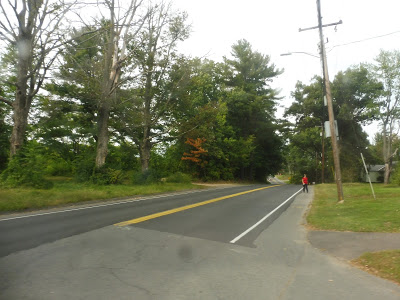 A forested road.
We returned to East Pleasant Street, but then turned off it pretty quickly onto Orchard Hill Drive. This was another deviation, this time to serve the Orchard Hill residential area. We passed lots of big dorm buildings as we made our way through the deviation before making our way back onto East Pleasant.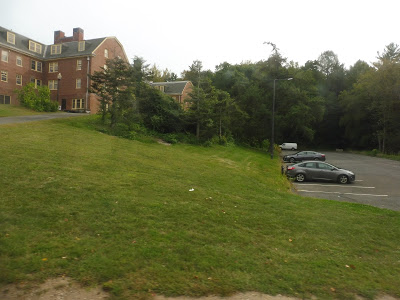 They call it Orchard HILL for a reason!
It was all residential along here now, with normal, non-student housing. We came pretty close to Amherst Center, but we swung around onto North Pleasant Street before we could get there. This took us back up into the UMass campus, where we did that exact same section past the three main stops that we had done before.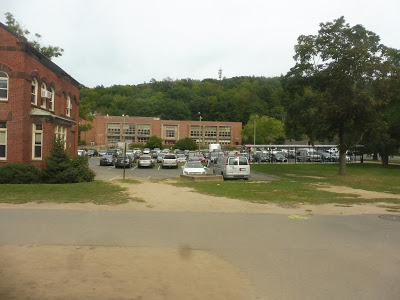 Somewhere in the campus…
This time, however, we made a left at the roundabout, going down Governors Drive. We passed a lot of UMass engineering buildings, as well as the UMass Transit bus garage. Soon after that, we had to do a deviation to serve a parking lot – Lot 12, to be exact. Yay.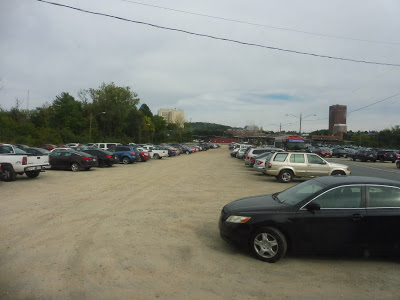 Hey, a 35 is making the deviation too!
We came back to the main road, which was now called Commonwealth Ave. It took us past the Mullins Center and the huge athletic complex around it, as well as the dorms for the UMass Honors College. We turned onto Mass Ave again briefly, then headed down University Drive. Here, we made a loop via Stadium Drive, which served more athletic facilities, some parking lots, and the UMass Child Care Center. Finally, we went back up to Mass Ave and arrived at the stop where we had started, Southwest.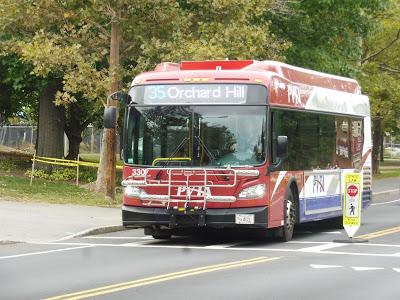 A 35 at the Integrative Learning Center.
PVTA Routes: 34 (Campus Shuttle/Northbound) and 35 (Campus Shuttle/Southbound)
Ridership: These routes both get pretty good ridership – 844 people per day for the 34 and 1,120 people per day for the 35. On a trip-by-trip basis, though, certain ones can be empty, while others can be packed. It all depends on the time of day.
Pros: Both routes run every 15 minutes on weekdays, a good frequency for a campus shuttle. Weekend service is much less frequent, with no 34 service and a 35 every 45 minutes, but I doubt it needs to run more often than that. The routes are very useful for connecting further-out parts of campus, such as Southwest and Orchard Hill, and since they go in both directions, you shouldn't have to suffer through too many deviations to get to where you want to go.
Cons: That being said, the routes are still very deviatory. Most of the time the deviations do get people, but they can feel a little annoying and unnecessary sometimes. Also, the morning section of the 35's schedule has a really bad typo where some trips lose time at certain places…it doesn't make any sense.

That third timepoint is looking a little strange…
Nearby and Noteworthy: I mean, they're literally entirely within the UMass campus, so that's all that's nearby and noteworthy.
Final Verdict: 7/10
I can't bring myself to give a route with so many deviations higher than a 7, but the 34 and 35 still do their job great. They run frequently, and they can reliably get people to basically wherever on campus they want to go. What more do you need? The route can even travel back in time, if the schedule is to be believed!
Latest MBTA News: Service Updates