You thought Harvard's shuttle system was confusing? Well, yeah, you're right, but here's a college shuttle that may be able to give Harvard a run for its money. I'm talking about the OWL, the PVTA's shuttle within Westfield State University!
Why's it stopping all the way over there??
"Where are you going?" the driver asked accusingly as Sam and I got on. Great, one of these drivers. I said, "WellIwriteablogaboutpublic-transportationandI'mtryingtofinishthewholePVTAandthisisoneofthelast-routesIhavetodosocouldwejustridearoundthanks." "Uh, sure, you can ride around," the driver said. Nailed it.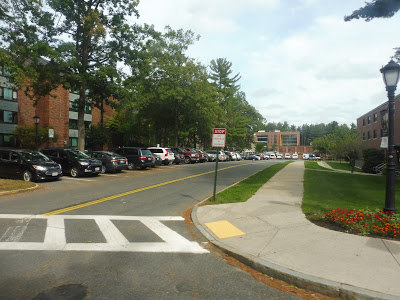 Coming out of Scanlon Hall.
We headed down Western Ave, passing houses and a few WSU buildings, then we headed down into the university's South Lot. After looping around the very busy parking lot, we returned to Western Ave and went the other way. We went by Scanlon Hall without stopping and eventually made our way into the university's Administration Building. Since the actual stop was in an impossible-to-get-to part of the parking lot, we just sorta stopped on one of its main roads, briefly blocking traffic. Finally, we came back to Western Ave one more time, passing a stop for the Athletic Complex, and returned to Scanlon Hall.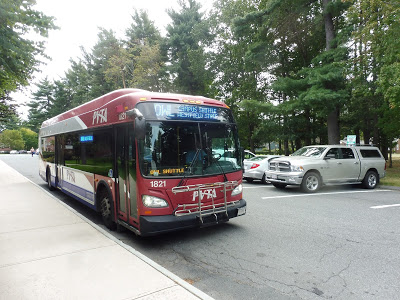 That was quick!
PVTA Route: OWL (Westfield State University Shuttle)
Ridership: No stats on this one, either, but my trip was very quiet, with only about five people the whole time. Maybe the trips when classes end are busier?
Pros: I like that the route times with class start and end times. That's very clever. Oh, and it's free.
Cons: The route has very frequent service, with a bus every 13 minutes. Oh wait, this trip has a 14-minute gap. Hang on, here's one with an 8-minute gap! Why is there a 40-minute gap in the middle of the day? Wait, wait, there are certain trips that don't serve South Lot? And here's one that doesn't serve the Administration Building! WHY IS THIS SO RANDOM????
Nearby and Noteworthy: Westfield State University. That's it.
Final Verdict: 2/10
I swear, this bus just does whatever it wants, whenever it wants. It only has four stops, how the heck is it this confusing? Not to mention, each stop has a certain amount of layover time, and that always seems to be random, too! Also, why is the PVTA stuck with this thing when WSU has its own bus that literally does the same route? Sure, it only goes from Scanlon Hall to South Lot and it runs every two hours, but it could easily just replace the OWL! This is ridiculous.
Latest MBTA News: Service Updates