What, you thought I was done with the PVTA? Nope, I still have to do the school year routes! Sam and I took Peter Pan out there recently so that I could truly complete the system. Let's start things off with the P11, an express route from Springfield to the Holyoke Community College!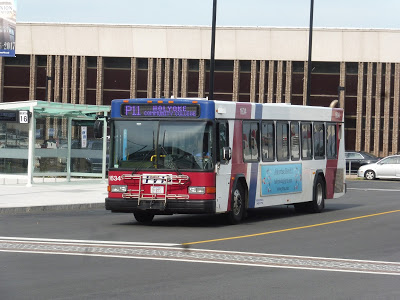 Our last bus from Springfield!
We boarded the bus at Union Station, but before it can get onto the highway, it has to do a little loop through Springfield. Thus, we went down Dwight Street first, running by the backlots of downtown Springfield. We soon turned onto Harrison Ave, making a pretty busy stop along there, then we turned onto Main Street, running down the city's main drag.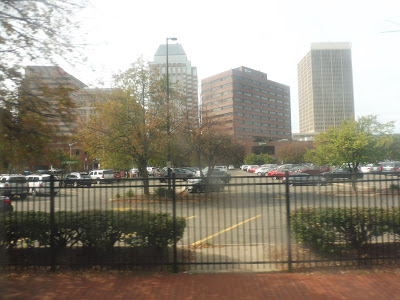 Our last time seeing this "beautiful" "skyline."
We went under the Union Station tracks, coming close to the station again, but we kept on going. After a post office and some office buildings, we merged onto Plainfield Street, then immediately took an on-ramp to I-91. Express time!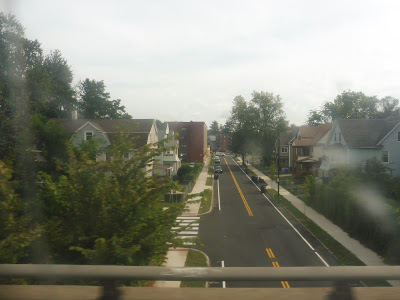 A street seen from the highway.
We had somewhat urban views for a bit, including of the PVTA garage, but soon it got woodsey. I-391 split off from the highway just before we crossed the Connecticut River, offering an amazing view as always. The woods continued on the other side.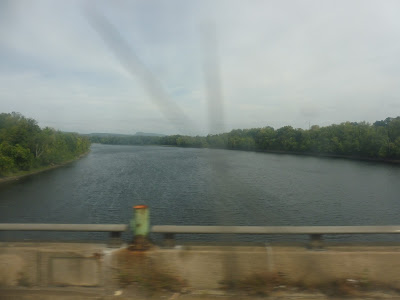 Lovely!
We went over I-90 and its corresponding interchange, then the sight of the huge Holyoke Mall let us know that we were almost there. Thus, we took Exit 15, then turned onto Lower Westfield Road and Homestead Ave. It was fairly industrial near the highway, but it soon turned residential.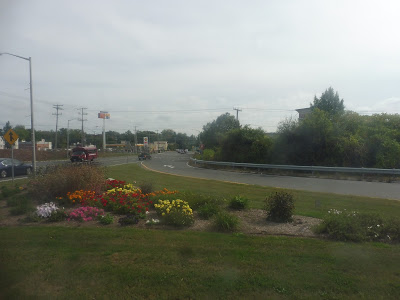 Coming out of the interchange.
We passed a school, then a few businesses when we turned onto Westfield Road. Next, we turned onto Doyle Drive, taking us on its windy woodsey path towards the Community College. We went by the Kids Place, then made our way onto Campus Road. Finally we arrived at the main campus of Holyoke Community College, and in typical PVTA fashion, the route was very very early. Hooray!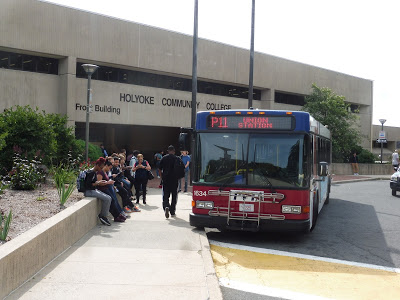 Hey, that's red!
PVTA Route: P11 (Holyoke Community College/Springfield Express)
Ridership: The ridership on the P11 is great. It gets about 600 riders per day, which doesn't sound like a lot, but since the route doesn't have too many trips, it averages out to about 30 people per trip. That's right on par with mine, which did indeed have about 30 people, all going from Springfield to the community college.
Pros: This is a really fast way of getting from Springfield to Holyoke Community College – the trip is scheduled to take about 20 minutes, and since this is the PVTA, the bus is likely to be early! The schedule for the P11 is good too, with a bus every hour on school days only, from 8 to 5. There are additional trips at 5:30 and 9:30 PM on Mondays through Thursdays, which I don't entirely understand, but I'm sure they serve some purpose.
Cons: The timetable is set up really weirdly: why is Harrison Ave in Springfield the main timepoint, rather than Union Station? It's not a huge deal, but it makes the schedule hard to read, at least to me. Maybe the ridership is bigger from Harrison Ave than Union Station.
Nearby and Noteworthy: It's basically meant to serve Holyoke Community College exclusively, so I guess that's that!
Final Verdict: 8/10
The P11 serves its purpose very well, transporting students to the community college in the fastest possible way. It gets a lot of riders per trip, and I'm pretty sure that college students get a free ride? I might be wrong about that, since I can't find any information on it anywhere. I guess it doesn't really matter either way, since this route is still great!
Latest MBTA News: Service Updates