Here's another lost PVTA bus! The R14E was a rush hour-only (mostly) express route from Springfield to, as the name suggests, the Agawam Industrial Park. It's gone now, but I rode it over the summer before it was cut, so we can see what it was like.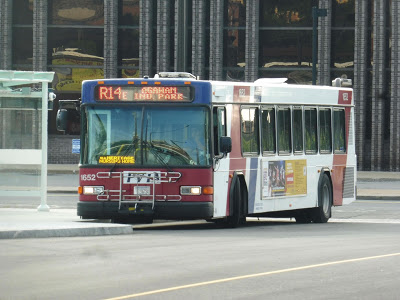 The bus at Union Station.
From Springfield Union Station, we headed down Dwight Street, which was generally urban, with buildings and parking lots. Next, we turned onto Harrison Ave, going through the heart of downtown Springfield and over the Memorial Bridge into West Springfield. We went around a rotary and merged onto Route 5, beginning the express portion that gave this route its "E" designation.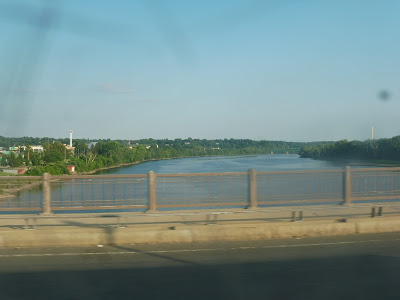 Crossing the Connecticut River.
The highway was mostly woods, and we moved quickly down it. We went over the Westfield River, and soon after that, we reached another rotary and merged onto Route 57. This highway allowed for some views of the surrounding buildings, mostly houses, but we soon left it on the Main Street exit. After some suburban businesses with parking lots, we deviated into the Heritage Nursing Home facility – one of this route's functions was transporting its workers.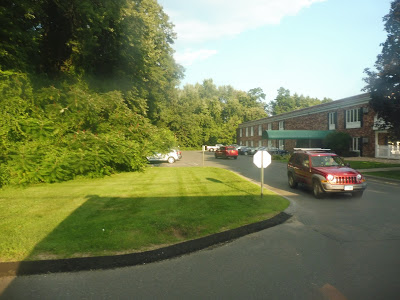 A building within the complex.
We now went south down Main Street, which was mostly houses with a good smattering of businesses as well. We also went by a school and a few churches. Next, we turned onto the residential Elm Street, which became Silver Street. There was a shopping plaza and some other suburban businesses at the intersection with Suffield Street, though.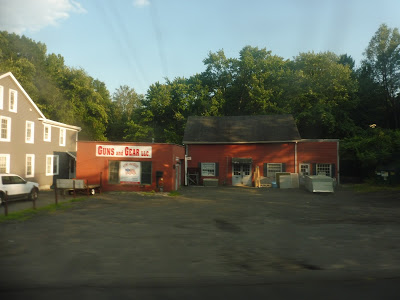 "Guns and Gear, LLC."
It started to get a little industrial from there, with a few stretches of houses here and there. Once we made our way onto Bowles Road, though, it was all industrial. We just passed lots of random weird corporate buildings and offices before just kinda turning around and laying over at the end of the street. Sure!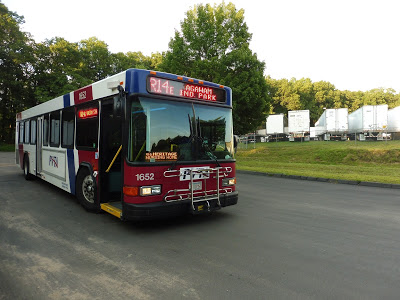 What a weird place to end!
PVTA Route: R14E (Springfield/Agawam Industrial Park)
Ridership: I wish I could find ridership numbers online for this one, but I can't. I took the last trip at 6:30, and it only got about three riders – I really want to know if the other ones got more people.
Pros: This was a fast, convenient way of getting to the Agawam Industrial Park and the Heritage Nursing Home – the express portion was awesome.
Cons: The times for the route were really weird: 6:35, 1:30, 3:00, and 6:30. I mean, maybe those had something to do with the hours of the industrial buildings, but they seem to miss out the evening rush entirely!
Nearby and Noteworthy: Lots of industrial buildings, I guess, if that's your cup of tea.
Final Verdict: 6/10
I dunno, I'm kinda ambiguous about this one. It was fine, I guess, but the schedule times and ridership numbers were questionable. Still, it was a lot better than what the route is like now – now they stick this thing along the regular R14, with trips at 6:15, 2:15, 3:15, and 4:15. What's the point of running it with the local route, though? All it does is take ridership away from the normal R14 trips. It really isn't helping anyone to run the route this way, and it takes much longer. Whereas the express trips could go out to Agawam and back in 55 minutes, the new local trips take 63, making it harder to interline or do another trip. Yeah, it's kind of a mess now…
Latest MBTA News: Service Updates