The SL2 now, huh? We're really gonna review SL2 stops? We're gonna walk around an industrial area to review shelters and signs? Sigh…duty calls, I guess…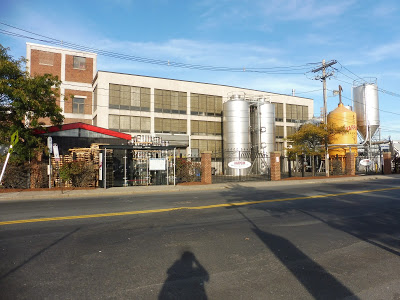 I think the SL2's been drinking some of the Harpoon Brewery's exports, am I right?? Ahem…this is Harbor Street.
Station: Harbor Street
Ridership: 94 boardings per weekday…something tells me a lot of the ridership will be like this.
Nearby and Noteworthy: BEER BEER BEER BEER BEER
Final Verdict: 2/10
This station offers shelters on both sides, which I guess is nice, especially since outbound ridership from here is basically nil. That being said, apparently the Silver Line doesn't even stop here in the outbound direction, since the outbound side just has a sign for the 4! Whoopsie!
Station: Tide Street
Ridership: This is the busiest stop on the independent section of the SL2, with…461 riders per day? Oh…that's not a lot…
Nearby and Noteworthy: No, just some factories and weird buildings.
Final Verdict: 3/10
This one improves slightly upon the last one with the inclusion of wastebaskets on both sides! It also correctly implements Silver Line signs in both directions, which is certainly a step up.
Station: 23 Drydock Avenue
Ridership: They moved the stops a bit since the last Blue Book came out, so I guess I'll use the data from the former 25 Drydock Ave stop: 171 boardings per weekday.
Nearby and Noteworthy: This stop is dominated by the huge Design Center!
Final Verdict: 2/10
It's a fine shelter, but there's no sign. How are people supposed to know what bus stops here?
Station: 27 Drydock Avenue
Ridership: This one isn't really comparable to anything that existed before…maybe we could split the 25 Drydock Ave ridership in half?
Nearby and Noteworthy: The Design Center again.
Final Verdict: 1/10
This one has the opposite problem of 23 Drydock Ave – this is just a sign!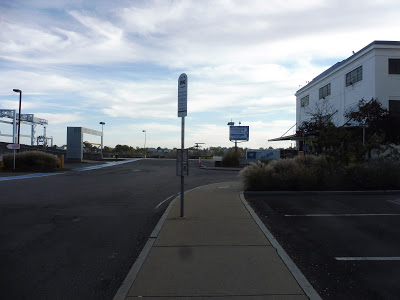 The Black Falcon corner stop.
INTERMISSION: This stop on the corner of Black Falcon Ave and…uh…Black Falcon Ave is only served after 8 PM and during snowstorms. It seems like buses also stop here on weekends (instead of going around the Black Falcon loop), but I don't think they're supposed to do that. This isn't an actual stop, per se, but I did want to give it a mention.
Okay, this is a weird one, so I'll dedicate a bit of time to it. The SL2 actually goes out of its way on a deviation to serve this stop. It runs out next to the water, loops around to the sign, and then just rejoins the regular route. It's so strange!
And then there's just this unused shelter…
Station: 88 Black Falcon Ave
Ridership: 124 riders per weekday.
Nearby and Noteworthy: Geez, I dunno…just another industrial building.
Final Verdict: 1/10
This one is just stupid. It's pointless for buses to deviate an extra block – I'm sure people can walk that much extra to get to the corner stop described above, because that's what the route should use. This loop is a waste of time.
Station: Design Center
Ridership: A whole 48 people per weekday. Geez…
Nearby and Noteworthy: The edge of the Design Center, as well as the Black Falcon Cruise Terminal. And the Thompson Island Ferry terminal, for anyone who wants to deal with that boat's crazy schedule. I should ride it someday…
Final Verdict: 1/10
Yes, it has a shelter and a sign and everything, but I just can't get over the stupid placement of this thing – why is it to the west side of the intersection? That means the bus has to travel all the way around the block to get here. It really couldn't have just been placed on the eastern side or on Design Center Place so vehicles could just turn? Sure, there wouldn't be room for a layover point, but the route could easily layover somewhere else, such as 88 Black Falcon (if that deviation is gonna be there, it might as well be useful).