Let's take care of a one-off Fairmount Line review, shall we? This is Morton Street. It's a Fairmount Line station in Mattapan. That's all the background you need.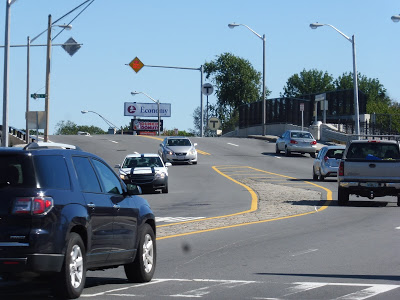 There it is!
Morton Street Station is located on the road of the same name, a four-lane behemoth of speeding traffic. It's too bad, then, that the station entrance is only on one side of the road, with no crosswalks for a while on either side! It's not too big of a deal, I guess, but it's definitely a little annoying. The entrances are marked with a few T symbols and station signs. There's a secondary entrance to the outbound platform on Flint Street.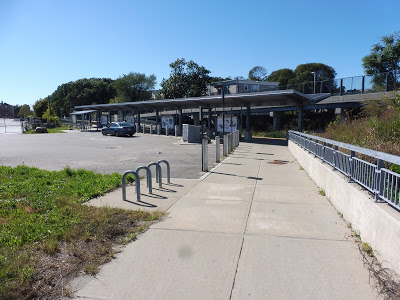 Coming down on the inbound side.
The inbound side of the station has a lot more amenities than the outbound, such as a staircase and a ramp (the other side just has the latter) and some bike racks. This side also has a little parking lot, which is interesting. The MBTA website claims there's no parking here!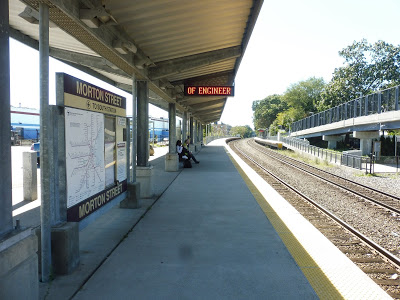 The platform.
Morton Street has a simple Fairmount Line platform. It's insanely long for no real reason, and it's entirely high-level on both sides. There are shelters near each entrance, with benches stretching all the way down the platform. The station features some historical information and photographs about the area on some its signs.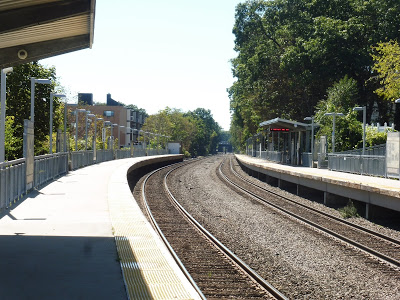 No train picture, unfortunately, but here's another one of the platform.
Station: Morton Street
Ridership:
Like all Fairmount Line stations, Morton Street has exceptionally high ridership: a whopping 130 inbound riders per day. If that isn't huge ridership, I don't know what is. South Station, you've got competition!
Pros: As a normal Fairmont Line station, Morton Street features luxurious high-level platforms, beautiful convenient shelters, and more benches than are probably necessary, since this thing can't generate any kind of ridership with an hourly Commuter Rail service because this is destined to be a rapid transit line ARGHHHHHHHHH!!!!!
Cons: I gotta say, this station is somewhat lacking in the wastebaskets department! Other than that, it's really just the fact that there needs to be way more frequent service here, because the Fairmount Line as it is is just a joke.
Nearby and Noteworthy: There are some businesses to the east of this station, but they don't look particularly appealing…
Final Verdict: 7/10
It's a Fairmount Line station. The end!
Latest MBTA News: Service Updates