The G3 is the least "trunky" of the three routes that run from one end of the system to the other via Union Station. I mean, more than half of the northern G3 parallels the X90 (although I would love for that to change), while the southern section ends on really tiny cute residential streets! This is an interesting route.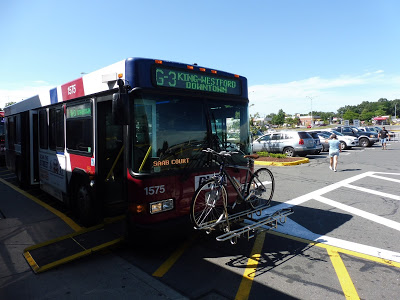 Oh look, its tongue is sticking out!
The G3 starts at Springfield Plaza, and since it was a Saturday, we could get right to the route – on weekdays, it has to make an extra deviation to the Springfield RMV after the plaza. We went onto Liberty Street, and after a brief bit of woods, there were houses on both sides. As we got far enough south, businesses finally started to appear along the road.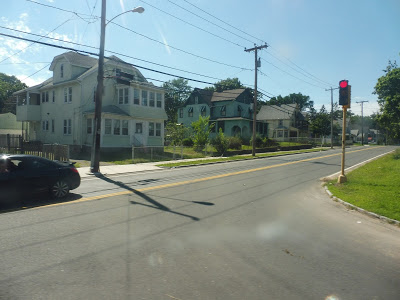 Liberty Street runs at an angle to other streets.
Eventually we reached a big rotary around an interchange with I-291. At this point, the X90 left to go onto Armory Street, and so we were finally alone on Liberty. There were dense houses on one side and industrial buildings on the other, but eventually the latter moved to both sides.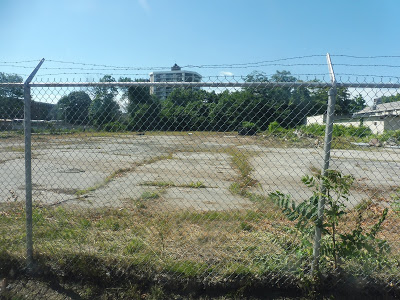 Welp…
We made a brief deviation down Franklin Street to serve Saab Court, which had a few sizeable apartment buildings. Coming back to Liberty Street, it turned out we were pretty close to Union Station – we pulled in there after a few blocks. After a brief wait, we were off again.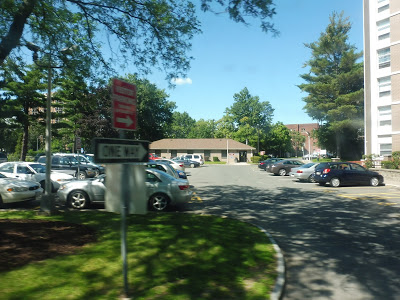 At Saab Court.
We went down Main Street, which went under the Union Station train tracks and into downtown Springfield. Next, we turned onto Harrison Ave, Dwight Street, and State Street, passing various urban buildings. State Street went by the Springfield Museums, the US District Court, and the Springfield Armory.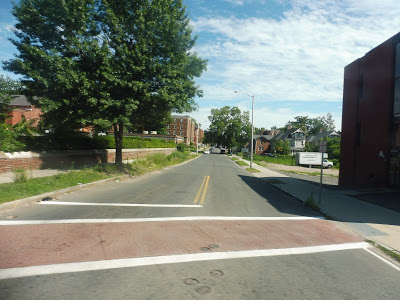 A side street.
There were lots of businesses along here, as well as Springfield Technical Community College. All of a sudden, we entered our unique section by turning onto the narrower Hancock Street. There was retail for a little while, but once we turned onto King Street, it was all houses.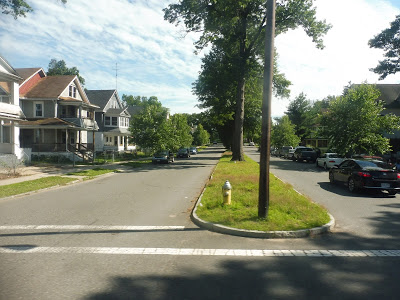 This is so pleasant!
There was a big cathedral eventually, and soon after that we saw some athletic facilities for Springfield College. We turned onto Westford Ave next, then Westford Circle, which had a nice leafy median. After that, we turned onto Middlesex Street, which was the start of the bus's loop to turn around – I got off along here.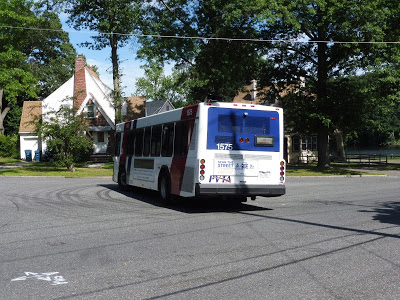 See ya!
PVTA Route: G3 (Springfield Plaza via Liberty/King-Westford)
Ridership: It may not get the highest ridership in the world, but it's above the threshold of 20 passengers per trip – about 23 people. It adds up over the course of the day, too; this is the 10th-busiest route on the system, which is pretty good!
Pros: The G3 is sort of a nook-and-crannie route, covering little parts of Springfield that other routes don't serve. It does this with relatively good frequency, at least on weekends: every half hour on Saturdays and every hour on Sundays (when ridership is less).
Cons: More than I realized, honestly. First of all, there's that stupid weekday RMV deviation the PVTA added recently…WHY IS THAT A THING? For one thing, the route already serves one down near Union Station, and for another, the deviation made the weekday schedule really weird – it has 30-minute gaps, 40-minute gaps, 45-minute gaps…it's just a complete mess. Also, the nature of the route requires it to spend a lot of time paralleling other ones. It's not so bad with the State Street corridor in the southern section, since it basically has to use that, but in the north, so much of the route is with the X90. It's even worse on Sundays, when for some stupid reason, the route is extended to Chicopee Falls. WHY? All it does is parallel the X90 more, and they're not even coordinated – they run about 10-15 minutes apart. The route could go way more frequently if it was cut back to Springfield Plaza! Sigh…
Nearby and Noteworthy: I gotta say, the southern end of this route is really pleasant. It's quiet, peaceful, and right by a calm river!
Final Verdict: 6/10
Wow, that's too bad. This route has so much potential! If the X90 were to go onto Saint James Ave like I proposed, two of the G3's problems would be solved: it wouldn't have to parallel the X90, and it wouldn't have to serve the RMV, meaning it could go back to normal half-hour frequency on weekdays. As for the Sunday extension to Chicopee Falls…yeah, just get rid of that already. I don't know why it even exists in the first place.
Latest MBTA News: Service Updates