How do I introduce the MBTA bus route that will be this blog's last? I still find it hard to believe that the thing I dedicated my life to for over four and a half years is…over. The last T bus route. This is it. We've been through a lot, everyone, but I think the 171 featured the biggest challenge of all: surviving Dudley Station at 4 AM. Ouch!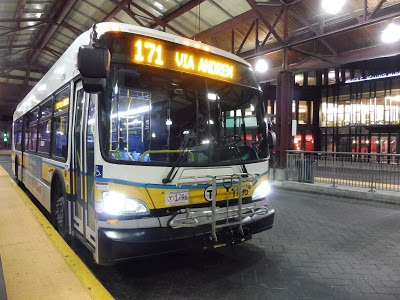 1796…the last bus.
How we actually got to Dudley is another story that you'll see at some point in the future, but the point is that our bus left the labyrinthian, sketchy bus station at 4:20 AM. We started out going up Washington Street, but we turned onto Melnea Cass Boulevard outside of a ghostly Silver Line shelter that wouldn't see service for an hour. After a brief one-block run on Melnea Cass, we turned onto Harrison Ave.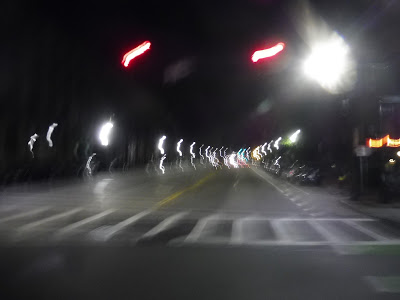 Guys, it's Mass Ave! Can't you tell?
There were parking lots for a bit, then we got South End apartments on one side and Boston Medical Center buildings on the other side. Once we turned onto East Concord Street, we went right into the hospital campus, which continued as we turned onto Albany Street. Next, it was Mass Ave, which took us right into the industrial Newmarket area.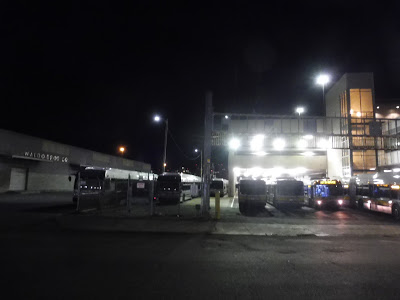 Buses at Southampton Garage getting ready to go.
We merged onto Theodore Glynn Way, then onto Southampton Street, which took us past the Southampton MBTA bus garage. This route is very well-used by early morning MBTA employees, and though it was a Saturday morning so there were far less people on board, someone still got off here. After going under the Fairmount Line, we passed the South Bay Center mall (thank God we didn't have to deviate to it) and crossed over I-93.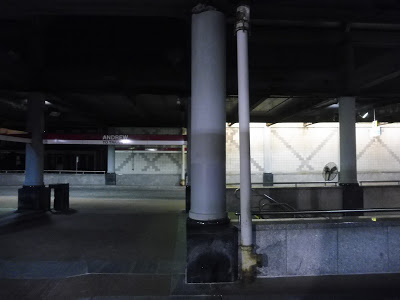 No trains here for a while!
Next, we headed into the Andrew busway, picking a few people up, then we went north up Dorchester Ave. It was just pure industrial wasteland, although it did include the MBTA's Cabot Yard. Usually this is a big stop, but on this Saturday morning, there were no T employees heading there.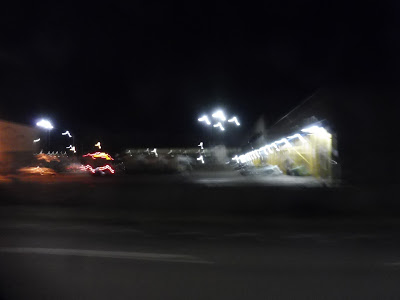 Duh, this is totally Cabot Yard. Can't you tell?
We turned onto A Street, cutting through a neighborhood of Southie, but then we entered the Seaport and there were industrial buildings and parking lots everywhere. Next, we came into Fort Point, and as we went under Summer Street (which had a very fancy colored bridge), there were brick buildings on all sides. When A Street ended, we turned onto Congress Street.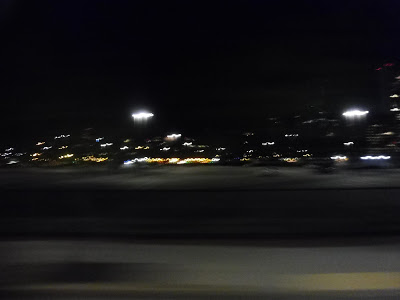 Look, it's the beautiful Boston skyline! Can't you tell?
After that, we turned onto "West Service Road Extension," where it got industrial again. Next, it was South Boston Bypass, which let us sail onto I-90! We zoomed through the Ted Williams Tunnel under Boston Harbor, then came out at Logan Airport.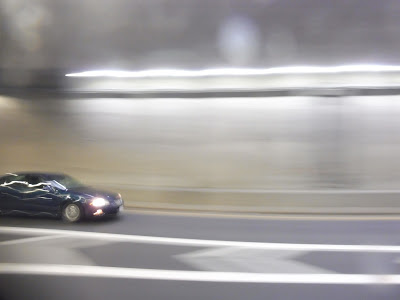 A tunnel in the airport.
We made our way around into Terminal A, and I'm pleased to report that the 171 uses the Silver Line airport announcements! They sounded awesome over the high-quality Xcelsior speakers. Next, we served Terminal B Stop 1, which got no passengers, but a whole three people got off at Stop 2. I wonder where they were going…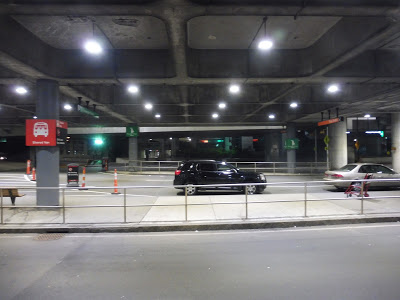 Terminal C.
We made our way to Terminal C next, then it was off to E. Now, the route is supposed to continue on to Airport Station – every schedule around says that it does. However, it would seem that no drivers ever actually do it, and this one was no exception. We were kicked off at Terminal E, so we walked into the empty international terminal. The final trip was complete.
That's it…
Route: 171 (Dudley Station – Logan Airport via Andrew Station)
Ridership: The 171 is technically the "least-used route on the MBTA," but that doesn't mean it doesn't get good ridership. According to the 2014 Blue Book, the route got 36 riders per weekday, 39 per Saturday, and 48 per Sunday. With only two trips per day, that's pretty good! Honestly, though, I think it fluctuates day by day – my ride got about 15 people, but other trips can reportedly be packed.
Pros: This route serves a very specific function, and it does it well. The reason for the 171's existence is to A) bring early-morning airport employees to their jobs, and B) get early-morning MBTA employees to their shifts. There's even the occasional person using this to get to the airport for a flight! It doesn't need to run any times other than when it does (3:50 AM and 4:20 AM).
Cons: The only thing wrong with this route is the claim that it goes to Airport Station when it really doesn't. Who's even going to Airport Station at 4 in the morning? Just take it off the schedule – the bus never actually serves it.
Nearby and Noteworthy: Well, gosh, if you're in Roxbury or Dorchester and you gotta get to the airport really early in the morning…I guess this is the bus for you?
Final Verdict: 9/10
Hooray, we finish the T bus system on a positive note! Yeah, there's really nothing bad to say about the 171 other than its strange, false insistence that it serves Airport Station. I do think the popularity of this route for early-morning employees (as well as its counterpart, the 5:10 117 from Haymarket to the airport) is a clear indication that the Bostonians would benefit from a 24-hour bus system, but that's beside the point. The 171 is an eccentric route…but it's also a great one.
Latest MBTA News: Service Updates
Well, that's it. The last route. It took almost 4 years and 8 months, but we did it. I've had an absolute blast riding the entire T, and ending it with this crazy route was awesome. I want to thank everyone for reading, whether you were there from the start or whether you just found this blog today. You're the reason I've kept doing this and worked so hard to ride all these routes and write all these reviews. Of course, just because I finished the T doesn't mean the blog is over, though. After all, I still have all of my RTA's to get through! Don't worry – you'll still be hearing from me for a long while after this.
Thanks again,
Miles 🙂