Sam recently took a trip to LA, and he'll have several guest posts coming soon about the bus system in Santa Monica, Big Blue Bus. Here's the first in a series.
The Big Blue Bus Route 1 is very similar to the MBTA's 1, in the way that it's long, frequent, relatively straight, and very busy. It also, like the 1, is an important link between several dense ridership draws. My hotel was in Venice, on one end of the 1, and I just so happened to be on the other end of the route in UCLA. Thus, our review begins.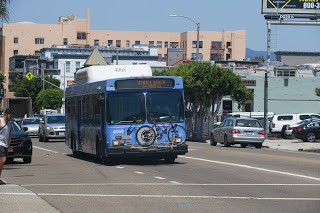 A bus in Venice
Since I was riding on a Friday afternoon, my trip began at the UCLA Hilgard Terminal. However, the terminal is only used on weekdays between 7:00 AM and 8:00 PM. At all other times all of Big Blue Bus's routes begin at the nearby P2 terminal. Hilgard was incredibly quaint, nestled in the midst of a quiet residential area. Not too many riders board buses here. One major con of Hilgard is the lack of any berths. Despite being about 200 feet long, buses kind of leave from wherever they please. I was waiting at the wrong end of the platform and had to run for my bus, which almost left without me.
We made a right out of the busway and soon made a left on Westwood Blvd. We picked up a handful of people at each stop, and soon arrived at Westwood, where several people got on. Westwood was lined with tall buildings, flashing lights, and lots of people. We continued down Westwood Blvd. for a few more blocks, with people still getting on, before making a right onto Santa Monica Blvd.
The route spends most of its time on Santa Monica Blvd. People began spilling off the bus, presumably to walk to the nearby Expo Line. The stops were comfortably spaced out and all of them were used. Santa Monica Blvd was very commercial, with lots of businesses lining both sides of the street.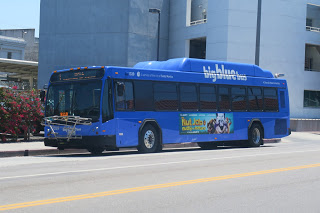 Another bus; this one a newer Gillig
Soon, we arrived in Santa Monica. The bus zig-zags quite a bit here, making a left, followed by a right, then another left, then a right, then one last left onto Main Street, where the route spends the rest of its time. During the zig-zagging, the bus services the Santa Monica Station.
Main Street was very dense. It runs near the Pacific Ocean and the beach culture spreads onto the street, with several surfboards and bathing suits seen on pedestrians. The bus only had 5 or so people at this point. After fighting through thick traffic, we arrived at a roundabout, where we veered to the right and entered the Venice busway.
Ridership: The trip I rode was the first to come in 25 minutes. That being said, it never had more than 30 people on at once. However, I was traveling against the peak; several buses travelling the other way were packed. In FY2014-15, the route carried 2.4 million people.
Pros: This route serves a lot: UCLA, Westwood, Santa Monica, Venice, and several places in between. It runs frequently enough for one to not need a schedule, and it carries a lot of people.
Cons: The 1 is very prone to bunching, and isn't always the most reliable. While the 1 rarely has gaps of 25 minutes like the afternoon I took the bus, gaps of 15 to 20 minutes are commonplace, as are bunches of 2 to 3 or more buses. The sheer number of traffic lights on Santa Monica Boulevard, as well as unpredictable traffic and fluctuating ridership contribute to this problem.
Final Verdict: 8/10
The 1 certainly does its job, and man, does it have a big job to do. It connects several major ridership hubs with very frequent service. It is definitely one of Big Blue Bus's best performers and does the area a lot of economic good for sure.
Latest MBTA News: Service Updates