The B48 is amazing and wonderful and I love it to bits! Final Verdict: 10/10. Alright, review over, have fun! No…I guess there's more to talk about than just that…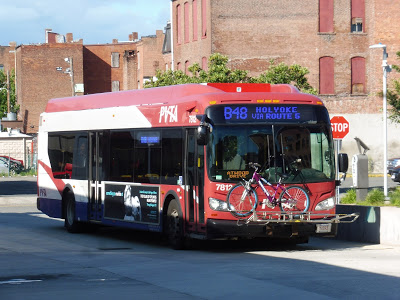 The bus coming into the terminal.
Leaving the Holyoke Transportation Center, we headed down Dwight Street past a post office, a parking lot, and apartments. Next, we turned onto Beech Street, which made its way up past a field and around a huge rotary. Whilst traversing the rotary, we passed over the same train tracks twice, then we turned onto Hampden Street.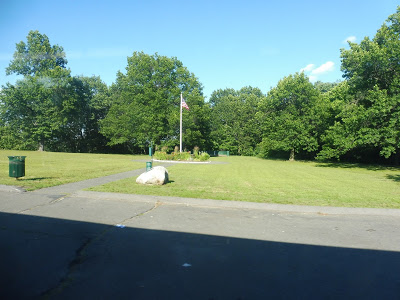 Going by a park.
There were some houses, then we merged onto Lincoln Street, going by a Stop & Shop on one side and a park on the other. Unfortunately, this area only seems to have a stop on the northbound side, which is a big problem. Lincoln Street curved west and it was lined with dense but yard-endowed houses, then we turned up onto Northampton Street.
Some shrubbery at the turn.
Northampton Street was also residential for a while, but then we entered the reason why I love the B48 so much: the majority of the route is just woods! Also, the majority of the route is stopless, which is great for through passengers, but the bus does go by a lot of houses in certain places that could possibly use the bus. I mean, we even went by a tourist attraction: a bunch of dinosaur footprints by the Connecticut River! I don't know who would take the bus to those, but it seems like they deserve a stop.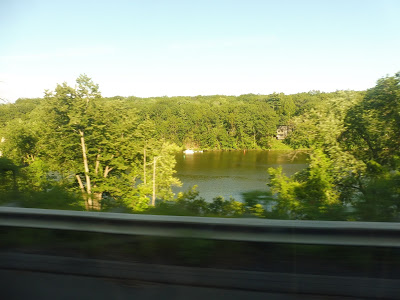 I love this route I love this route I love this route
Next, the road came alongside the Connecticut River, giving us a great view for a good amount of time as we also paralleled a train track down which the Amtrak Vermonter runs. Meanwhile, the other side was mostly woods, but we also went by a few housing developments and motels. As we curved away from the river, we started to see some other buildings: a banquet hall, a church, and some houses.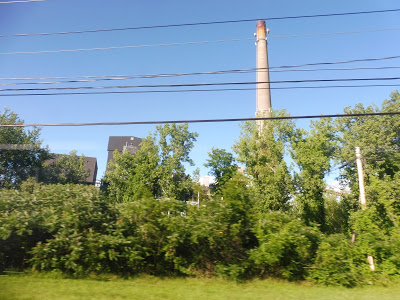 A factory poking above the trees.
After that, there were some woods again, as well as a field, then we passed a hotel and a factory. As we entered Easthampton, there were some houses, then we were briefly on an isthmus between rivers that took us into Northampton. The street was now called Mount Tom Road, and there were more woods, then a bit of farmland.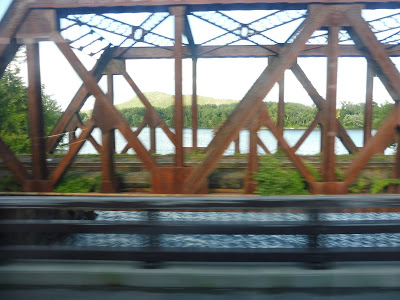 Did I mention I love this route?
We came up to an industrial area, then passed a development called Atwood Drive. Except…on one B48 trip, and I took a good amount of B48 trips, we actually deviated into it. And there was a shelter and a sign and everything in there, and…well, I have no idea what the deal with that is. I wanna say the PVTA is eliminating the "deviation", but I can't remember the exact details of the sign I saw, and there's no information on the website. Either way, it's weird.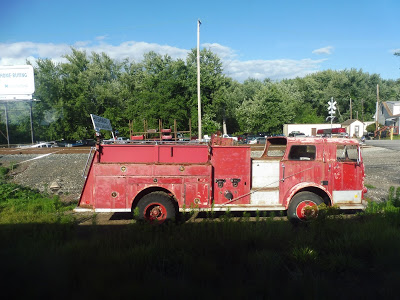 Wow, nice fire truck!
We went under I-91, traversed around a roundabout, and all of a sudden there was development everywhere. We went down Conz Street, going by industrial buildings at first, then an apartment building and some dense houses. Next, we turned onto Old South Street, then New South Street, which took us up to downtown Northampton. Our final turn was onto Main Street, where we arrived at the Academy of Music stop.
Ridership: The vast majority of the B48's ridership consists of people doing the whole thing and riding from Holyoke to Northampton or vice versa. Its numbers may not be huge, and they actually fall below the standard threshold (18 passengers per trip, while the threshold is 20), but costs to run the route are also below average for the PVTA, so it's not a huge deal.
Pros: Aside from this route being amazing and wonderful? Well, it's the only direct ride between two big PVTA hubs, and it's fast. I mean, aside from within the cities themselves, this route is just constantly moving; it barely ever stops. Also, the schedule is great, with half-hourly service on weekdays and Saturdays, and hourly service on Sundays (although the PVTA is planning on reducing the Saturday headways to every hour, which makes sense based on the ridership I've seen). Finally, the route has no timepoints aside from the termini, so there are no PVTA earliness problems – buses never have to wait in the middle of the route because they arrive too early! Hooray!!!!!
Cons: Okay, I get that most of the route's passengers are through-riders, but some of the stops (or lack thereof) are ridiculous. I mean, okay, the dinosaur footprints might be a stretch, but how about the Stop & Shop? Why does it only have a northbound stop? Trust me, you do not want to use the R24 to get there. Also, the whole Atwood Drive thing is weird and confusing, and I know the PVTA is getting rid of a stop there in one of the route's directions that I can't remember…I think it's northbound, even though I've only seen buses actually deviate there once. On a completely different note, I've always found it kinda weird and confusing that the schedule shows a connection to the P20 to the Holyoke Mall. It doesn't say when the P20 leaves or anything, just when it arrives at the mall, so it just makes the schedule more confusing. I think a note at the bottom about connecting to it would suffice and make things simpler.
Nearby and Noteworthy: Basically just Holyoke and Northampton! This route doesn't really stop anywhere else. But if those dinosaur footprints had a stop, you might see a very different story here… Okay, honestly, a stop for them is still a really low priority and probably unsafe on the fast-moving road, but I'm just sayin'!
Final Verdict: 9/10
Did I mention I love this route? Because I love this route. It's so easy and convenient, and I would use it all the time to get down to Holyoke on my PVTA riding days. Yeah, the lack of stops is a bit annoying, especially with the one-direction stops at Atwood Drive and Stop & Shop, but the truth of the matter is that most people are just riding to the end. The B48 is just awesome, and…hey, did I mention that I love it?
Sorry for the lack of posts! I've been doing a lot of riding recently to get a lot of routes done before the end of summer. I'm, uh, very very very far behind now, so you might be seeing summer-only routes being reviewed in October, but that's okay! They'll all come out at some point!