Oh, Logan Airport parking…why musteth thou beeth so expensive? At a hefty $32.00 per day, Central Parking may be convenient to all the terminals, but it sure ain't cheap. Luckily, Economy Parking is here to help, with a rate of just $23.00 per day! What a "steal!" How does one get from Economy Parking to the terminals, though? They must use the 88.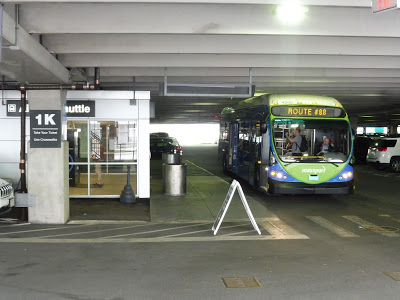 We didn't actually start at the Economy Garage, but this is the only place where I actually got pictures of the bus…
Contrary to the picture above, Nathan, Sam, and I got the bus at Terminal A. Since the 88 serves all terminals, we got to do that whole shabang…always a pleasure. Thus, we deviated our way to the Terminal B parking lot in order to serve Stops 1 and 2, then we served the exteriors of C and E as well.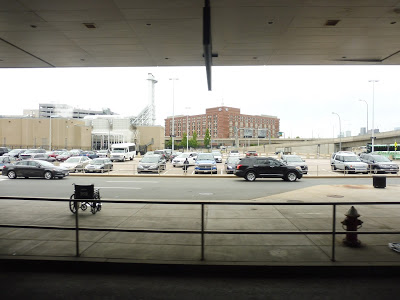 Some parking at Terminal E.
From Terminal E, we headed down Service Road, going by a bunch of parking lots, as well as a gas station, while a huge wall occupied one side of the street. The wall continued as we proceeded down the road, but hangars and airplanes were occasionally visible. The other side of the street was taken up by I-90.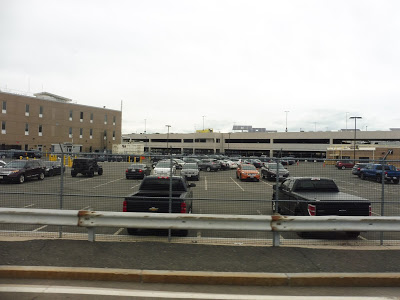 Hark! Economy Parking approaches!
We passed Airport Station without serving it, then turned onto Cottage Street. It's a bit of an odd name, really, as there were no cottages around – only parking lots. Of course, the mother of all those lots was the big Economy Parking Garage. We drove straight in, using a bus-only entrance, and arrived at the stop within the garage.
That's a tight fit!
Logan Airport Shuttle Route: 88 (Serves All Terminals and Economy Parking Garage)
Ridership: Ridership on this thing is great for an airport shuttle. Our bus had about 7-10 people going to Economy Parking, which is great when you consider the frequency of the route. There was a good smattering of people going the other way as well, so ridership on the 88 seems to be steady and consistent.
Pros: I gotta say, I didn't know about Economy Parking until I rode this route, but this makes it seem pretty darn attractive! The 88 is frequent, relatively fast, and well-used. I'm glad it doesn't waste time serving Airport Station, instead opting for a direct route right to the terminals.
Cons: The waiting area at the Economy Parking Garage could be better – it's really just a few wastebaskets, and that's about it. Come on, let's get a bench there!
Nearby and Noteworthy: Economy Parking really isn't much less convenient than Central Parking, and it's a heck of a lot cheaper! Seems like the best place to park at the airport, really.
Final Verdict: 9/10
I gotta say, my experience with the 88 definitely turned me on to Economy Parking. The shuttle is so frequent and direct that when you consider the lower price, it's really a no-brainer! Sure, the waiting area at the garage could be better, but at least you're not going to have to wait too long for a bus.
Latest MBTA News: Service Updates