It's odd that my first Logan Airport Shuttle review happens to cover the craziest and most obscure route on the system! The 77 "provided [sic] employee bus service between Logan Airport and the Chelsea Garage," and it runs incredibly frequently whilst doing so. The route operates 24/7, and you're never gonna have to wait long for the next bus to show up. Let's take a look!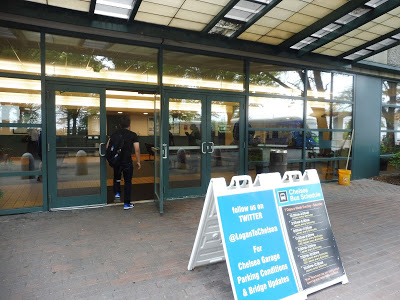 The busway in Chelsea.
The 77 actually gets a proper busway in Chelsea, and it's great! There's a loop for buses, and the service is so frequent that there's always a vehicle waiting for passengers. Inside the employee garage, there's a waiting area, but apparently it's for "Authorized Personnel Only." Come on, it looks nice in there!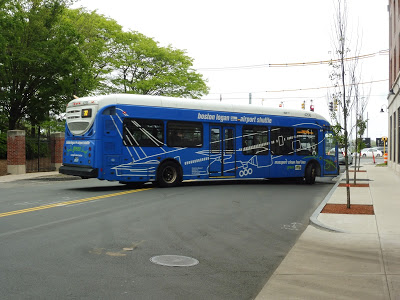 A bus pulling out towards the airport. The route wasn't using articulated buses this day for some reason.
From the busway, we headed out onto Chelsea Street, going over the Chelsea River. We entered East Boston on the other side, and it was one of the most horrible industrial areas in the entire city. What do those huge vats contain? They're so ominous!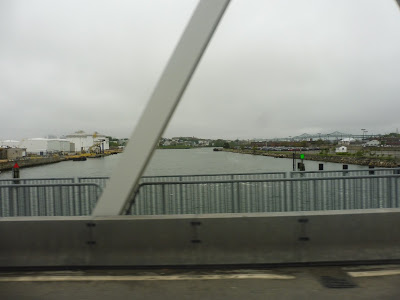 Going over the river.
Next, we turned onto Curtis Street, which crossed over a little marshy brook. We then merged onto Route 1A, getting a surprise express section! The highway went elevated past some more mysterious vats, Wood Island Station, triple-decker apartments, and a bunch of businesses before coming down alongside some parks and airport buildings.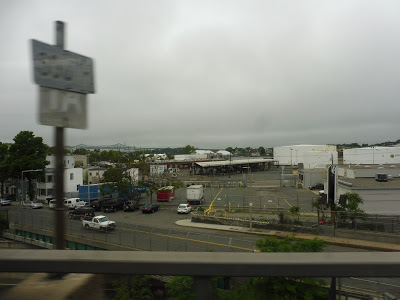 The view from the highway.
We curved alongside Airport Station, then came up alongside the East Boston Memorial Park. Eventually, we headed up onto an on-ramp that took us on an elevated bridge to the actual terminals. However, at certain times, the 77 splits into two "routes," with one serving Terminals A and B, and the other service Terminals C and E. This was one of those times, and we were on the C and E route.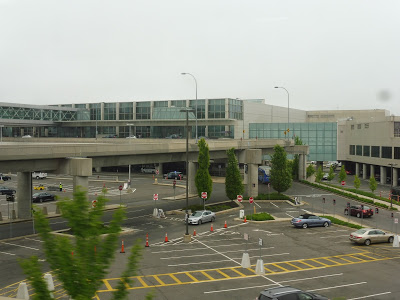 Pretty quiet over here at Terminal E!
We zoomed past Terminals A and B up on the Departure Level, then we pulled into C and dropped a bunch of people off. After that, we came back onto the road for a bit before turning off again, this time into Terminal E. Technically, this isn't the last stop – the route has one more at the Delta Hangar – but since it ends in such a restricted part of the airport, Nathan and I decided to depart here at Terminal E.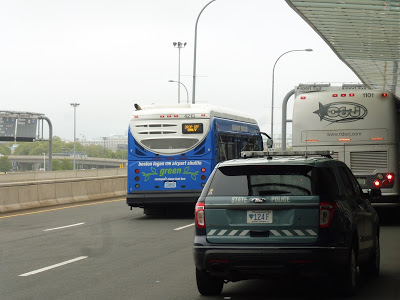 Goodbye!
Logan Airport Shuttle Route: 77 (Serves All Terminals to the Chelsea Garage)
Ridership: The ridership for this thing is great. Massport doesn't provide statistics for its individual routes, but from what we saw, the 77 has really consistent ridership. Considering how frequently it runs, the fact that our bus had about 15 people on it was great, and the other ones seemed to be pretty busy, too!
Pros: This is such an excellent route. It provides a speedy link from the Chelsea lot to the Airport, and it's so frequent – every 8 minutes to all terminals in the morning and late at night, every 8 minutes on the two "routes" middays and late evenings, and every 5-6 minutes in the afternoon and…from 2 AM to 6 AM, apparently! That's a lot of early-morning employees…
Cons: This route gets absolutely no signage anywhere at the airport! I think it's technically meant to be "employees-only," but this seems like a somewhat questionable policy. The Chelsea lot is right in the middle of one of the densest cities in the country! Wouldn't it be great if residents knew about and could use this shuttle to get to the airport quickly? Sure, there may not be too many people in Chelsea who are going to the airport, but the demographic is certainly there, and this shuttle is so convenient! It's also strange that it boards on the Departures Level going both inbound and outbound, but again, it has no signage up there, so it's not at all obvious where it stops.
Nearby and Noteworthy: If you need to get to Chelsea from the airport, this is your bus! The parking lot is about a 15 minute walk from Bellingham Square.
Final Verdict: 9/10
As a route, the 77 is absolutely perfect. It's frequent, fast, and serves an area of huge demand. I was so close to giving it a 10/10…but that lack of signage is really annoying. There's no indication that it boards on the Departures Level, and no signs up there saying where it stops! If there was more signage, the route could be open to the public and increase its ridership even more.
UPDATE 9/11/2020: Oh wow, I've gotten two comments about this and failed to make the update. But this route has been eliminated! I guess Massport moved its employee parking to the airport itself so there's no need for it now. I wonder what will go in the Chelsea lot's place…
Latest MBTA News: Service Updates