One of the strangest things about the GATRA is that it's composed of many different "systems" that don't really connect and have nothing to do with each other. Some of the most isolated of those systems are the rush hour-only commuter shuttles: weird, one-way routes that only operate during peak hours from Commuter Rail stations. Still, as a system that typically targets seniors, the idea of the GATRA catering to commuters is an interesting one. Let's see how they do with the Pembroke Shuttle!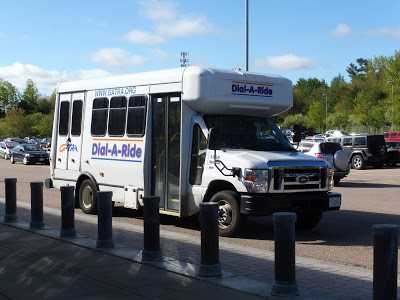 EW!
Well…evidently GATRA couldn't care less about its Pembroke Shuttle, because it doesn't even get a proper bus! Nope, this shuttle is stuck with a stupid Dial-a-Ride vehicle that doesn't even get any signage. The inside was reasonably nice, though, with fine seats, an unjiggly wheelchair lift, and…a monkey. Sure, why not?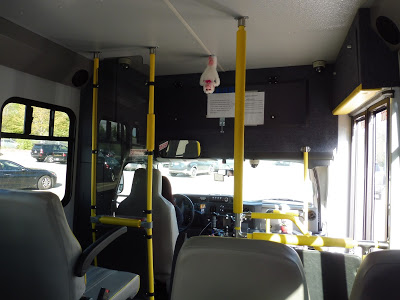 A monkey!
In the midst of traffic coming from the train, we edged our way out of the Hanson parking lot and turned onto Main Street. After a few industrial-looking businesses, the road became residential, and houses lined the street for the most part, aside from a police station. We came across some suburban retail with parking lots and a shopping center at the intersection with Monponsett Street, and a few more at the intersection with Mattakeesett Street (in a neighborhood called Bryantville), onto which we turned.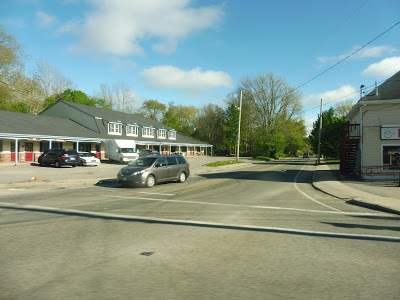 Some businesses in Bryantville.
Now in Pembroke, we headed north past mostly houses. We also passed a cemetery, as well as some free commuter parking at Mattakeesett Fields. Yeah, I think "commuter parking" just means "use the same lot that you would use for the fields," but it's still a nice provision.
Nice view!
Next, we came up along a pond shrouded by trees, then a marsh on the other side. At a rotary we merged right, where the road passed between two other ponds and was lined with little houses. From there, it got a little industrial, with a few stretches of buildings of that category between the residences.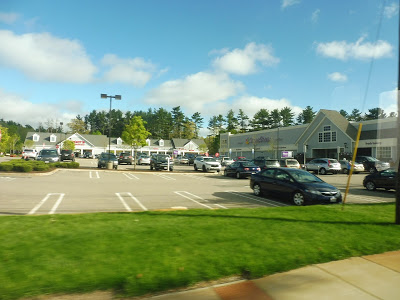 Downtown Pembroke, everyone…
Eventually we arrived at "downtown" Pembroke, which was mostly just a cluster of suburban businesses with parking lots. The bus is technically supposed to deviate to serve more makeshift commuter parking at the Community Center, but we were the only ones on the bus, and we had told her we were going to the Housing Authority. Thus, we turned onto Center Street, and after a bit of confusion from the driver about where the turn was, we pulled into a housing development, ending our rather short trip. Time to walk to Halifax!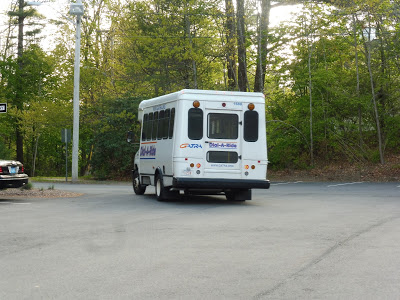 The bus leaving the Housing Authority.
GATRA Route: Pembroke Shuttle
Ridership: Well, on this trip, it was just me and my friends Michael and Shuvom. Do other trips get more people? We asked the driver, and she said the most she's seen in a day is three. GATRA's ridership report offers a slightly higher number, with 15 passengers per day in 2014 – divide that by two because of the commuter nature of the shuttle, and we've got about 7 people using this thing every day. Ouch!
Pros: Seeing GATRA cater to commuters is great, and this route's schedule is perfect for them: the two morning trips and three evening trips all time very well with Commuter Rail trains going in and coming out of the city, respectively.
Cons: Does Pembroke reeeeeaaaallyyyyyy need a bus? I mean, come on, every house we saw had a driveway. The ridership for this route clearly isn't there, either – seven people per day? That's awful. If the trip we rode had no one on it, then cut the trip! In fact, I almost wonder if this route should just be once in each peak, timing with one train. That way, you could consolidate all seven-or-so people into one bus, drastically raising efficiency. I'm sure the driver just goes back to doing Dial-a-Ride work when the Pembroke shift is done, so it would free up another vehicle for that, as well.
Nearby and Noteworthy: Sorry, but Pembroke is a really boring town. Aside from a rather nice-looking library, all of Pembroke's attractions are just chain businesses with big parking lots out front.
Final Verdict: 2/10
Unlike many of GATRA's other routes, the Pembroke shuttle does actually have a schedule to match its ridership. Five one-way trips per day makes sense when you're only getting 15 total riders! And really, they could easily consolidate that down to just two per day – one in the morning, one in the evening. That way the vehicle could be freed up for a longer period of time to do Dial-a-Ride work.
Latest MBTA News: Service Updates