Sorry for the lack of posts, everyone! AP tests and SAT tests fell in the same week, so that was a big drain on my time…but now everything's done and I can work on the blog again! Finally, it's time to look at the RIPTA 301 – possibly the strangest public transit route in my jurisdiction. There's a lot to talk about here…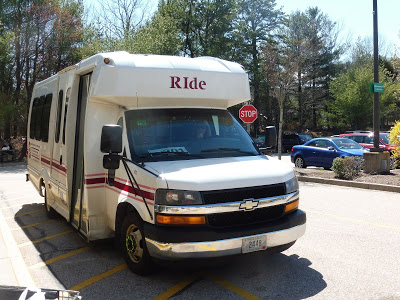 That's right – the Rural Ride isn't even dignified with a proper bus! It just gets a "RIde" paratransit vehicle…
How do I explain something as weird as the Rural Ride? Well, the route only runs on Fridays, and it only has one round trip and some change: an outbound from Westerly, an inbound back, and an outbound that traverses most of the route but not all of it. This truly is a "rural ride," running through some very middle-of-nowhere parts of southwestern Rhode Island. Who could possibly use such a thing? Well…
The inside of the bus.
The trip started with a bang as the bus pulled into the Stop & Shop parking lot in Richmond. (How did we get there? Find out!) "You two are men," the driver shouted to Nathan and I from the bus. "Help the ladies with their bags!" We helped the four old ladies waiting there put groceries into carts for the bus, then they each used the wheelchair lift one by one to rise into the vehicle. Once everyone was on board, the driver brought around a paper bag and we all put our money in. This was just the strangest start to any bus ride I've ever taken…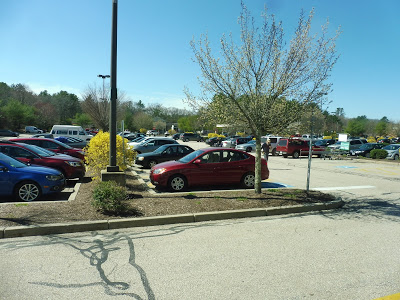 The beautiful Stop & Shop parking lot.
We left the Stop & Shop once all the ladies were settled in and the carts were in place, and we headed down the wide Kingstown Road. After going by a little park-and-ride for the 95X to Providence (it wouldn't be our first encounter with that route), we went under I-95 and the street became Main Street. Still lots of suburban businesses with huge parking lots everywhere, though…
It gets more scenic later on, I promise!
We merged with Nooseneck Hill Road (very interesting name) and passed some baseball fields as the other side of the road was lined with houses. There were also a few businesses mixed in there, like "Ma and Pa's Country Store," as well as a post office. This was technically a "downtown," you see – Hope Valley.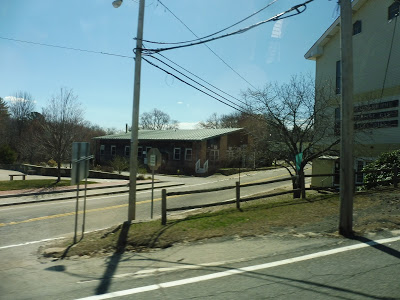 A street in Hope Valley.
There were a few more businesses and a fire station before we left Hope Valley and the surroundings became mostly woods with spread-out houses. It was starting to get truly rural, as the route name suggests, although there were still little bursts of civilization. For example, there was an auto shop, a housing development, and a golf course all in quick succession…but they were followed by a huge field and some woods, so I guess it evens out.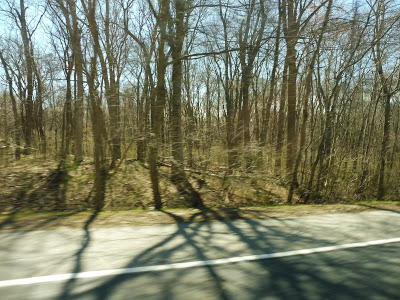 Rollin' through the forest…
All of a sudden, we made a turn into a deviation, serving a clinic called Wood River Health. Next, we pulled into the Canonchet Cliffs housing development, and this is where we dropped off two of the ladies on board. They used the wheelchair lift to get off the bus, taking their carts with them, and then we arrived at an intersection within the development and waited.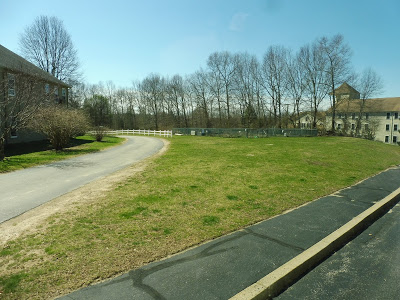 That's a sharp turn!!
"She said she was coming," the driver said. "We'll wait here a few more minutes." All of a sudden, another old lady came speed-walking from her apartment to the bus. "I forgot my keys!" she said, "I had to run back and get them!" With a new passenger on board, we continued the deviation, dropping off the remaining passengers at Canonchet Cliffs II and picking up another old lady, then we returned to Nooseneck Hill Road.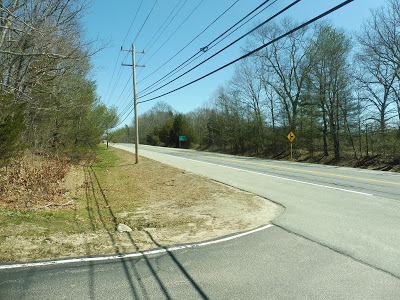 Coming back to the main road.
For a while, it really was just unspoiled woods, broken only by the occasional house or farm. Eventually, a single business – the Hopkinton General Store – and a weird sideways traffic light announced our arrival into "downtown" Hopkinton. It barely felt like a downtown, though – there were no other businesses, and the only other points of interest were a post office and the "town clerk."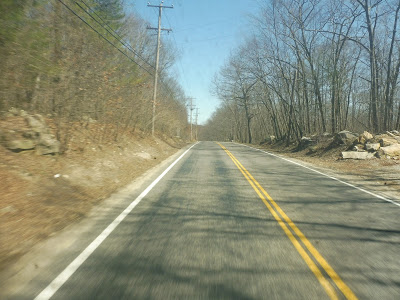 A rearview shot of the empty road!
Here in Hopkinton, we merged onto the very narrow and very badly-paved Townhouse Road, taking us to Saugatucket Springs, an apartment building. We looped around the entrance to the building but didn't pick anyone up, so we returned up the narrow street and made a sharp turn to get back to Nooseneck Hill Road. After a few industrial buildings, we went by another park-and-ride for the 95X and crossed over I-95.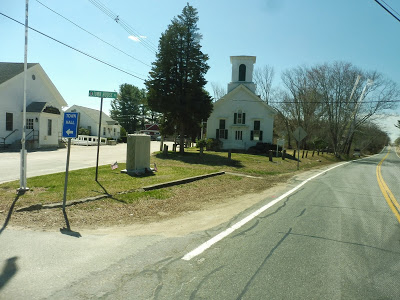 This is about the extent of downtown Hopkinton…
There were more woods on the other side of I-95 that continued for a while until we entered another village of Hopkinton: Ashaway. Suburban houses lined the street for a bit, then there were a few lame businesses with parking lots out front. Next, we turned onto Ashaway Road, which featured – surprise! – more woods.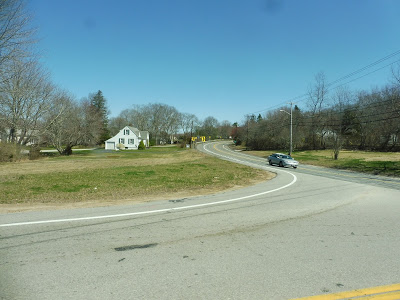 A curvy intersection.
After going under some telephone wires, we curved eastward, where we got to see some houses. There was a little grocery store and a gas station near the next intersection, at which we turned onto Main Street. We entered Westerly here, which is apparently a GIGANTIC town because we were NOWHERE NEAR the end of the route!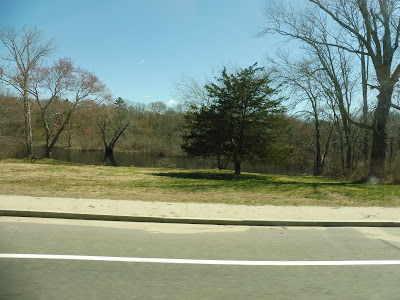 Well, isn't this nice!
After crossing the Pawcatuck River, we ran alongside it for a bit with a huge factory on the other side. We were also in another village: Bradford, to be exact. It wasn't much of a village, though – there was only a pizza place and a post office, and that's about it. We crossed over the Amtrak tracks on Bradford Road, and there were a few auto shops and a school on the other side.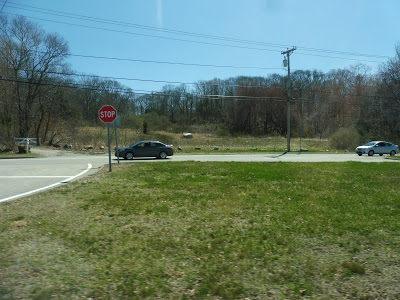 In the middle of a complicated intersection.
We continued down Bradford Road, where for possibly the first time on the entire route, the houses were actually consistent. Aside from a big field, the houses were evenly spaced for the most part. We passed through a complicated intersection with Westerly-Bradford Road, which leads directly to downtown Westerly, but we had a while to go on our route before we could get there…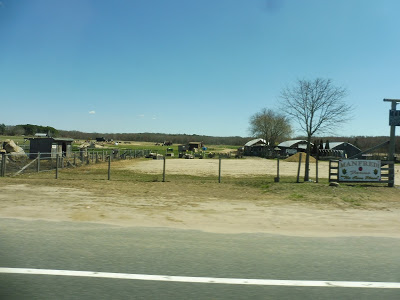 Down on the farm!
Our street, meanwhile, became Dunns Corner Road, and it was lined with all manner of houses, parks, and farmland. There was even a road leading to what appears to be a gigantic trailer park complex. After all that, though, the ruralness of the Rural Ride ended IMMEDIATELY when America's favorite big box store came out of nowhere – hi, Walmart!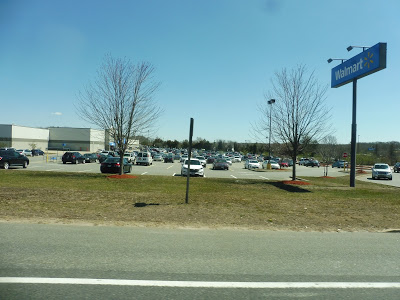 Hooray…
We entered the parking lot, and this was where the two old ladies still on the bus finally got off. Now it was just me and Nathan, and it would stay like that for the rest of the trip to Westerly. Leaving the parking lot, we made our way onto Route 1 (Post Road), which was lined with a bunch of suburban businesses with parking lots until it got more residential.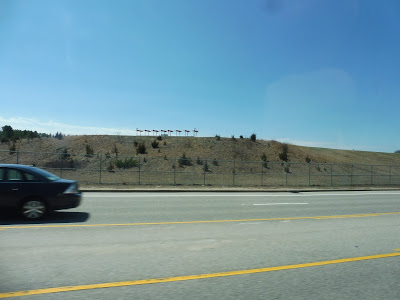 An airport!
Aside from the houses, we also went by some sketchy motels, a middle school, and Westerly State Airport, which actually does have a scheduled flight – New England Airlines to Block Island! Right after the airport, there were businesses with parking lots all over again, including some malls. We directly served one of them, Franklin Plaza, although the timepoint on the route calls it "Aldi's Grocery."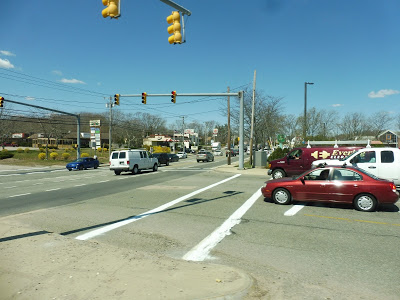 I miss the farmland…
The street was called Franklin Street now, but we weren't on it for too much longer, turning onto the narrower, residential Wells Street. We came up along the huge Westerly Hospital, then turned onto the even more local Westminster Street. This took us to the Westerly Senior Center, where we made a little loop on this strange elevated driveway in front of the building.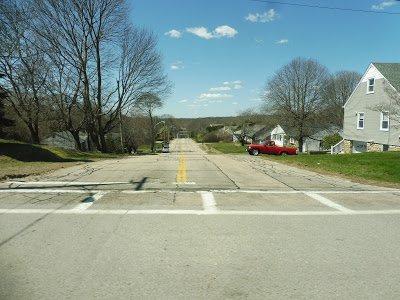 A local side street.
After that deviation, we headed down State Street, then turned onto Beach Street outside of a shopping plaza. The road was mostly residential, but there was a factory outside of which Beach Street curved northwest. We then turned onto Main Street, which paralleled the Pawcatuck River (but we couldn't see it) and was pretty darn industrial.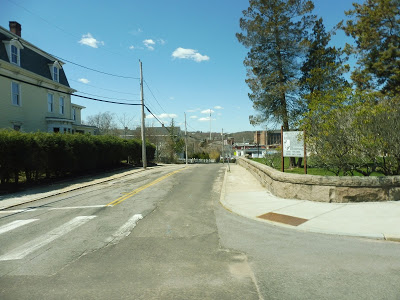 There's kind of a view down there…?
Due to one-ways, we eventually curved onto Union Street, then High Street, taking us through downtown Westerly. There were businesses on all sides of many different shapes and sizes, and they continued as we turned onto Canal Street. This took us up to the Amtrak station, where we made our way into the busway, ending this very long route.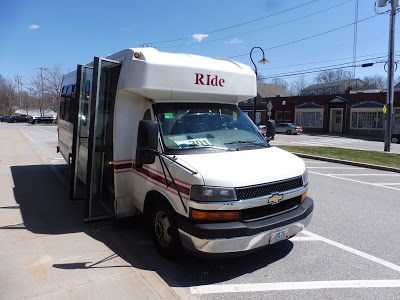 I love the sad "301" in the window…
RIPTA Route: 301 (Westerly/Hope Valley Rural Ride)
Ridership: In total? Six old ladies. And it's the same six old ladies every week! The driver said it can go up to as much as 16 in the warmer months, but the point stands that ridership is low…and consists entirely of old ladies wanting to get out of the house. All of the ridership went from the Canonchet Cliffs complex to either the Stop & Shop in Richmond or the Walmart in Westerly.
Pros: This is the only way for these senior citizens to be able to get out of the house. Every week, Fridays only, the little 301 comes to give them a chance to escape the dreary lifestyle of a housing development in the middle of nowhere and go shopping. It's truly a bus route like one I've never seen before…
Cons: The problem is that it works horribly as a bus route! The one-way trip is almost an hour and a half long! The ridership is incredibly low! The schedule is extremely limited! I mean, for all intents and purposes, as a route, RIPTA should have eliminated this thing long ago!
Nearby and Noteworthy: Yeah, well…the Rural Ride definitely lives up to its name. There aren't any places on the route really worth visiting, but the ride itself is very pleasant! You really do go through the middle of nowhere, and the ladies that ride the route are very nice.
Final Verdict: 3/10 for the route, 8/10 for the concept
This isn't just a bus route – this is a lifeline. For the people living in Canonchet Cliffs, the 301 is the only way to get out and see the world. But the problem is that…well, it's also a bus route. And it's a really bad bus route with low ridership, low frequency, and low efficiency. Here's the thing: the 301 should not be RIPTA's problem. This should just be a shuttle from Canonchet Cliffs that runs to Stop & Shop and Walmart. Maybe they could run it to each location on different days to give people more days to go out! Please, Canonchet: take this away from RIPTA, because if they eliminate the route, it will have a tremendous, negative impact on these people's lives…and they have every reason to eliminate it from an operational perspective. It's a lifeline…it's a really important lifeline.
Latest MBTA News: Service Updates