Oh boy, an Old Colony station…but not just any Old Colony station. That's right, we're looking at the Greenbush Line today! The Greenbush Line: taking the tried-and-true concept of sticking stations in the middle of nowhere with huge parking lots, but adding golf courses! West Hingham is no exception!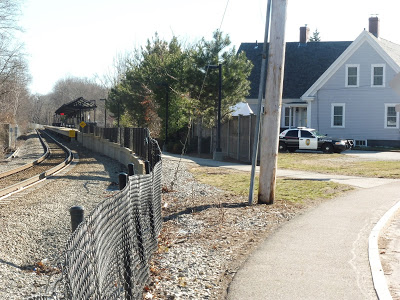 Woah, this is weird…
Okay, so West Hingham has a special entrance for…pedestrians? Well, this is not typical Old Colony style! It was a really nice little path, too, running right alongside the track with little creeks on both sides. I wasn't expecting it to be so naturey!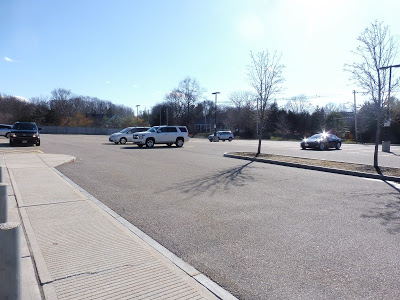 Ah, that's more like it.
Of course, this wouldn't be an Old Colony station if it didn't have an egregiously large parking lot. This one is fairly conservative in size, actually, but its 214 spaces only get about 50% full on weekdays. The station also has some bike spaces, located in a little plaza with some newspaper boxes and old honor boxes.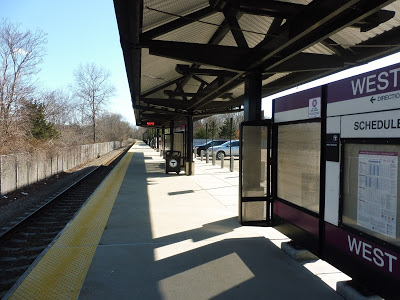 Typical.
There isn't much to say about the platform that I haven't said a million times before, but I'll go for it anyway! The whole thing is high-level, with a modern Old Colony shelter along a good portion of it. There are benches, wastebaskets, and information along the sheltered portion, while a few benches extend to the unsheltered section out in the woods.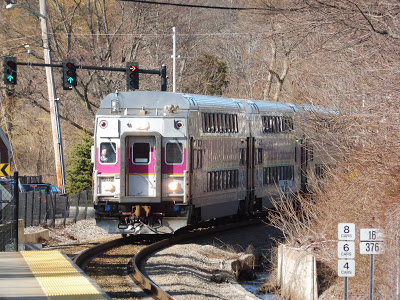 Hey! The train is ignoring the red light! Oh wait, wrong vehicle.
Station: West Hingham
Ridership: Well, this is the least-used station on the Greenbush Line, with 374 inbound riders per weekday…but that's not saying much when you realize that the line's ridership is pretty consistent across each station. The highest one, Greenbush, only gets 527 riders, so they're all in the same general ballpark.
Pros: We'll put this station's Old Colony-ness under "pros." After all, there's nothing bad about that high level platform with the shelter, benches, and wastebaskets under it. The station also offers plenty of parking, plus some bike spaces.
Cons: It's boring! Like any Old Colony station, there's no character here to speak of. Also, it's in the middle of nowhere, yet Hingham Center is right down the line with no stop at all. Imagine an underground Hingham Center station!!! Okay, that's crazy and stupid, but it would've been great if they had built an actual station closer to there…but noooooo!
Nearby and Noteworthy: Did you know that four out of the seven Greenbush Line stations have a golf course within a 1.5 mile radius? WOOOOOOOOO! Although West Hingham is one of the stations to offer those amazing thrills, apparently there's also a model railroad club across the street! Sweet!
Final Verdict: 7/10
Yeah, yeah, it's a fine station, yadda yadda yadda. It's gonna be very hard to not repeat myself as I review more of these darn Old Colony stations. They're all the same!
Latest MBTA News: Service Updates