"ITC" stands for "Intermodal Transit Center," right? I mean, what the heck else could it stand for? The "MART ITC Gardner" has to be the central bus hub for all of the system's Gardner routes! That's gotta be it, right? It's…it's gonna be good, right? It's gonna be…open to the public, right? Oh dear…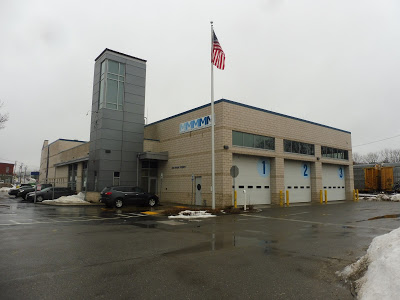 Look how nice this is!
The outside of the building certainly makes it seem like it's some sort of hub! This thing is beautiful! Surrounded by mostly industrial buildings, the modern structure stands out with its MART logo and sleek clock along a grey tower. It seemed like a fitting hub building to Nathan and I as we walked up to it…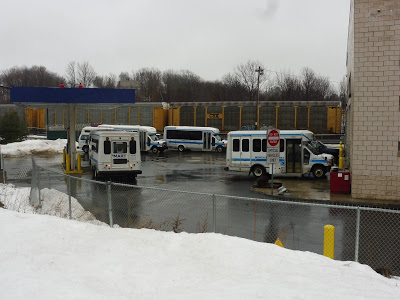 That's a lotta minibuses.
Alongside the building, passerby can get a view of the MART yard. Unfortunately, their fleet in Gardner consists of about four full-sized buses (three of which were out and about) and FIFTY THOUSAND MILLION MINIBUSES! Seriously, this place had minibuses driving everywhere, mostly for use on MART's Dial-a-Ride service.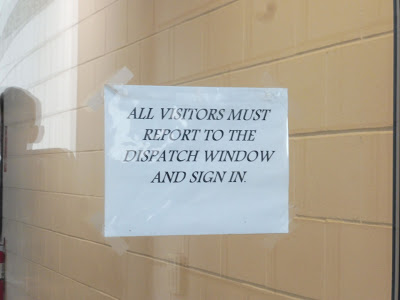 Hmm…
Once we went up to the door, though, it seemed like something was wrong – that piece of paper above wasn't too promising. Undeterred, we stepped through the door. Inside, there were some employees hanging out, and it was at this point that it was clear the place wasn't open to the public. We still decided to ask the dispatcher where we could wait.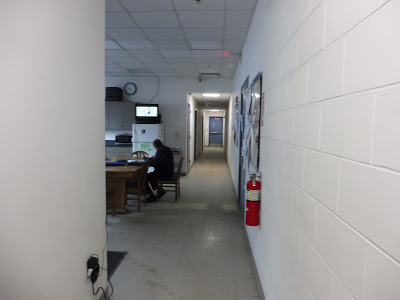 Hoo boy.
"Where do we get the Wachusett Shuttle?" Nathan asked. The dispatcher was cold. "Ya gotta wait outside by the stahp sign," he said in a classic Boston accent. But come on, it was cold and raining out! Besides, there were two stop signs outside! Thus, we decided to improvise.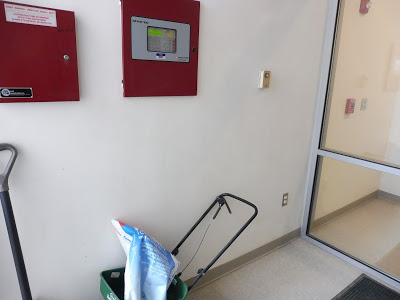 10/10 for comfort!
We waited in the vestibule! Now, let me tell you, there were so many amenities in here! For example, look at the outlet in the wall – perfect for charging your mobile devices! There was also some ice salt…just in case, you know. Plus, check out that thermostat, offering personal temperature control. If this isn't luxury, I don't know what is! Sure, there were no benches, but it was a minor setback to this amazing room.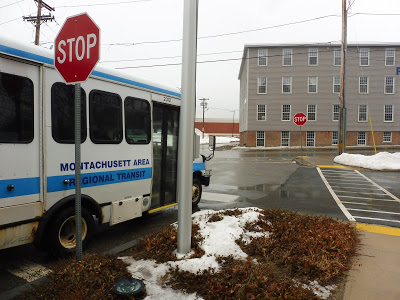 Two stop signs! I see two stop signs!
MART Station: MART ITC Gardner
Ridership: Uhhh…probably zero? I can't really see anyone boarding from here, considering that it's not open to the public.
Pros: Well, the building is pretty nice. And the employees passing through the vestibule were very kind!
Cons: We don't really need deep analysis here…the place just isn't open to the public (unless you come here to buy passes). Also, the dispatcher inside was rather rude and the vestibule was…not an optimal place to wait.
Nearby and Noteworthy: There's a Price Chopper across the street that the main Gardner routes, the 1 and the 2, deviate to serve. Hey, why not just make that the hub?
Final Verdict: 1/10
Yeah, okay, this whole review is kind of stupid, but this
hub
is kind of stupid. Why even make this a timepoint on the schedules? Or maybe they could just change the name to…well, anything but INTERMODAL TRANSIT CENTER? The
page
for the
Intercity/MWCC Shuttle
refers to the stop as the "MART Maintenance Facility," which has the right idea, but it doesn't seem to appear anywhere else on the website. Hey, you know what's great? Consistency. Learn how to use it!