It's no secret that the MBTA is in desperate financial waters right now. The T has been looking for any way to cut costs, and they've often turned to privatization to do so. The Commuter Rail, for example, is operated by Keolis, while the door-to-door RIDE service is run by various companies around the Boston area.
These have been always been privately contracted; now, however, the T is attempting to outsource more sectors. In October, the Authority privatized its "money room," sparking much protest from union workers, and it is currently trying to do the same for its bus maintenance operations.
Now, however, the T is announcing that rather than just maintenance, they plan to privatize their entire bus system. "If we are to get the MBTA out of its financial deficit," says Massachusetts Governor Charlie Baker, "we must make these important decisions."
MBTA GM Brian Shortsleeve admits that the announcement may not be received well by all, but he asserts that riders will see vast improvements in service. "We've chosen a great company to run the system," he says. "They have a great track record, and riders will definitely be happy with the new change."
"Well, we're very excited to be taking over the MBTA bus system," says GATRA president and secretary of the Norfolk Senior Center Knitting Club, Rhonda Burke. "This is such a big, busy system! I've seen some buses with people standing! That has to be so uncomfortable!"
GATRA has announced a series of changes that will come with the change of operator. Firstly, riders will see a huge drop in fares. "We at GATRA believe in cheap transit for all," says the financial supervisor of GATRA and two-time winner of the Middleborough Council on Aging's Bingo Tournament, Gladys Rodman. "How can they charge $1.70 for a local bus fare? We're lowering that to one dollar for everyone!"
When asked how GATRA could ever expect such a fare system to be financially feasible, Rodman declined to comment.
GATRA has also confirmed that they will be cancelling the T's current order of new Xcelsior buses. "Those are so big and flashy," says Burke. "Instead, we're ordering a brand-spanking new fleet of shiny minibuses! They're more intimate and comfortable for the rider, you know." GATRA hopes to replace the entire MBTA bus fleet by 2019.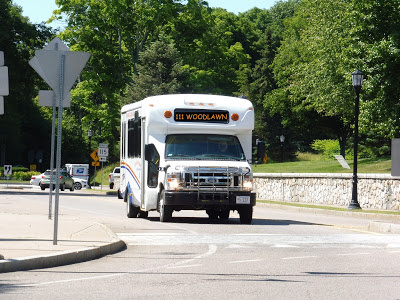 GATRA testing out its new destination signs. "We wanted a font that looks fun and exciting," says Burke.
The biggest change for riders, however, will be the realignment of almost all T bus routes. "These current routes? No good," says Robert "Bobby" Jenkins, GATRA's director of routes and scheduling, as well as the captain of the Marshfield Council on Aging's shuffleboard team. "Almost all of these routes are just straight. They don't serve anything. Fiddlesticks!"
GATRA is still working on the realignments, but they say it will affect every route "except the 112, which is perfect as it is." So far they have released their new version of the 1; its map can be viewed below.
"Don't worry," says Brian Shortsleeve. "No one will notice the difference. We have all our faith in GATRA to run the most efficient routes possible." Whether or not Shortsleeve has actually talked to GATRA is questionable.
The operations turnover is expected to occur today, April 1st. Some riders have speculated that based on the date of its occurrence, this switch is just an April Fool's Joke.
They would be right.