RIPTA's routes out of Pawtucket are definitely the sad stepchildren of the system. They generally get worse buses, they almost always have terrible schedules, and their ridership is often lower than the rest of the system. Does the 76 stack up to those expectations? Let's find out.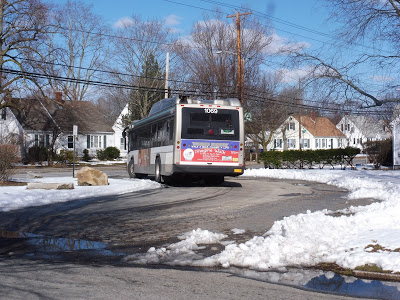 The bus laying over.
The route actually gets a little "busway" of sorts at its terminus, although the driver refused to board anyone from it. Thus, Nathan and I got on at the end of the block, and after I had trouble buying my day pass with an overly crinkly five dollar bill, we were off. We headed down Benefit Street, then made a sharp turn around onto Central Ave, coming close to the Massachusetts state line.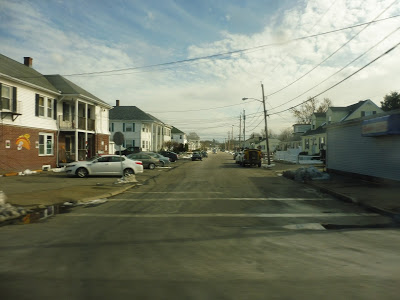 A residential side street.
Central Ave was entirely lined with dense houses at first, but eventually some businesses started to come into the mix as well. There were a few churches near the intersection with Newport Ave, as well as a small school. Beyond that intersection, there were even more businesses interspersed among the houses.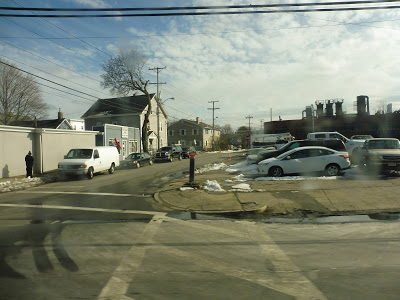 It's starting to get industrial over here!
Eventually, we turned onto Freeman Street, taking us into the parking lot for a Stop and Shop. That's right, we were deviating! At least we picked up a few people at the store, and even had a driver switch. After that, we looped around onto George Bennett Highway, an industrial street with a railroad track running right next to it.
Micky D's!!
After a bunch of industrial buildings (and a cemetery), we turned onto Armistice Boulevard, taking us into another residential neighborhood. Next, we turned onto North Bend Street for a block, then onto Walcott Street, via an intersection playing host to another church and a catholic school. Beyond there, the street was again residential, with bigger houses than before.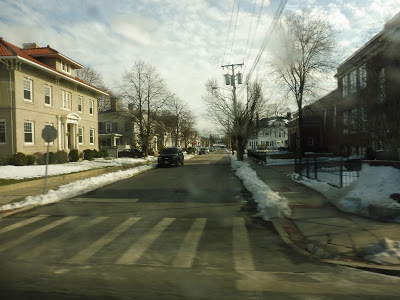 Looking down a side street with more houses.
Soon, we turned onto Underwood Street, taking us right up alongside I-95. After that we turned onto Exchange Street, which was lined with multi-storied buildings of various uses. We crossed over the Blackstone River, then turned onto Roosevelt Ave, arriving at the Pawtucket Transportation Center and finishing the rather short ride.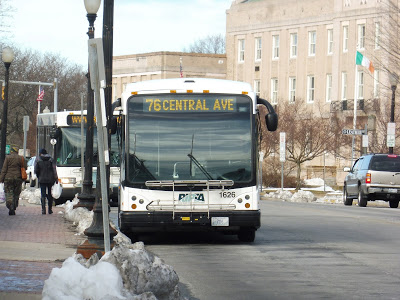 A very head-on view of the next bus going onto the route.
RIPTA Route: 76 (Central Ave)
Ridership: In 2012, the route was getting incredibly low ridership: 264 passengers per weekday, 191 per Saturday, and 131 per Sunday. They've made a lot of changes since then to increase the ridership per trip, most notably cutting Sunday service and lowering the route's frequency. It seems these were good changes – while the route was averaging 4 riders per day on Saturdays in 2012, my ride had 10!
Pros: This is definitely a niche route, but it serves its fair share of Pawtucket. The whole route is full of dense residential neighborhoods, and though the Stop and Shop deviation didn't get that many people back in 2012, it was the highest-ridership stop on my ride!
Cons: Man, that schedule…it's a weird one. The route runs every hour on Saturdays, which seems like a good frequency, but then on weekdays it's every…90 minutes? What?! Why does it run so infrequently on the days when ridership is typically higher?
Nearby and Noteworthy: Yeah, basically just Stop and Shop. There were some local businesses along the route that could be good, though.
Final Verdict: 6/10
The 76 may be short and its ridership not that great, but every 90 minutes on weekdays just seems way too infrequent. The hourly Saturday schedule definitely has the right idea! That being said, the route still serves a dense neighborhood, and this is its only direct link to Pawtucket, so I can't fault it too much.
Latest MBTA News: Service Updates