Awwwww yeah, here we go! It's the station I thought I would never be able to visit! River Works is a Commuter Rail stop meant only to serve the GE River Works facility in Lynn, and thus is only open to its employees. Thanks to a connection on the Commuter Rail, though, Nathan and I were able to check the place out, and it was quite an experience!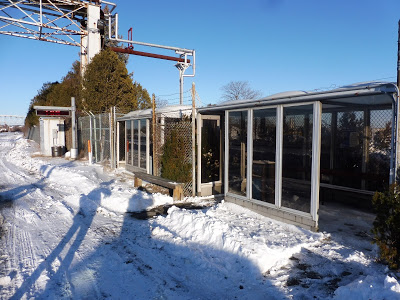 The outbound side.
The outbound side of the station is notably worse than the inbound, despite the fact that more people travel that way from here. This side features two old shelters with peeling metal paint, benches, and wastebaskets. Inside one of them is a super old poster featuring the "MBTA Customer Bill of Rights" and some old Commuter Rail chief. There's also a wooden bench outside just chained to the barbed-wire fence – I guess no one will be stealing that!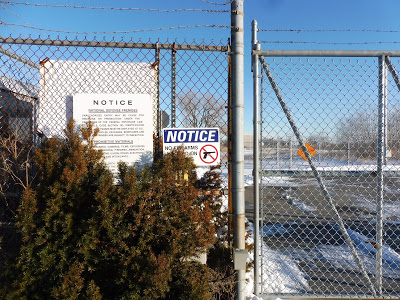 Trim the hedge, I can't read the scary signs!
This side also has a screen with a third, horrible wastebasket next to it. Next to the shelters, there's a gigantic gate leading into what looks like a complete no-man's-land from here to the Lynnway. Imposing signs on the gate warn against trespassing, while on the other side there's a message instructing passengers to call Amtrak if there's a railroad emergency. Amtrak definitely doesn't serve this place, guys…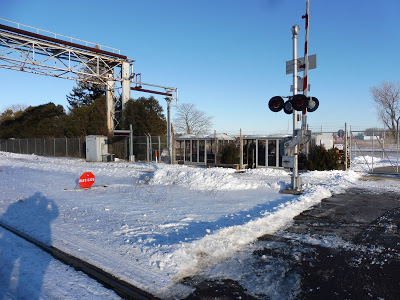 The outbound side from a little further.
The outbound boarding procedure is a complete mess, by the way. The shelters are separated from the tracks by a private road that just kinda runs alongside them. Plus, there's not even a proper platform on this side, so passengers have to duck under the level crossing as the train's approaching in order to get close enough to board!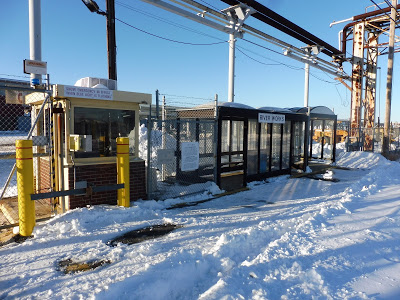 The inbound side.
Now, as a big yellow line running along the ground indicates, the inbound shelter is actually within GE property. It's arguably the best shelter here – it's modern, big, and features a long bench with a wastebasket. Also on this side is another imposing gate, this one leading into the facility itself. We actually saw this one open, as the operator shift for the Commuter Rail drawbridge was changing, and I can now say that it's very creaky when it moves.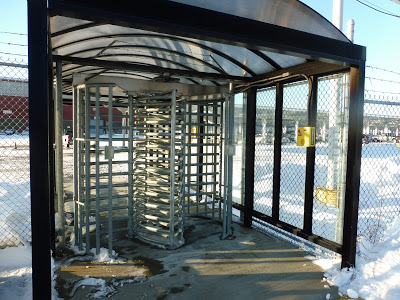 The "fare gate", as it were.
And now we get to the big behemoth of an entrance this place has. To get both in and out of this station, you have to present an ID card (Tap? Swipe? We couldn't tell.) and type in a secret code on the keypad! That unleashes one of the huge creaky turnstiles (there are two) to allow access in or out of the GE facility. They're really not joking around with the whole employees-only thing, are they?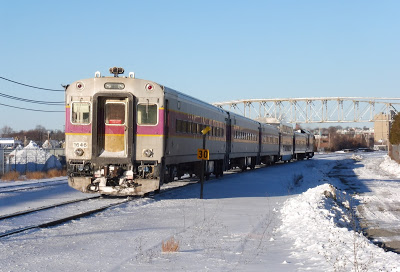 A train heading out.
Station: River Works
Ridership: Okay, the ridership stats given in the Blue Book don't tell the whole story here, since the Blue Book only covers inbound riders – River Works gets an average of 56 per day. However, many more people are commuting here from outbound down the line, and I would go as far as to predict that River Works gets more outbound riders than inbound. Oh well – regardless, ridership is pretty good considering that it's a station meant purely for employees of the GE factory.
Pros: The waiting facilities here are pretty good for such a low-service Commuter Rail station (most trains only stop here during rush hour) – it's got lots of shelter and seating room. The keypad system for getting in is also really cool, and prevents any outsiders (like Nathan and I, to be perfectly honest) from entering GE.
Cons: The outbound platform is significantly worse than the inbound side. Why is it bisected by a road? Why do people have to board on the other side of the gates for the level crossing? Why is there a super old poster rotting away in there? This is where the majority of people are going – I need answers!
Nearby and Noteworthy: If you're a GE employee, then work is nearby and noteworthy. If you're not a GE employee, then…well, you probably shouldn't be here.
Final Verdict: 5/10
Essentially, this is a stark imposing station for a stark imposing facility. It offers a lot of shelter and benches, and it's nice that the factory gets its own station for commuters, but the outbound platform (and generally the whole area) just looks terrible. It also has that horrible boarding procedure, which is just ridiculous. But hey, the inbound side is good! And the station features that keypad turnstile – can't beat that!
Latest MBTA News: Service Updates
A big thank-you to John Arico for arranging our visit here. Also, we filmed a video review of River Works, so stay tuned for that tomorrow!