So, why Wilmington? Well, my friend Nathan and I were debating whether to visit this station or North Billerica. The reason we chose Wilmington was because we'd have a little more time before the next inbound train came. Cool story, huh?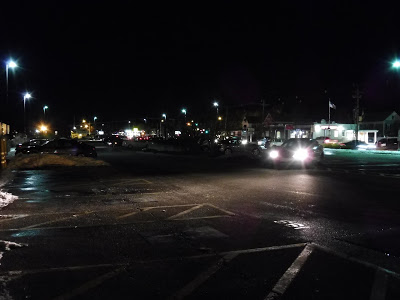 The parking lot.
Wilmington's parking lot is long and skinny, and doesn't actually offer that many spaces – just under 200. It seems like there are a few industrial lots around the station that could theoretically be converted to station parking, which could be a good idea, seeing as the parking on offer doesn't seem to be enough. There are also a few bike spaces near the ramp to the outbound platform from here.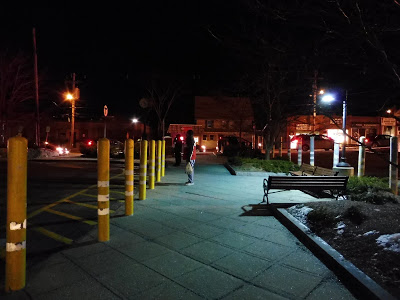 The station's bus stop.
Alongside the parking lot, there's a small plaza area for pedestrians, separated from cars with some big yellow poles. There are newspaper boxes alongside the platform, and a surprisingly decent bus stop for the LRTA 12. Sure, there isn't any shelter, but a good amount of benches is provided.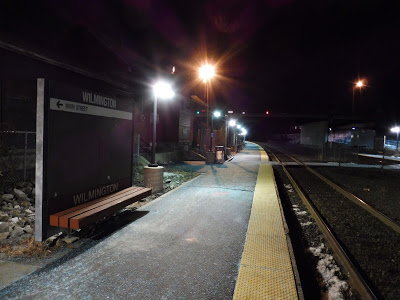 Heading down the outbound platform.
The outbound platform has a building along it, which houses a convenience store and a café – both of them have staircases leading down to the platform, but I'm not sure if they're actually open to the public. (UPDATE: the convenience store is closed) As for the platform itself, it's a long one. There are sporadic benches and wastebaskets all the way out to the end, where one could technically get onto Main Street if they wanted to, but it's not a proper entrance.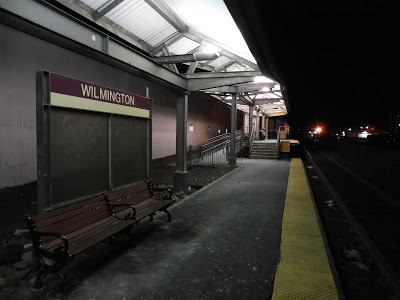 The sheltered inbound platform.
A single level crossing takes passengers across to the inbound platform, staggered with the outbound. The level crossing actually features an alarm that goes off whenever a train comes by, which is both safe and really annoying. A large part of the inbound side is sheltered, even a decent chunk of the low-level portion. The mini-high (just like the one on the outbound platform) is standard, with a few sheltered benches.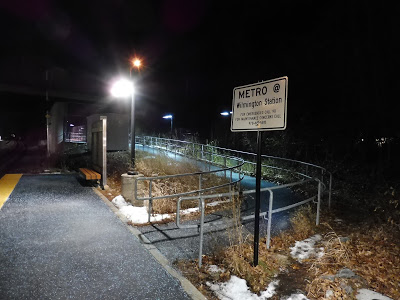 Another exit!
On the other end of the inbound platform, there's one more exit from the station. It's a pretty long ramp that goes under a bridge and leads out to a housing complex, Metro @ Wilmington Station. It's always nice to see transit-oriented development!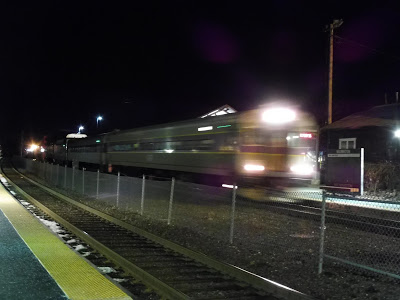 A blurry train going by!
Station: Wilmington
Ridership: For the Lowell Line, it's the third least-used station. But it's the Lowell Line, so that's not saying much! Yes, 544 inbound riders per weekday is still a perfectly good number for the Commuter Rail.
Pros: This station offers a lot of modern amenities, including good mini-high platforms, a decent bus facility, and some convenient TOD apartments. I like in particular how a large part of the inbound platform is sheltered, making for a more comfortable waiting experience – even if the mini-high is full, people can still be sheltered and close to it.
Cons: Parking is rather lacking here, and it could theoretically be expanded into one of the nearby industrial lots around here. Also, that alarm when trains come in is really annoying, but for the sake of safety, I shall let it slide!
Nearby and Noteworthy: This station is technically in "downtown" Wilmington, but it's borrrrrring! There are some shopping plazas about a 15 minutes walk up Main Street, but it's not like you'll find anything unique there.
Final Verdict: 8/10
Purely as a waiting experience, Wilmington is spot-on. Whether it's the bus or the train, you've got some great facilities here for Commuter Rail standards to wait at. Of course, if you're trying to park here…well, let's just say I recommend you arrive a little early.
Latest MBTA News: Service Updates