If one were to rely solely on the SAIL's schedule page, they wouldn't have any idea the route was even called the SAIL! It doesn't mention it anywhere! Yet that's the name GATRA uses when referring to the route elsewhere, and it's certainly a nice name. In fact, it's even an acronym! That's right, after some deep digging, it turns out the SAIL stands for "Seaside Area Intertown Line"! Ummmm…5/10.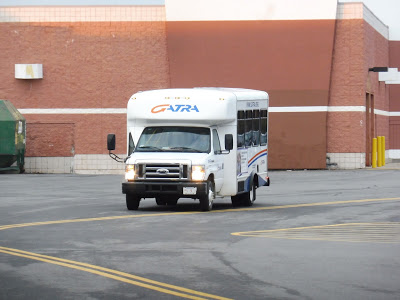 No sign? Great.
Okay, so the SAIL is…a beast. A one-way trip is almost an hour and a half, as the route snakes its way through three towns with a terminus just over the border of a fourth. This is gonna be a long one, guys. And it was all spent in a terrible minibus! Jiggly wheelchair lift? Absolutely.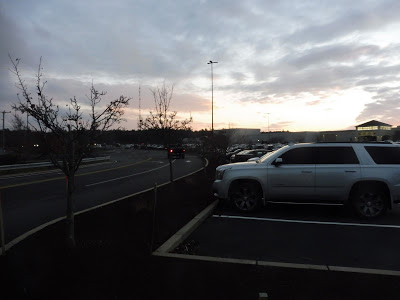 The sun setting over the mall.
We started at the Kingston Collection, but good ol' GATRA still refers to it as the Independence Mall – the name changed three years ago, guys! Some weekday trips deviate to serve Kingston Station, but this was a Saturday, so we headed straight up Smiths Lane, which was residential. Next we turned onto Main Street, which was mostly suburban businesses, but there were some houses in there too.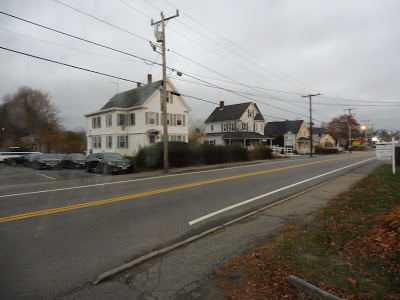 Some buildings on Main Street.
We crossed over Route 3, and the street was lined with houses beyond there. After going over a river in a marsh, we went by Hillcrest Road, where some weekday trips deviate – it's a housing development. We passed the Kingston Public Library, then as we crossed the Kingston/Plymouth Line, we rolled through a "downtown" of sorts, though the retail was not at all interesting.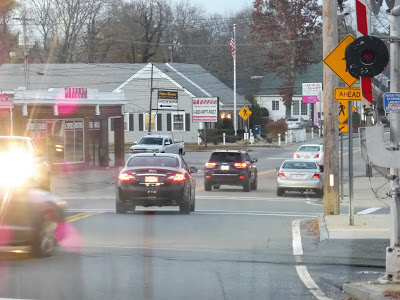 Front window shot!
There were houses again for a little while, but then we got those suburban businesses with parking lots again. We went past a shopping plaza, but didn't deviate to serve it. Don't worry – we deviated to serve the next plaza, which came up in about a minute! From that mall, we headed down Duxbury Way, though that became Tremont Street after we went over Route 3 again.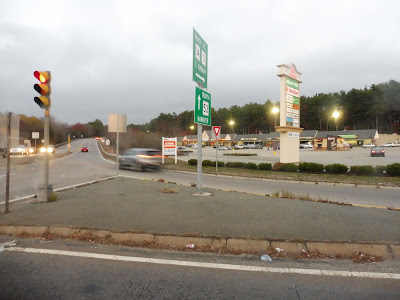 Suburban Massachusetts in a nutshell…
We entered Duxbury and encountered another deviation, this time to serve Island Creek, a modern housing development. After a few local medical offices, the street became lined with houses. Other points of interest included a pond and a small park. Eventually, we turned onto Chestnut Street, where the houses continued until we reached Duxbury Center.
Pulling out of Island Creek.
Duxbury Center was an interesting downtown, with a lot of roads awkwardly converging together into what seems like a really dangerous rotary. Businesses were laid out around the intersection of death. First we went up Depot Street in order to loop around the parking lot for a small shopping center, then we returned to the center and made our way onto Washington Street.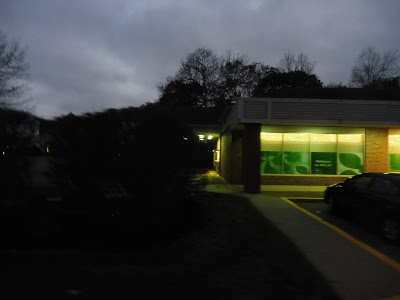 And now we get into the "dark and blurry" portion of the review…
There were lots of houses along Washington Street, but we did get a few businesses and a school as the street came up to a harbor. After some more houses, we went through a small marsh, the first of many moments on the trip that would have been super scenic if it had been daytime. Next, we turned onto Saint George Street, coming through the campus of the Duxbury High School and deviating to serve the…Duxbury Public Library? Okay, I'm sorry, but this one kinda baffles me.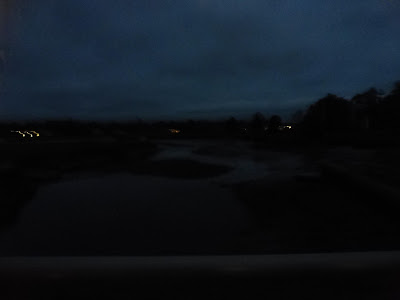 Oh look…a marsh…I think…
Coming back to Saint George Street, we passed a small section with lots of local businesses, then we turned onto Tremont Street again. We passed "Millbrook Motors", an auto shop, which is apparently important enough to be considered a timepoint on the route. Entering Marshfield, we curved to the right to stay on Tremont Street, but it soon became Careswell Street, running through woods and marshland.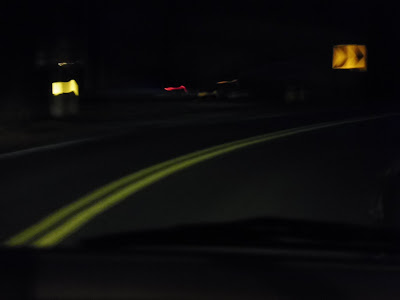 Oh boy, a blurry road!
Next, we turned onto Webster Street, making a rather long deviation to serve the Marshfield Senior Center. Coming back to Careswell Street, it became residential, with houses lining the road. Soon we merged onto Canal Street, which, after going through a marsh, curved up and became Bay Ave. This was a very narrow isthmus between marshland and the ocean, and it was lined with dense houses on either side.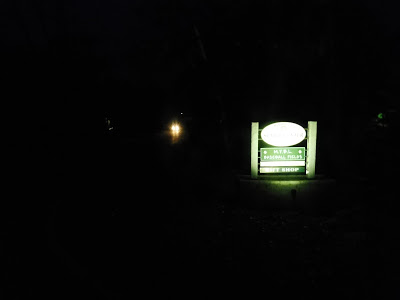 The sign for the senior center.
We turned onto Beach Street, heading back inland, and returned to Careswell Street. It became Dyke Road as we went by a marina and went through another marsh. There were more businesses at the end of the street, where we turned onto Ocean Street, running right along the ocean.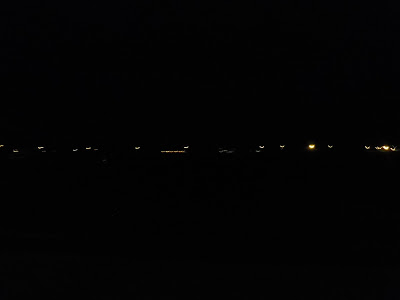 Looking across a marsh at some seaside houses.
Aside from a church, the area was entirely filled with dense seaside houses, and I can definitely see why. The view would have been amazing in the daytime! Eventually, we started to curve inland, passing a few businesses along the way. We also deviated to serve Winslow Village, a pretty small housing complex. Unfortunately, neighboring Winslow Village II was out of luck – it didn't get a deviation.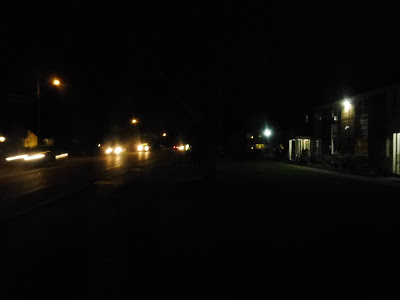 Coming out of Winslow Village.
There were lots of houses around, as well as a police station, but after a short marsh, it became suburban businesses with parking lots. We had another deviation here to serve "Marshfield Center", a fake modern town center that was basically just a mall. After some more businesses, we merged onto Main Street.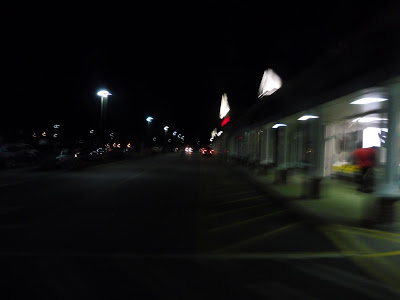 Welcome to Marshfield Center!
After going by the Marshfield fairgrounds, the street became mostly woods with a few houses dotted here and there. We turned onto Furnace Street next, offering basically the same scenery. As we passed the Marshfield Middle/High School complex, we entered the parking lot of a Roche Brothers. We completed that deviation, then headed down Plain Street.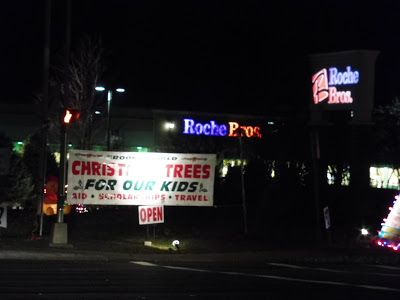 A Christmas tree ad? Yeah, I rode this route a while ago…
There were suburban businesses on one side and houses on the other, then just all businesses. As we crossed under Route 3, the street became Church Street and we entered Pembroke. This meant we were almost at our terminus, the unassuming North River Plaza shopping center. What a boring terminus to such a long ride…and little did Sam and I know how long we were gonna be stuck out here. Want to know what happened? Stay tuned for the video review tomorrow!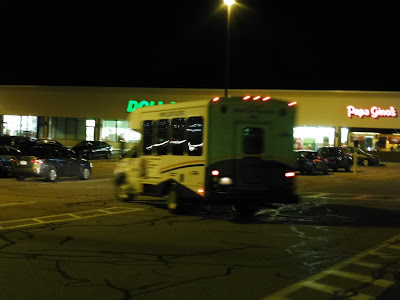 Wait, don't leave us here!!!
GATRA Route: SAIL (Marshfield – Duxbury – Kingston)
Ridership: Okay, in terms of overall ridership, the route isn't bad for GATRA – 142 riders per weekday and 77 on Saturdays. But then when you factor in how long the route is, that's only a little over 4 passengers per hour! Not so great anymore, is it? My trip was empty, for the record.
Pros: Well, uh, it definitely serves a lot. When a route is 25 miles long, it's definitely gonna…serve a lot. And it runs as frequently as you would expect it to – every hour on weekdays and every hour and a half on Saturdays.
Cons: It's…it's 25 miles long! In order to run that 60 minute service on weekdays, it takes three buses! Doesn't that seem a little ridiculous? And the fact that it gets very little ridership is even worse. Wanna know how much it costs GATRA to run? $17.39 per passenger on weekdays and $19.03 per passenger on Saturdays. Man, I'm so happy I found their subsidy data…
Nearby and Noteworthy: Certainly lots of malls. Also, some rather scenic views if you ride during the daytime!
Final Verdict: 3/10
Okay, the SAIL doesn't not get people, but its problem is that it's too long to be at all efficient. The later trips don't seem to get anyone, if ours is to be judged, and it requires a lot of buses to run. GATRA actually has plans to split the route into two, which I think would definitely be beneficial. Are they actually gonna do it? I guess we'll just have to find out…
Latest MBTA News: Service Updates