You know those bus routes that just shouldn't exist? Yeah…let's take a look at one of those today. Although weirdly, despite "deviated" being right in the name, one positive about the "Manomet/Cedarville Deviated Link" is that it doesn't have any scheduled deviations! It's all downhill from there, though…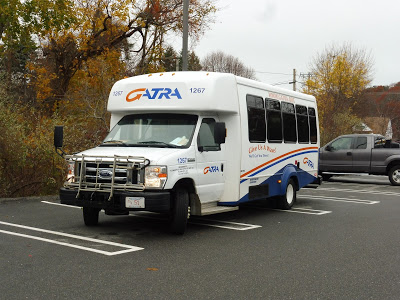 We thought this was the Cedarville Link. Long story…
Okay, so why is this called a "deviated" link, then? Well, it turns out that on this route, you can request the bus to "flex" up to 3/4 of a mile away from the main line. This seems like a good thing for seniors, and they give the bus a lot of time to get from end to end, so I don't think any requested deviations could slow it down too much. Alright, fine, that's another pass for this route.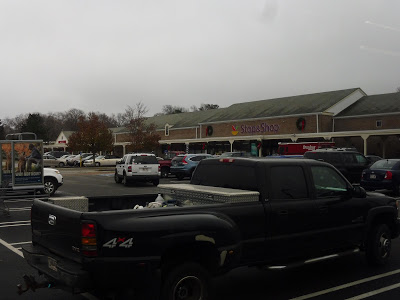 What a great place to start!
Leaving the start of the route at Stop & Shop, we turned onto State Road, which initially had businesses and parking lots alongside it. However, they ended quickly, and we were soon driving past lots and lots of houses. At one point we came up along a lake briefly, and there was a small business a little past there.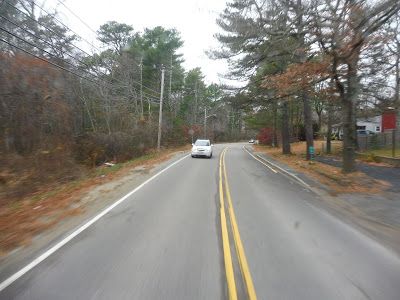 Thanks, rear window!
Eventually we passed an elementary school, which is apparently a major timepoint on the route. That said, it's not like there was much else of note! We did go by a brook and a church, plus some sort of residential development, but it was really just a lot of houses and woods.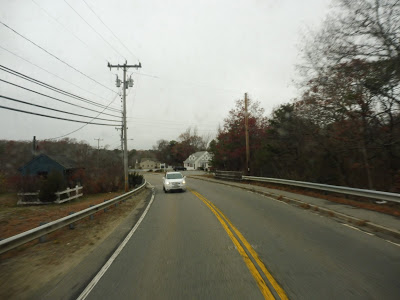 The brook crossing is in the background there.
We got some full-on forest for a bit, but according to Google Maps, there were houses hidden on dead-end streets coming from other roads. And…yeah, it was basically a mix between forest and residences for a while, and the occasional farm or marsh or something. Another major timepoint was Ellisville Harbor State Park, but we just whizzed by.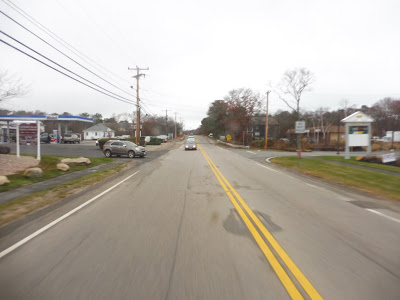 Civilization!
Finally, we arrived at some businesses…all with parking lots, of course. At this point, the driver turned and asked Sam and I where we wanted to go. We said we were just going to ride back, so the driver said "Alright, is Tedeschi's okay?" So with that, we pulled into the parking lot of a Tedeschi's, and the driver went in to do some shopping during the layover…taking a random pair of underwear with him. Don't ask.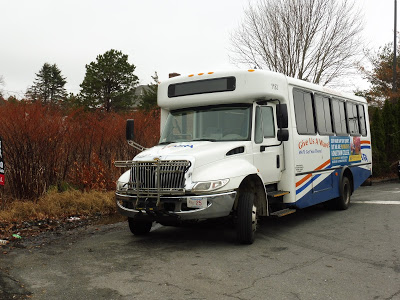 This was a very loud minibus. The jiggly wheelchair lift didn't help.
GATRA Route: Manomet/Cedarville Deviated Link
Ridership: Okay, the ridership on this thing is so ridiculously low it's not even funny: 28 riders per weekday, and 23 per Saturday. That means that the route gets an incredible 1.4 passengers per weekday trip and 1.15 passengers per Saturday trip. BETTER NOT RIDE THIS ROUTE IF YOU HATE CROWDS, 'CAUSE IT'S A REAL BUSY ONE! THE 111? THE 28? HA! SPAGHETTI AND MEATBALLS COMPARED TO THE FREAKING MANOMET/CEDARVILLE DEVIATED LINK!
Pros: Um, gee, I dunno, uh, it runs every hour. There's something.
Cons: BUT IT SHOULDN'T BE RUNNING AT ALL! Okay, what does this route serve? A bunch of spaced-out houses and some random highway businesses near the end? Yeah, those places totally need a bus! A bus, might I add, that costs GATRA $18.68 per person to run! Sounds like money well-spent to me! Okay, also, there's the ridiculous transfer between this route and the Mayflower Link. They're actually the exact same bus, and to continue onto either one, you would just stay on at Stop & Shop. Does GATRA tell you this? Nope! This led to a very frustrating experience that I won't get into now…but stay tuned for the video review!
Nearby and Noteworthy: Uhh…Tedeschi's? Look, guys, I got nothin'. The few businesses at the terminus of this route are really boring.
Final Verdict: 1/10
Cut it. Cut it. Cut it. Cut it. Cut it. Oh, for goodness sake, cut it. This route barely serves anything, it gets no one, and it's ridiculously expensive to run. It's weird, I was actually rather positive about this route when I first rode it, and it has to be said that the ride itself is enjoyable. It's also one that shouldn't exist. I'll say it one more time: cut it!!!
Latest MBTA News: Service Updates