Welp, we've finished the B Line, which had some truly horrible stations. As long as we're on this high (or low, I guess), we might as well complete another set of terrible stops: the Worcester Line Newton stations. I've done Newtonville and Auburndale, so now it's time to tackle the rotten meat of this disgusting sandwich, West Newton.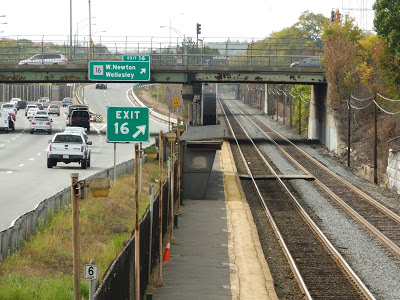 Oh nooooooo…
Yup, this being a Newton station, it's right next to the highway! The loud, noisy, fuming highway! Excellent. And guess what? It only has one platform! And since they were doing track work the day I came here, we had to get off on the wrong track, crossing to the platform via a boardwalk! We're off to a great start, aren't we?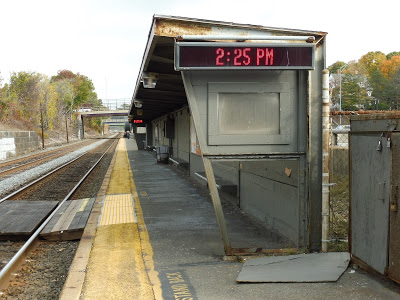 This shelter is in fantastic shape, isn't it?
The shelter is a rotting, dilapidated mess. So basically, it's what you would expect from a Worcester Line Newton station! Yes, it's the classic I-90 shelter, with a few benches and a wastebasket underneath its rusting roof. There are some ads and torn-up schedules to see, as well.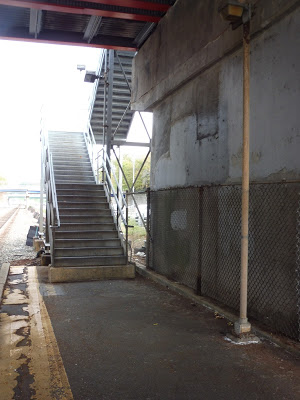 One of the staircases leading out of the station.
The rest of the platform is basically bare, aside from a few more wastebaskets. So now, let's talk about the exits, which for some reason go underneath the dingy overpasses and then curve around back up! What is preventing the staircases from just rising up from before the bridges? What's more, they're the kind of staircases that you can see through as you climb! I'm just gonna quote my Auburndale review here: "Hope you're not afraid of heights!"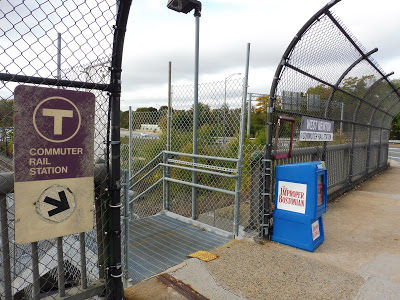 Ewwww…
Both entrances to the station offer the same…*ahem*…"amenities". That means a "Commuter Rail Station" sign, a station name sign, and in the case of the western one, a lone newspaper box. However, one thing this station does excel at is parking. It's got a total of 213 spaces, located in two…unsigned lots. And one of them is across a busy street from a station entrance. But hey, at least there's good parking!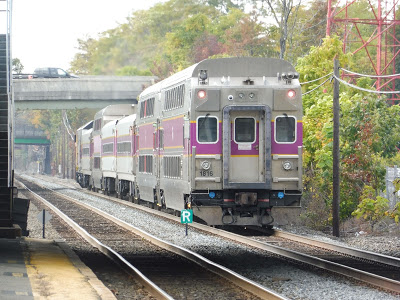 A standard Commuter Rail train…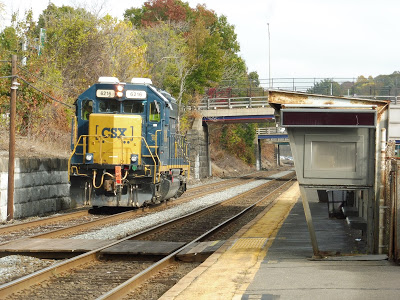 …and a little CSX locomotive passing through!
Ridership: This is the least-used Newton station, and actually the least-used station on the entire Worcester Line – it only gets 284 inbound riders per weekday. Strange, considering that it's the Newton station with the most parking.
Pros: Actually, yeah, the parking. And that's about it.
Cons: West Newton has all your typical I-90 station cons. It only has one platform, the shelter on that platform is horrible, and the noise of the highway is constant. I also hate how the staircases go from the other side of the bridges and loop around – that's so stupid! It's dingy under those bridges, man!
Nearby and Noteworthy: Nearby Washington Street has plenty of businesses and restaurants, including a local cinema!
Final Verdict: 2/10
Overall, much like the arrangement of the stations themselves, I would slot West Newton in between Auburndale and Newtonville. It has a decent fence, unlike Auburndale, but it still has horrible staircases, unlike Newtonville. The decent amount of parking is ultimately what brings this up to a 2 for me, since it's hard to find parking in such a dense area, anyway.
Latest MBTA News: Service Updates