Oh my gosh, we've made it! We've finally made it! We're at the end of this HORRIBLE line! Okay, so this is the "grand terminus" of the B, and it's way better than most other stations on it. And by "way better", I mean that it's…somewhat decent. Boston College, everybody!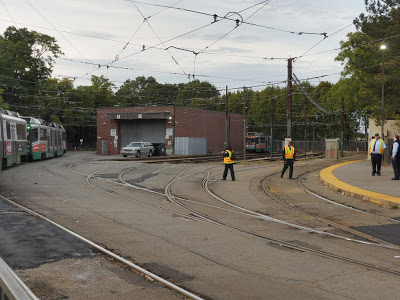 Looking at the station's yard.
The drop-off system at Boston College is interesting, to say the least. Normally, trains let out along a platform within the station complex that stretches around a building for MBTA employees. Simple enough, right? But SOMETIMES – ostensibly when three-car trains are operating – trains will let out at an in-median platform on Commonwealth Ave! Now isn't that just a wee bit confusing?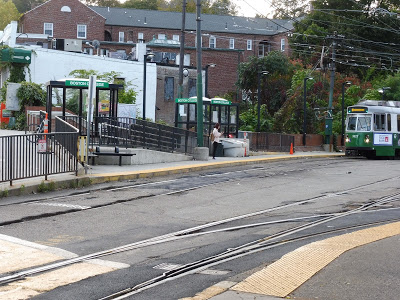 The crazy boarding platform!
Boston College has a really weird boarding platform, as well. It's basically a bunch of staircases and ramps going all over the place! Well, we'll start with the "entrance", which features some newspaper boxes, a staircase, and a ramp leading in the…general direction of the platform, I guess? It's more complicated than it looks.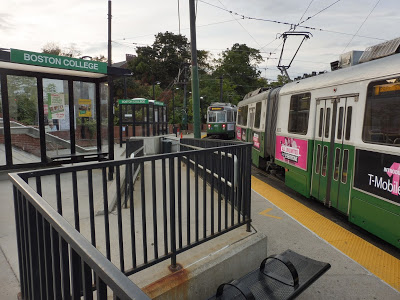 What is this insanity?!
Of course, despite the weirdness of the platform itself, this station has some actual amenities! Huzzah! There are benches and wastebaskets and a proper ADA platform, and best of all: shelters with benches under them! The B has finally figured it out! Too bad the platform can only board one car of a train. Yeah, that's a pretty big design flaw, isn't it?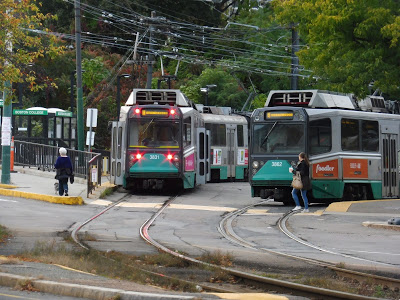 Some trains in the station.
Station: Boston College
Ridership: Sadly, this is not a particularly well-used stop, with only 1,136 riders per weekday, slotting it at sixth-worst for the B. So…why is this the stop that gets all the amenities?
Pros: Yes, as I mentioned, there are proper amenities here, and Boston College feels like an actual, true station. It actually has benches under shelters!
Cons: There are three main problems with this station: the deboarding process is inconsistent, with two separate platforms; the multileveled inbound platform feels more complicated than it needs to be; and it can only board one car.
Nearby and Noteworthy: There's a little business block next to the station with restaurants, and of course, it's right near the sprawling Boston College campus.
Final Verdict: 6/10
And thus, we've reached the unsatisfying end of a rather unsatisfying adventure. The B Line is…terrible. And most of its stations are terrible. There's definitely a lot of work that needs to be done to make this line wheelchair accessible, let alone…y'know, good. So hopefully, improvements are in the future for the most hated line in Boston. Stay tuned for "The B Line: Exposed", coming out tomorrow!
Latest MBTA News: Service Updates