Boston University's campus is hugeeeee! I mean, it's really funny that it goes far beyond BU West Station, with modern buildings and dorms coming into the neighborhood of Saint Paul Street and Pleasant Street. And…uh…well, these stations could definitely be better, to say the least.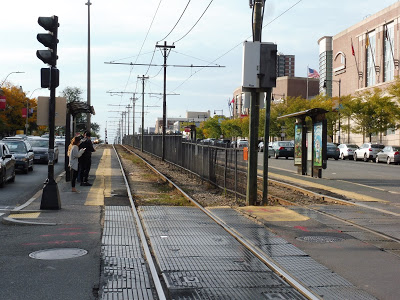 Saint Paul Street's platform.
Hmm…yeah, we don't have much to work with in the platform department for these two stations. For one thing, the barriers between the platform and the road are gone for the most part – that's right, a mere curb separates you from getting run over by a car! Oh wait, I'm sorry…the inbound side at each station has a crumbling knee-high concrete barrier that doesn't extend over the whole platform and probably does more harm than good. Great!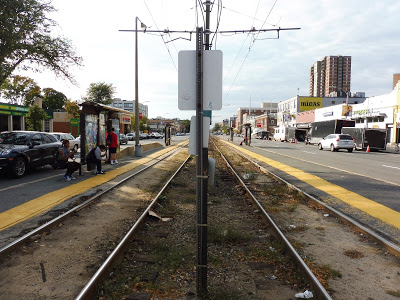 The platform at Pleasant Street.
And what about the shelters? Well, once again, they have no benches. Except…except…OH, WOW, BOTH SHELTERS ON THE OUTBOUND SIDE HAVE BENCHES! GREEEEEEAAAAATTTTT! SORRY, INBOUND PASSENGERS! Well, hey, at least inbound people get a WASTEBASKET! And it's TERRIBLE! WONDERFUL! GUESS THAT WAS AN OXYMORON RIGHT THERE! YOU KNOW THE STATIONS ONLY GET WORSE FROM HERE?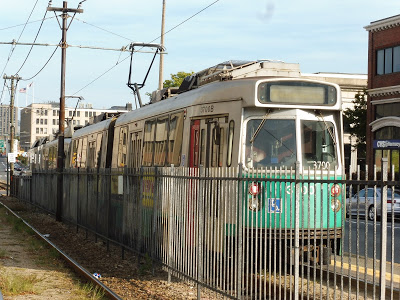 A train heading inbound.
Stations: Saint Paul Street (B) and Pleasant Street
Ridership: These two stations are slightly below average for the Green Line, with 1,296 riders per day at Saint Paul Street and 1,167 riders per day at Pleasant Street. As I'll discuss later, though, ridership at the latter can SPIKE on certain occasions.
Pros: Well…if you're going outbound, I guess you have sheltered seating. Good for you?
Cons: I'm done ranting about the shelters…go back and read the all-caps paragraphs if you want to hear my opinions on them. You know what I AM going to rant about? Pleasant Street! I went to an event at Agganis Arena (I saw the Cure!) and afterward, the police had to BLOCK OFF the intersection in order to accommodate the GIGANTIC amount of people trying to cram into the front door of a B train! For heaven's sake, GIVE THE PEOPLE SOME AMENITIES! YOU CAN'T PUT SUCH A TERRIBLE STATION OUTSIDE OF SUCH AN IMPORTANT ARENA!!!
Nearby and Noteworthy: More BU buildings, basically, including the arena! As you head into Brookline, however, you'll find a quiet residential neighborhood.
Final Verdict: 3/10
Andddddddd we're heading in a downward spiral! It irks me so much that these stations only have proper shelters with benches going outbound, while inbound passengers just have to stand. This is horrible for Pleasant Street in particular – once again, Agganis Arena is a huge arena! That tiny station CANNOT handle the amount of people that it gets!
Latest MBTA News: Service Updates