After the B Line crosses over I-90, we reach the next stop, Boston University West. It's a little weird that they call it that, though, since Boston University continues west well past this stop! Oh well, dubious name aside, let's see what this station is like.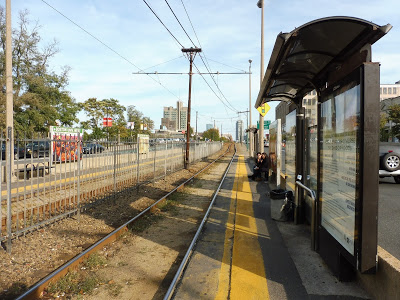 Definitely a departure from the last few stops…
BU West has a few differences from previous stations right off the bat. Firstly, the platform is a lot narrower than before, which is rather annoying. Also, no longer is there a nice big fence between the platform and the road – now it's just a small concrete barrier, and a sometimes-crumbling one at that!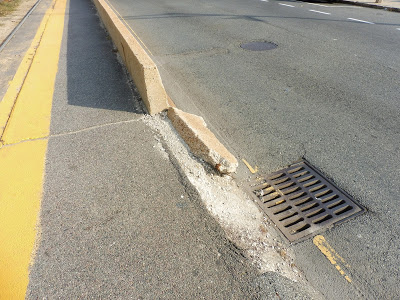 Oh dear…
However, there is also some stuff to like about BU West. For one thing, its amenities are no worse than the other two BU stations – we still have two shelters on the inbound side with no benches, as well as a lame wastebasket. The outbound side even has a shelter with a bench…for some reason. Plus, BU West actually has artwork on the station signs, which gives it a lot of respect from me – this is the only B Line station with any form of art.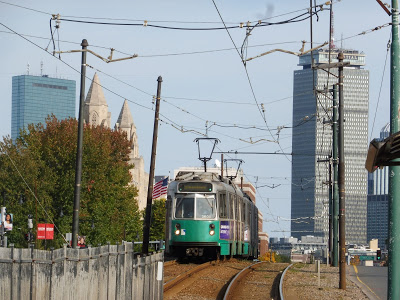 A train with some recognizable buildings in the background!
Station: Boston University West
Ridership: BU West only gets 704 riders per weekday, making it the fourth least-used station on the B. So, uh…yeah, not great.
Pros: It's definitely competent for a B Line stop. It has shelters, although they're benchless on the inbound side, and the art is especially a nice touch. Like I said, no other B Line station has artwork!
Cons: Still, the platforms are very narrow, and the barriers between them and the street are in pretty low quality. Plus, the benchless shelters are just as annoying as ever!
Nearby and Noteworthy: Possibly one reason for BU West's low ridership is that it doesn't really serve that many BU buildings (ironically, there are more of them as you go further west). Still, it covers the College of General Studies, and a few random businesses.
Final Verdict: 5/10
We've definitely experienced a drop in quality since the last few stations, and it only gets worse from here. BU West does have some nice artwork, but otherwise, its platforms are narrow, its inbound shelters are benchless, and its concrete barriers are mediocre. Yes, it's better than many other B Line stations, but that isn't saying much.
Latest MBTA News: Service Updates