So…I guess Suffolk Downs has a bus service? Yeah, it was really strange when my friend Josh and I walked out of the station (which, incidentally, deserves a higher score than the 3 I gave it) and just saw people boarding a Paul Revere Transportation minibus at a weird pseudo-busway! Yeah, so…let's look at this shuttle thing.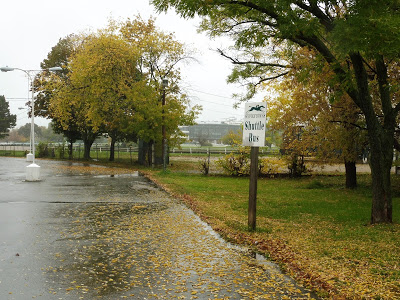 The…"busway".
So where does this shuttle even run? Well, it goes from the Suffolk Downs Blue Line station to the clubhouse for the Suffolk Downs track, a distance of 0.3 miles. As you can imagine, it's not the longest trip in the world. The route boards at a loop on the Waldemar Avenue side of the station that surprisingly has signage!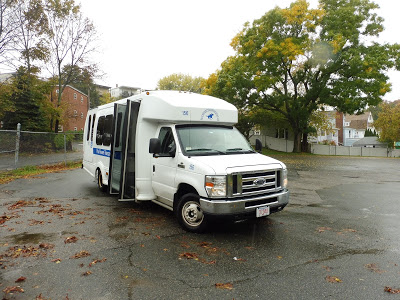 The bus at the loop.
The minibus wasn't bad inside. It had a decent number of seats (that probably never get filled), and they were all quite comfortable. The wheelchair lift had a slight bit of jiggling action, but it wasn't nearly as bad as other minibuses. And of course, the radio was on, but it was pretty quiet.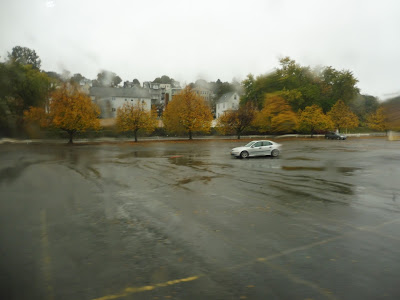 The only decent picture I could get through the rainy windows…
The trip is…very short. We left the busway and headed down Waldemar Avenue next to the racetrack. It looks like there are actually two Waldemar Aves, but this one is mostly isolated from other streets, and is only within the Suffolk Downs complex. Eventually (by that I mean about 15 seconds later), we entered a parking lot and reached the final stop at the clubhouse, once again with signage! And, uh, that's it.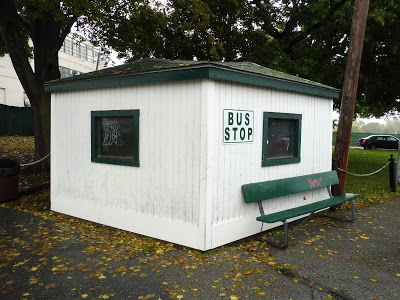 Not a bad stop!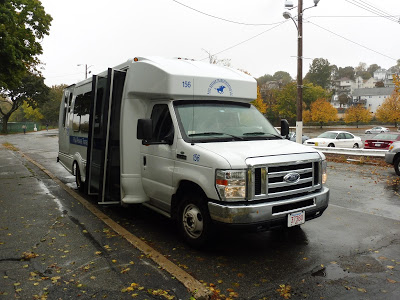 The bus at the clubhouse.
Route: Suffolk Downs Shuttle
Ridership: Surprisingly high! I mean, our initial trip got two other people, and every other trip we saw had at least one person. Sure, it's no 111, but for a minibus, that's really not bad at all!
Pros: It's a link to the clubhouse that gets riders, I guess. Also, since the trip is so short, it runs really frequently. A one-way ride is literally a minute, so essentially the route runs every 2-3 minutes! Hey, it's just one bus, and most trips have at least one person, so I guess I can't complain.
Cons: Its length, I guess? I mean, the clubhouse is less than a third of a mile away from the station! That said, the ridership seems to consist of all seniors, so I'll give the route a break.
Nearby and Noteworthy: You're literally only going to ride this bus if you're going to Suffolk Downs! So…yeah, Suffolk Downs.
Final Verdict: 8/10
Hey, I mean, it gets the job done, right? It runs frequently, it gets some degree of ridership, and it serves…something. I guess it's, uh, good!
Latest MBTA News: Service Updates