Man, the South Station Bus Terminal is crazy! Our trip to North Londonderry (from which we would get a ride to Transit Day) was my first time getting a bus from the terminal, and it's all such a mess! But the review of South Station shall come a different day – for now, we're looking at the Boston Express coach bus to New Hampshire!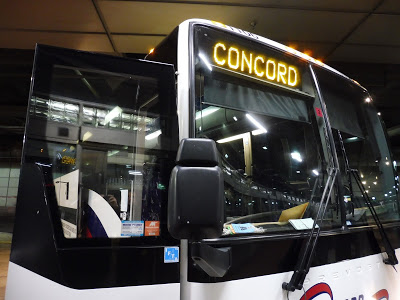 Okay, evidently it's hard to take photos in the South Station Bus Terminal…
The bus was typical coach bus fare, with big relatively comfortable seats. Amenities included tight tray-tables, radios that played mediocre music, a tiny bathroom, and really ugly TV screens showing the destination and bus rules. Keep in mind that this particular trip was run by Concord Coach Lines, so perhaps the actual Boston Express buses are different.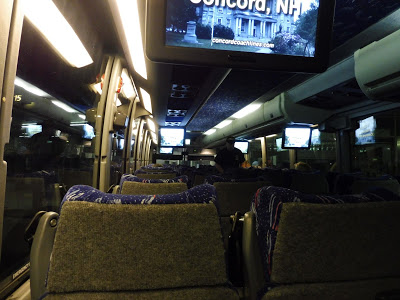 Looking toward the front.
We pulled out of the birth at the lovely time of 6:30 AM and made our way through the dark terminal. Coming out into the light, the sun was just starting to rise, and we got an amazing view of Boston. We travelled down those bus terminal access roads and somehow got onto I-90 (I honestly can't make heads or tails of how that interchange works). You see, while most trips start at the airport and then go to South Station, we had to start at South Station and essentially deviate to serve the airport.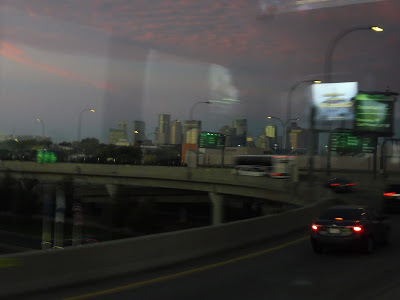 Okay, I could not get good pictures in this lighting! This is from the airport.
We went through the Ted Williams Tunnel out to East Boston, then popped out and went onto an elevated ramp. This took us to our first stop, Terminal A, where we unfortunately had to wait a while for scheduling purposes. Finally we were able to leave, and after stopping at all the other terminals, we started to depart the airport as the driver gave us a quick rundown of the rules.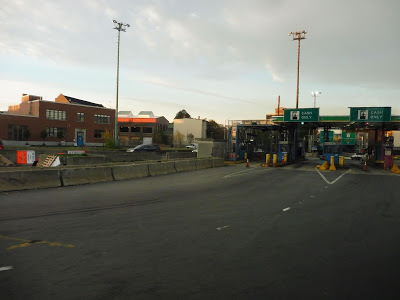 Goin' through the toll.
This time we headed onto the elevated Route 1A, then curved through a toll booth and into the Callahan Tunnel. Coming back into Boston, we merged onto I-93, and about half an hour after leaving South Station, we were finally able to head in the right direction. We went over the Zakim Bridge and then ran down the high elevated highway through Somerville.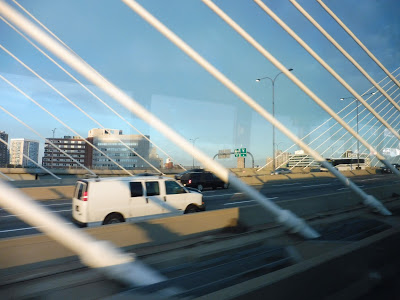 Kind of a cool view going over the Zakim.
We returned to ground level as we continued through Somerville, then passed Medford Square later on. The Middlesex Fells Reservation came next, with woods and trees on either side, and then we went through Woburn and crossed I-95. From there, the scenery along the highway was basically forest, although office parks and houses were on side roads that we couldn't see.
Exit 38, I guess.
Eventually we crossed I-495, and got a great view of the Merrimack River as we crossed over it soon after. This was just about the last frontier in Massachusetts, as we entered New Hampshire just a few exits later. At Exit 2, we merged off the highway, turned onto Pelham Road, and then headed into our first stop: Salem, NH. It was a simple park-and-ride, but it seemed to have a decent building with amenities inside.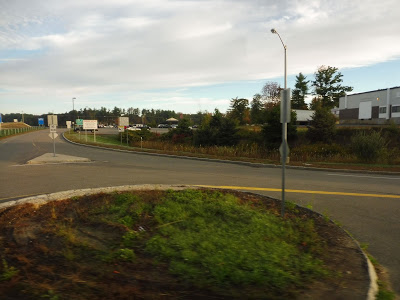 Leaving the park-and-ride.
It was a bit of a pain to get out of the park-and-ride – we had to go down Raymond Ave, go around a rotary, then turn onto South Policy Street (which was residential), Pelham Road, and finally merge back onto I-93. It was woods for the next few exits, including Exit 4, which buses serve at rush hour.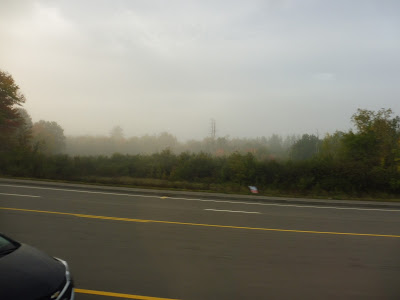 Wow, that's some epic fog!
Eventually we got off at Exit 5, turning onto Rockingham Road. A very deep fog had developed by this point, making for some cool views as we pulled into what would the the route's last stop, North Londonderry. However, this was technically a Concord Coach trip, so our bus would be going further into New Hampshire.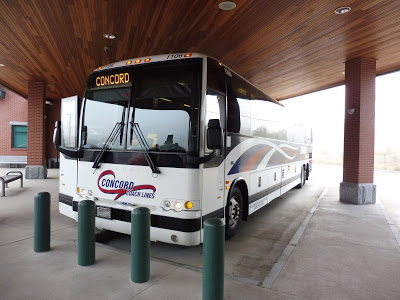 The bus at the lovely North Londonderry stop.
Boston Express Route: I-93
Ridership: In January 2014, the route got about 33,000 people, or about 1,065 per day. Keep in mind that that's inbound passengers only, meaning that each inbound trip gets an average of over 31 people! Even my outbound Saturday trip at 6:30 AM got a few riders – sure, it was only about 10-15, but that's really good considering the time.
Pros: There is so much to like about this route. For one thing, the schedule is great: it's every hour during non-peak times and on weekends, while during rush hour it operates essentially with every 15 minute service, with each trip stopping at different stops to balance out the ridership. Simply fantastic! Also, the fares are pretty reasonable, charging $14 from Londonderry to South Station, and $13 from Salem. There's a $4 surcharge to get to the airport, unfortunately, but that makes sense. Fares can either be bought in advance, or upon exiting the bus if you have proper identification. Finally, according to John Arico, who gave us a ride from Londonderry to Transit Day, the proper Boston Express buses are even nicer than the Concord Coach Lines ones!
Cons: Nothing too bad, just some little annoyances with the vehicle and schedule. For example, the screens and radios on the bus weren't the best, and it was annoying how we had to deviate to serve Logan Airport on that one trip.
Nearby and Noteworthy: There's nothing much in Londonderry, but you could theoretically take this bus to get to Canobie Lake Park! Granted, it's a half hour walk from the Salem stop, but it's possible!
Final Verdict: 9/10
This route provides excellent service for people in southern New Hampshire who commute to Boston. The funny thing is that it doesn't even serve particularly major cities, yet a bunch of people still use it! Honestly, this route is a prime example as to why we should have Commuter Rail service to New Hampshire, but for now, the Boston Express is still an excellent way of getting to Boston.
Latest MBTA News: Service Updates