I was heading home from school at around 5 PM, as usual. The Red Line was apparently experiencing severe delays, but it didn't impact the trip from Harvard to Porter too badly. Once at Porter, I realized I had just missed the 83, so I figured I would wait for the 77 instead. And then I checked my phone…
14 new messages! All from the group chat with Nathan, Sam, and Jordan! "1778 is on the 47," Nathan had said at 2:34. "1780 now also on the 47," he said at 3:18. The new Cabot buses were out??? That was two hours ago! I sent a rather dejected message to the group, lamenting the fact that I hadn't checked my phone earlier.
Then Nathan sent a message that they were still in service! "YOUHAVETOTAKEITSJAKSOCJSBX-NXBNXAKLLPQPKA," he said. The character soup gave me newfound vigor to pursue the buses. He said that 1780 was going to do the 5:40 trip on the 47 from Broadway, then go back to the yard upon arrival at Central. I could catch it midroute and get a ride! Sounds easy enough…
Well, turns out those "severe delays" had affected the Red Line pretty badly – it was a 9 minute wait for the next inbound train. I headed back upstairs and saw a 96 coming across the street. Perhaps I could take it to Harvard and then get another bus to Central. Unfortunately, although the road ahead of us was empty, but we got stuck at EVERY DANG RED LIGHT ON MASS AVE! I kept asking Nathan for updates, as my flip phone has no form of bus tracker (obviously).
The bus arrived into Harvard just as a Braintree train was coming in. Fantastic! I could take it to Central and catch an outbound 47 from there. I ran to the platform and jumped onto the train, only to hear "Ladies and gentlemen, we will be standing by here for a few minutes." Shoot, the Red Line was really screwed up…
Thus, I headed up to the 1 instead. Now, a good life lesson is to never put your trust in the 1, and this slow journey was no exception. Nathan told me that 1780 had left Broadway as my bus slowly looped around Harvard Yard. Luckily, the 47 from Central I was shooting for was very late, so I had time.
We arrived at Central, but there was no sign of the 47. I texted Nathan, and he said there was one in 9 minutes. Well, I figured I could head into Dunkin' Donuts and get a super quick bite to eat. I had no time to waste! "Excuse me," said an old lady to the cashier, "Could you help me get the cover off of this coffee?" OH MY GOD PLEASE HURRY UPPPPPPP! Finally, I got my bagel and ran out, saw the 47 at the bus stop, and jumped on just as the driver was about to leave!
Nathan said I could safely take the bus to Comm Ave and be able to grab 1780 back to Central. Sounds good…except we were stuck in horrible traffic on Green Street. Come on, come on, let's GOOOOOO! As we edged past a packed 70, we finally turned onto Magazine Street and managed to pick up some speed.
Suddenly a new bus pulled around the corner. Oh no! I was too late! Oh wait, it was just 1449 running on the 64. Phew! 1780 was stuck in LMA traffic, so things were looking up. But then, my bus got to the rotary for the BU Bridge. So…much…traffic! I began furiously texting Nathan asking where 1780 was, but no matter what, I was stuck – no more stops until after the bridge.
Finally, we made it over and I hit the stop request button. "It's close," Nathan said. "Get to the nearest Central stop." As I got off at Mountfort Street, stuck at a red light on the other side was…1780. Oh my gosh, she was beautiful! But there was no time to waste – I had to get to the nearest stop! I ran onto Carlton Street, sprinting over the Mass Turnpike and across all six lanes of Comm Ave before reaching the stop just as the bus was approaching. I had made it!
And boy, was it amazing inside. All the poles were yellow, which made for a cool look, and it had a fantastic new bus smell. The announcements were crystal-clear (despite a weird clicking noise that played before and after each one), and it was incredibly smooth and quiet. The wild goose chase had been worth it! I can't wait for more of these buses to appear.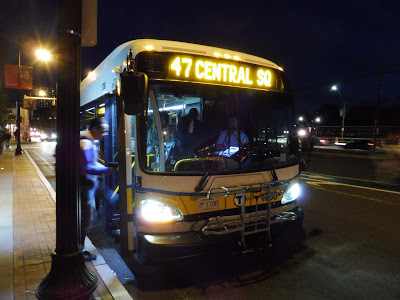 The bus on Comm Ave.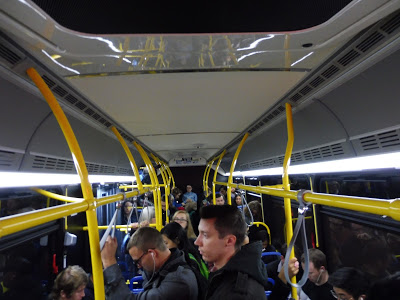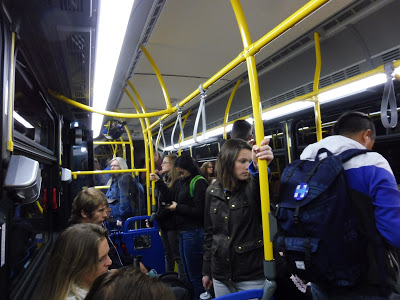 It was packed!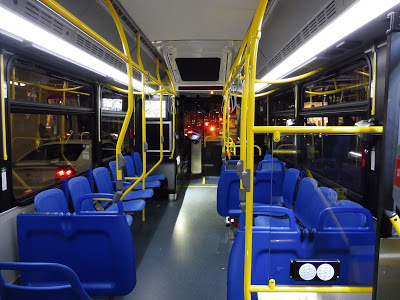 Looking toward the front, once the bus had emptied out at Central.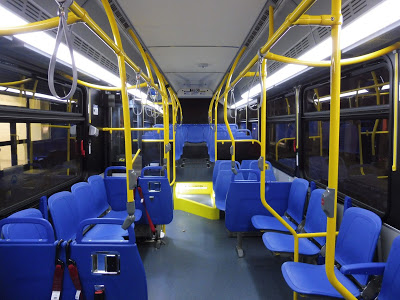 And the back!