There are five Fitchburg Line stations that require crossing the outbound track to board on the inbound, and four of them are in a cluster. I've reviewed three out of those four, and Lincoln is by far the best one (not that it has much competition – don't worry, I haven't forgotten about that last one that shall not be named), but does that make it good? Let's find out.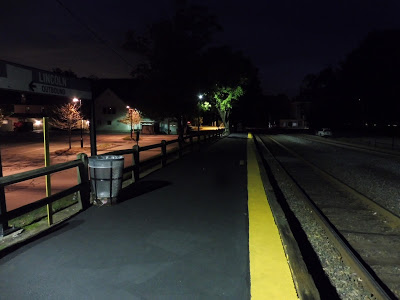 Did I mention this was a night review? Don't expect the best pictures…
My friend Nathan and I got off on the outbound platform, having done our monumental trip from Silver Hill. It's definitely underwhelming, but I suppose no one would ever be waiting here, so it doesn't matter much. There's no shelter along the whole thing – indeed, there aren't even benches! All the platform offers is a few wastebaskets.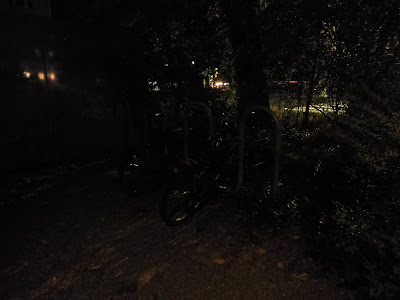 This is a rugged bike rack…
Lincoln has a weird platform setup – they're both along the same track, but staggered. The "outbound" one is to the north of the station's level crossing, while the "inbound" one is to the south. To get from the outbound to the inbound, you have to walk along next to a post office, then go over the crossing. Along the way, you can find an unworking payphone and a bike rack in the middle of some trees that apparently gets usage. Can't complain!
Looking down the inbound platform. Sorry guys, this was the best I could do…
The inbound platform is dominated by a building, which itself has a few businesses and offices in it. What kind of features does it have? We've got another bike rack, some stairs that lead to nowhere, some radiators, some wastebaskets, a schedule, a single bench, and newspaper boxes. Also, no shelter at all…ech. Finally, the station map has a pretty funny error, showing Beverly as being a station on the Rockport Line but not the Newburyport Line!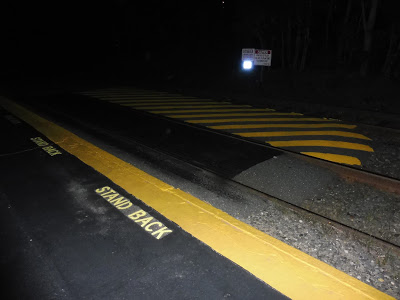 The boarding area.
I gotta say, although Lincoln requires passengers to cross the outbound track to board on the inbound, it has the best facilities of any such station on the Fitchburg Line. First of all, the electronic scroller gives safety warnings about the crossing, which is a good touch. Also, the area has lots of signs and paint to make sure it's obvious what to do.
The station parking lot.
Lincoln has a rather…interesting parking situation. It features a decent amount of spaces (161), and is paved and well-organized and all that, but…it still uses an honor box! Seriously, Lincoln, do you really think people want to be stuffing dollar bills into tiny slots just to park? Upgrading to Pay By Phone isn't that hard!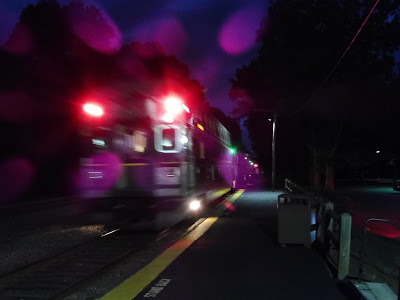 Goodbye, blurry beast…
Station: Lincoln
Ridership: Okay, it's the Fitchburg Line, so you can't expect anything too high…Lincoln gets 391 inbound riders per weekday. Of course, it was empty when Nathan and I were here, it being night and all.
Pros: Lincoln has a good amount of parking, double that of neighboring Concord. Its outbound platform is functional considering barely anyone would ever use it, while the building on the inbound side is charming. Although the inbound platform requires crossing the main line to board, at least it's the "safest" station to do it.
Cons: Well, number one is the honor box, which is ridiculously antiquated and needs to go. More important, though, is that the inbound platform really needs more seating and some sort of shelter – it has a good amount of amenities, but they forgot the dang shelter! Maybe they could just stick a (I can't believe I'm saying this) bus shelter over by the boarding area to make operations more streamlined. Actually, why are there two platforms in the first place? Consolidation would be really simple…
Nearby and Noteworthy: There's nothing too special near here: a post office, a supermarket, a bank, and…an art gallery? Okay, that's pretty cool.
Final Verdict: 5/10
Yeah, it's functional, but Lincoln is quite far from perfect. Honestly, changing that honor box would raise the score to at least a 6, and that's not a hard fix! That inbound platform is kind of a mess, though, and putting some sort of shelter with seating near the boarding area would be great (but probably not something the MBTA is willing to do). But crossing the outbound track is something that flat-out can't be fixed unless they build another platform, so…sorry, Lincoln…
Latest MBTA News: Service Updates