Well…this was unexpected, wasn't it? The MBTA gave this station practically no advertising at all! Admittedly, it has very limited service at the moment – Wachusett is only getting two trains per day. But hey, since it's open now, what say we give it an ol' review? Sam and I only had around 15 minutes here, but let's take a look at the newest station on the MBTA!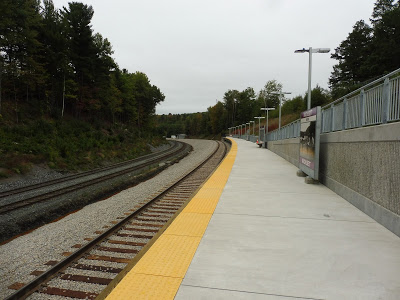 The platform.
I really like the open part of the platform. It's reminiscent of
Weymouth Landing
, with a high wall on one side (featuring a nice concrete design) and a single track on the other. Each station sign features a historical photograph, and every other one has a bench. The platform stretches on for quite a while – a lot further than any train would ever stop.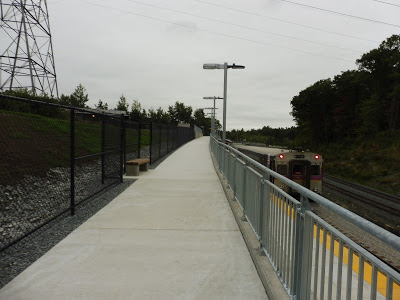 The ramp.
However, there is a purpose to the long platform, in that it leads to a ramp up to the exit. It feels like any other modern Commuter Rail ramp, including a "break bench" in the middle. It takes passengers up above the train tracks and under some pylons before arriving at the station "lobby".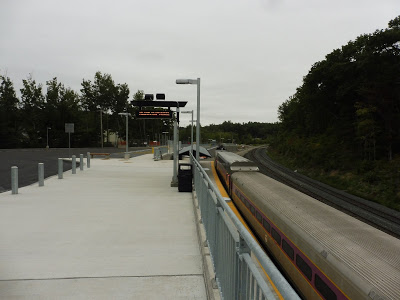 The "lobby"…or whatever you want to call it.
The "lobby" area of Wachusett doesn't have much, and it doesn't need to. The first thing to notice is the electronic station sign – my gosh, they're awesome. And sure, they don't say anything other than "Welcome to Wachusett Commuter Rail Station" yet, but it's cool that this place has new signs. The lobby has bike racks, too, and some wastebaskets to finish it off.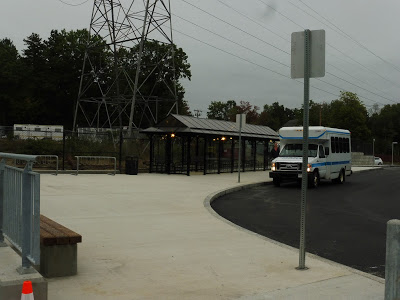 Now we're talkin'!
Of course, I can't forget about the busway and shelter! The busway is just a loop for MART vehicles to turn around, but I'm really glad they're bringing
service
here – they have one route to Fitchburg, and one to Gardner. And that shelter! Oh my gosh, it's so nice inside. Hearing the rain pitter-patter on the roof while sitting on a brand-new bench…I could've stayed there for hours!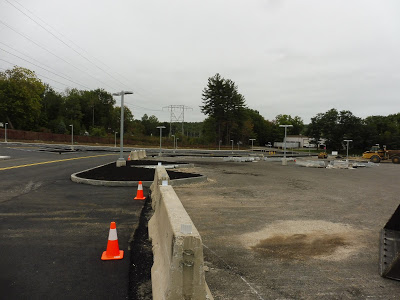 The parking lot under construction.
Wachusett's parking isn't complete yet, but eventually the station will have 360 spaces. Right now, the lot is mostly just a big expanse of dirt, traffic cones, construction vehicles, street lights, and patches of soil. I'm sure that come completion, though, this lot will look great!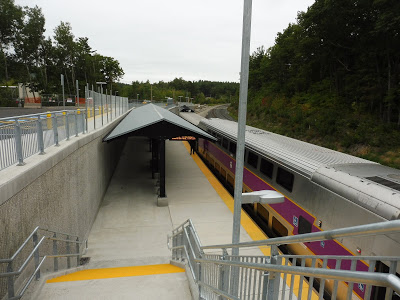 And finally, the shelter…from above!
From the lobby again, a set of stairs takes us full circle back down to the platform. The station shelter is modern, and basically what you would expect from a newer Commuter Rail stop. Beyond the shelter, another ramp rises up to another part of the parking lot, so there are accessible entrances on either side of the platform.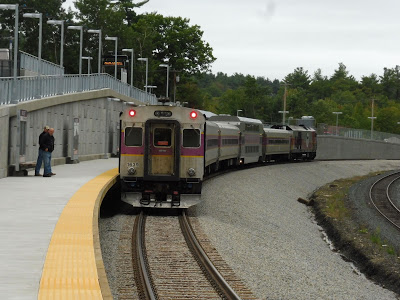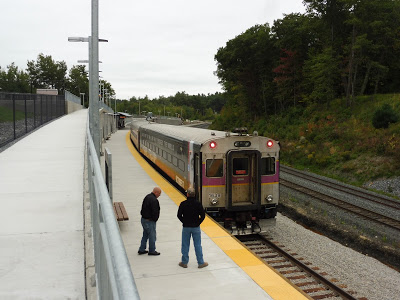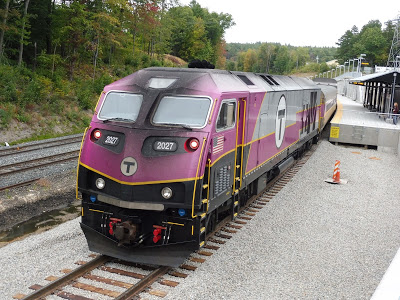 It's a new station, so here's a bunch of train pictures!
Station: Wachusett
Ridership: This evening, the place was practically empty aside from a few folks coming to take pictures or check it out. Once full service starts, though, ridership should increase as people start to realize the station is open. It's slated to get around 400 people per day, which would be average (maybe even above average) ridership for the Fitchburg Line.
Pros: This station is very appealing aesthetically, for one thing – the platform, bus shelter, and scenery all look great. Commuters from Gardner will definitely appreciate Wachusett, as coming here and taking the train will be faster than just driving to Boston (and I'm glad MART is providing bus service to Gardner, too). Also, when winter rolls around, the ski trains that run here should be great for day trips to Wachusett Mountain.
Cons: The only negative aspect about Wachusett is that it has the potential to become another Wickford Junction (i.e. a new Commuter Rail station in the middle of nowhere with low ridership). For now, the station's emptiness is just because of the timing of the limited trains, although they're only running them in the first place because they had to open the station by the 30th or else incur fines from the grant that funded a large portion of it. Once full service begins in November, we'll be able to see what Wachusett's true ridership is.
Nearby and Noteworthy: Unless you're going skiing, there's nothing of note here at Wachusett. It's essentially in the middle of nowhere…
Final Verdict: 9/10
From a purely aesthetic point of view, Wachusett is near-perfect for the Commuter Rail. The platform is like a more rural version of Weymouth Landing (another fantastic station), and the MART bus shelter is top-notch. This station also offers a lot of parking, and is right next to Route 2 for easy commuting. Honestly, the only worry I have for Wachusett is low ridership, but this place has a lot more potential than Wickford Junction – there's a reasonably-sized city close by (Gardner), and come winter, it will hopefully be packed with skiers!