This year, I got the chance to attend the 40th Annual MBTA Bus Roadeo, and it was an absolute blast! My friends Jordan, Nathan, Nick, Sam, and I met up at Sullivan at around 6:30, and then we walked over to Charlestown Garage where the Roadeo was taking place. When we got there, breakfast sandwiches and coffee were available, and people could go inside buses 1459 (an Xcelsior that's barely been in service), 291 (an RTS converted to a work bus with trolley wires), and 2600 (an ancient GMC from 1957!).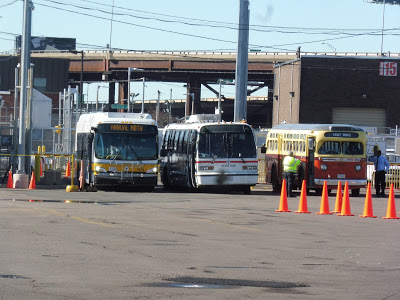 The view of all three buses from across the yard.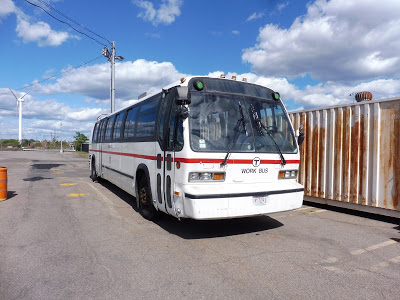 A shot of 291 after it had been moved.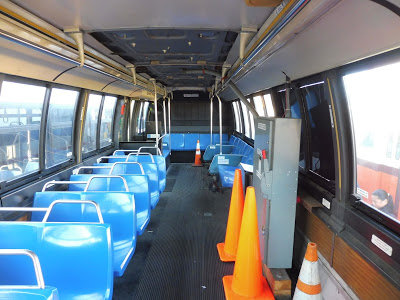 The inside! Slightly different from a regular RTS, eh?
A better view of 2600.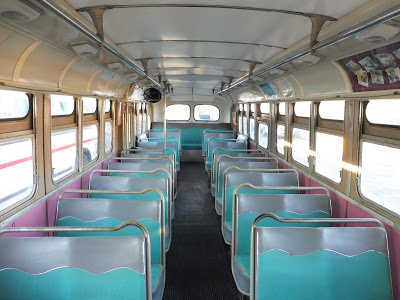 The inside! Those seats were comfy.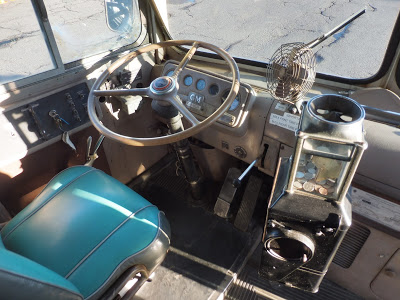 A look at the driving area.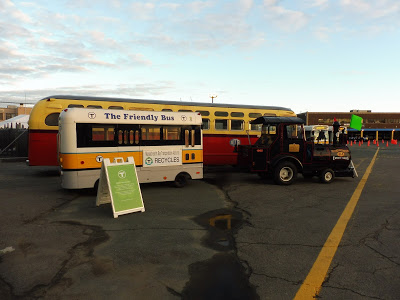 Oh yes, they also had this tiny train-bus thing on display!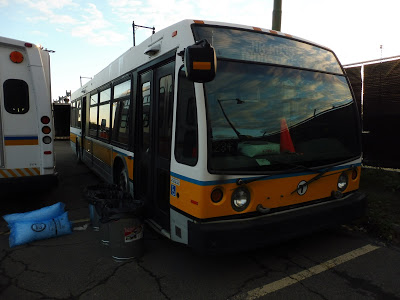 Ah, the MBTA's failed Nova Bus prototype…
At around 7:30, the main event began. The Roadeo is a competition between the best drivers on the MBTA – there are a bunch of requirements just to be eligible to enter. It involves a course through Charlestown Yard, where drivers are tested on a variety of different criteria. Additionally, they are tested on uniform and posture, as well as being able to find defects on a bus.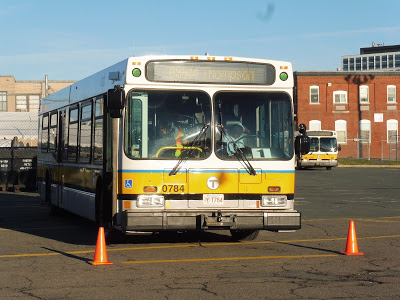 Operator 68014 at the start of the course.
Also, I ended up volunteering as a "runner". This meant that as the buses went around the course, I would go to each judging station and collect the scoresheets to bring back to the scorers. It was a really fun job, and I'm really glad I was able to help out!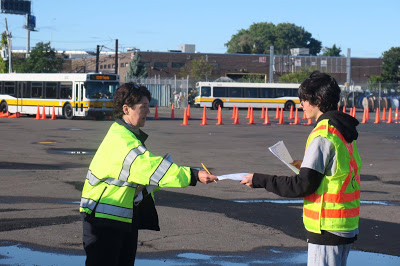 Getting the handoff from judge Lorraine Landsburg! Photo credit to Sam.
But you guys want to hear about the course itself, don't you? With humorous and energetic commentary blasting over the speakers, buses had to traverse 11 challenges in the course (there were also three more that I'll discuss at the end). The first vehicle challenge was getting the bus's wheels through tennis balls without knocking them over. They got closer as it went along, and they were already tight to begin with!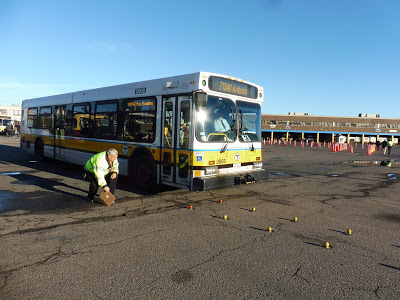 Operator 71340 about to head through the tennis balls, with judge Jay Orlando looking on.
After that, buses had to take a left-hand turn. This one was incredibly difficult, since the cones on either side were so tight! Each challenge was graded on a scale of 50 points, and with this one, 25 were lost from hitting one of the entrance cones leading into the turn. Buses also lost points for shifting into reverse.
72113 making the turn.
The next challenge was also a tough one, where buses had to reverse leftward into a narrow alley of cones, then come out again. It was hard to get through without hitting at least one! After that, buses would do the same thing but on the right, and then make a right-hand turn with more narrow cones.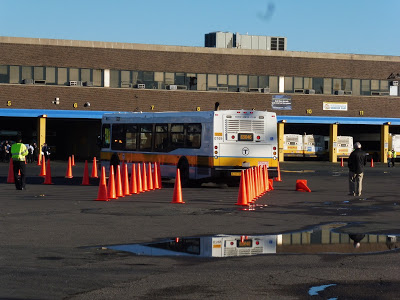 69646 backing up.
Buses had to make a "stop" after that, judged by how far they were from the curb and whether they made ADA announcements or not. From there, the next challenge was a slalom, where vehicles had to navigate their way around a set of cones. They had to face the "Offset Street" challenge next, which involved running through a straight set of cones, then doing an s-curve to another set of cones.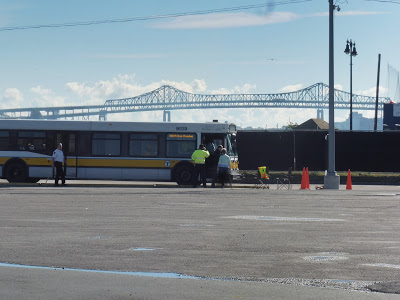 A bus (not sure about the operator number) making a stop.
Buses had to make a second stop after the Offset Street, and then we got to the most exciting part of the course: the "Diminishing Clearance" challenge. Here, buses had to go at least 20 MPH while not hitting any barrels – then they had to stop as quickly as possible to avoid hitting one final cone. It was exhilarating seeing buses speed through, and cheers from the crowd and commentator would erupt every time a barrel was sent flying.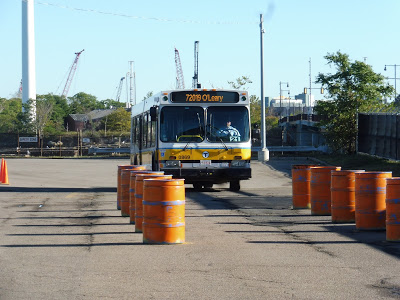 72019 about to barrel through the barrels! That's a pun or something.
Another aspect of the Roadeo that was just as important as the course was finding bus defects. These were more behind-the-scenes, taking place at the garage, and involved drivers having to find eight defects on a vehicle. There was even a "bomb" on board! Drivers were also scored on their uniform -every aspect had to be absolutely perfect.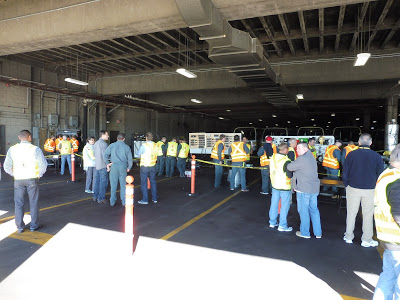 The Maintenance Roadeo.
Also happening in the garage was the Maintenance Roadeo. This was where members of maintenance teams would have to perform challenges on various bus parts, such as starting up an engine. Unfortunately I wasn't able to spend a lot of time back there due to my "running" duties, but it seemed pretty cool!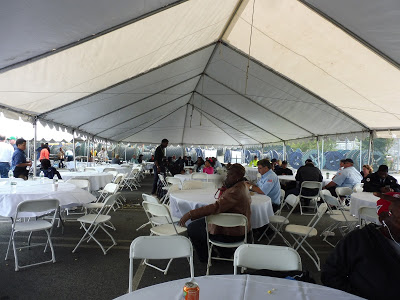 Inside the big dining tent.
Once the events were over, it was time to eat! There was some absolutely fantastic barbeque at the Roadeo, and more than enough for everyone to dig in. They also had popcorn and cotton candy, a DJ, and a bounce house for the kids. Finally, the results were announced: in 1st Place was Reynaldo Beato right from Charlestown Garage!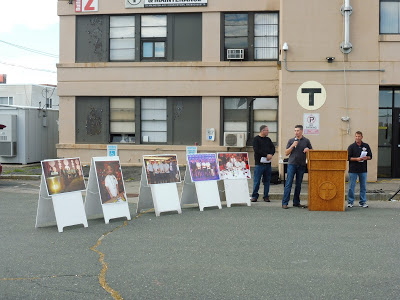 Announcing the results.
Overall, the Roadeo was super fun! It was great to see the buses navigate around the course, and meeting a bunch of instructors while collecting sheets was a blast. Finally, I want to give a huge thanks to Justin Grizy and Lorraine Landsburg for inviting us in the first place and making this all possible. Hope to come back again next year!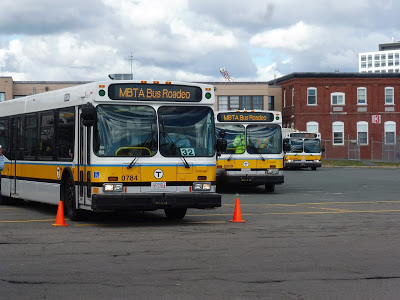 Some buses lined up.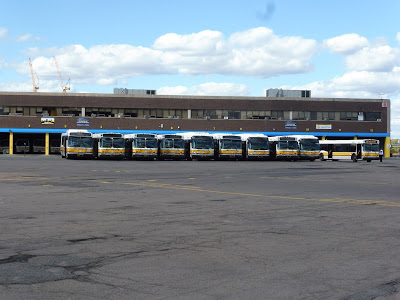 And with the Roadeo over, the Charlestown buses came back to pull out!