Miles's teachers aren't being too nice as of late, giving him tons of homework and eating away his time to write on here. So you might be stuck with me for a little while….
Anyways, today we're going to talk about Lynn Garage, the MBTA's operational hub for all routes in the north shore. In many ways, it is similar to Quincy Garage. In many more ways, it is very different. Let's get started.
Lynn probably has the largest geographical service area of all of the garages, stretching from Downtown Boston to North Beverly, about 17 miles as the crow flies. And to get between these two places, you only need to transfer once. The MBTA has some long routes running out of Lynn, including the longest of them all, the 459, which can take over 2 hours to complete a one way trip. Lynn has an incredible variety of routes, which include express, inner city, and suburban routes, and 1-2 Key Bus Routes (depending on how you would count the 116/117).
It's hard to know where to begin when trying to describe all of Lynn's crazy routes. The 121 is a short, rush hour only feeder that connects people from a small residential part of East Boston to the Blue Line and Boston. The 120 is a crazy one; with a loop on each end around two Blue Line Stations. The 116 and 117 are also crazy, but in a different way; essentially one key bus route, but taking different routes into Wonderland. The high ridership portion from Maverick to Bellingham Square also sees some extra service. The 434 runs one inbound trip every weekday morning, and one outbound in the evening. It connects Haymarket and Peabody Square via the Tobin. The 426 is an express route all day on weekdays, with one express trip waiting for the last trains to arrive at Haymarket. I'd love to know how many people use that one. The 451 goes from Salem to North Beverly, the furthest north an MBTA bus will take you. And then there's the 459 which connects Downtown Boston and Salem Depot in a 2 hour plus tour featuring the great places known as Lynn, Swampscott, and Salem. The point I hope I have made here is that there is no such thing as a typical Lynn route, and we haven't come close to covering all of the unique routes that run out of here.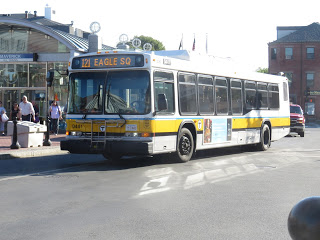 The 121 in Maverick
Lynn is very similar to Quincy in terms of fleet. Both fleets consist of 2008 New Flyer D40LFs. Lynn's fleet also includes 19 2006 New Flyers, acquired from the Charlestown and Somerville garages in early 2015 after those garages accepted an order of 60 Hybrid "Xcelsior" buses. Both Quincy and Lynn have no plans to accept any of these hybrids in the immediate future, in part due to height restrictions near Central Square, Lynn. The T will roll out over 750 of these "Xcelsiors" over the next five years or so, so chances are these may come to Lynn and Quincy. On the whole, however, Lynn Garage's fleet is in excellent condition, so there is no rush in doing this.
Quincy Garage and Lynn Garage also have their fair share of differences. Namely, Lynn is much better at minimizing the number of deviations. Instead, Lynn would much rather create a new route if the bus will be travelling a different way. For example, the 114, 116, and 117 have a very similar route that somewhat resembles all of the 225's deviations. The 441 and 442 have an identical route except for a small portion in Marblehead where they run their separate ways. The 448 and 449 follow the routes of the 441 and 442 respectively, running express into Downtown. I can imagine if these were Quincy routes, they would all be given one route number, and a half a dozen variants. This is much easier on the customer as they can see very clearly what bus they are getting on and where exactly it's going. Most people just look at the route number before boarding, so this numbering scheme saves so much time and confusion as opposed to combining all of these different routings under one number.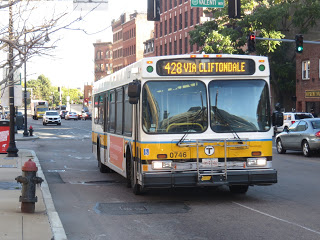 The elusive 428 in the North End
The other thing of note about Lynn Garage is its' garage itself. It is positioned perfectly as to be close to both Salem and Downtown, places that buses must be able to deadhead to quickly and efficiently. Several routes go right outside, and driver changes, or "swing ons" right out front are a daily occurrence. Some pull outs and pull backs are run as service trips, beginning and ending in "West Lynn". I know I said previously that Lynn is much better at cutting back on variants, however I must contradict that statement and say that many people fail to pay attention to the bus and have to wait in West Lynn for a bus to Wonderland, or whatever their destination may be.
Lynn Garage is definitely one of the more unique garages in the system. I mean, where else do you get a last train express bus? Lynn has many quirks, and I definitely wouldn't say it's my favorite garage in the system, or the best planned garage either. However considering the service area it's given, it does do an adequate job of interconnecting the North Shore. I will probably be back in the very near future with a look at another quirky garage, Southampton. I also might have a completely different operational post coming soon, so stay tuned!