The 7 is a bit odd for GATRA. For one thing, it has a completely different map style from any other GATRA route. Also, it leaves Taunton at different times than most other routes from there. And finally, it's really good about not making deviations! Well, we're off to a good start in that regard.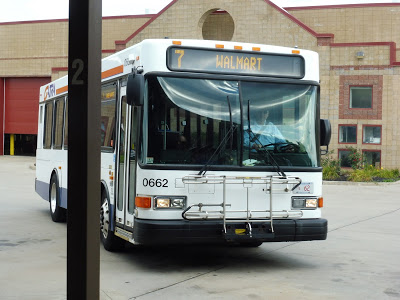 The bus at Taunton.
We left the Bloom Terminal and headed down Oak Street, going over a railroad track. We passed a few suburban businesses, then turned onto Court Street and entered downtown Taunton. Heading around the Taunton Green, we went by some businesses and municipal buildings, then turned onto School Street.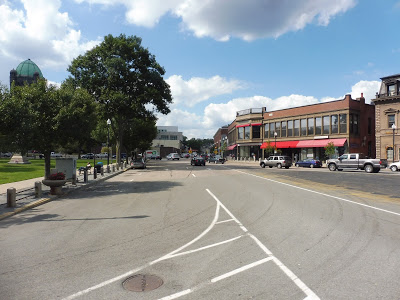 Downtown Taunton.
The somewhat narrow road soon became lined with mostly dense, multi-story houses. We passed a development by the name of Thomas Apartments, and though it was a major stop, we luckily didn't deviate to serve it. The houses became single-family from there, unlike the majority of the ones back towards town.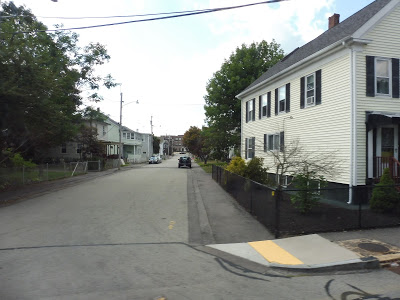 These houses were closer to downtown.
There was a little corner store at the intersection with Winter Street, onto which we turned. As we passed mostly industrial buildings, the street became Longmeadow Road. Next, we turned onto the wide Dean Street, going by a social security office and some other office buildings, as well as the Taunton River.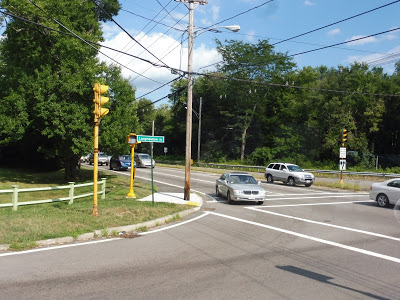 Turning onto Dean Street.
It's at this point that the 7 makes a rather odd routing. The main drag of this area is Route 44, which is lined with a bunch of different malls and parking lots. However, probably for safety reasons pertaining to picking people up on a highway, the 7 runs down the narrow South Street West, serving the backs of malls instead. We didn't even deviate to the fronts, and ironically, someone in a wheelchair got on along this section!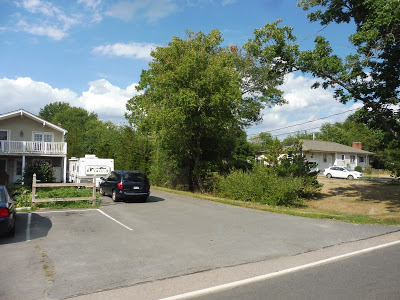 The other side of South Street was mostly sparse houses.
Eventually we merged back onto Route 44, crossing over the Route 24 freeway. There was a mixture of office parks and businesses with parking lots on the other side of the crossing. Next, we turned onto Paramount Drive, then into the parking lot for a Walmart. This was where my friend Sam and I got off in order to transfer to the 8, but the 7 does extend slightly further past Walmart – it runs to a trailer park called Pinehill Estates.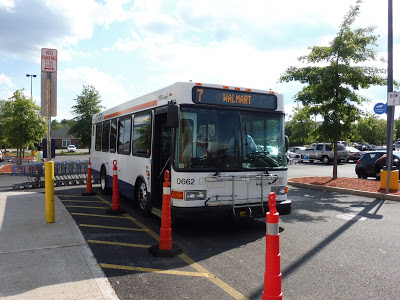 The bus at Walmart.
GATRA Route: 7 (School Street/Raynham)
Ridership: I'm surprised to see that the 7 only gets about average ridership for GATRA's weekday Attleboro/Taunton routes, with approximately 130 riders, and below average on Saturdays – 60 people. My weekday trip was actually quite busy (for GATRA), with over 10 riders!
Pros: This is the fastest way of getting to Walmart from Taunton, making the trip in about 20 minutes (the alternative, the 8, takes 45 minutes to get there). It also serves other businesses along South Street West, and houses on the School Street section. The 7's schedule is standard for GATRA, with every hour headways Mondays through Saturdays.
Cons: You know, I thought the 7's ridership was pretty good before, but in all honesty, very few people use this thing on Saturdays – it averages out to about 3 people per trip. This shows that service could probably be reduced, or perhaps start later or end earlier. Weekday ridership seems good, though.
Nearby and Noteworthy: If you're trying to get from Taunton to Walmart, the 7 is the way to go. There are a few other businesses along South Street West, as well.
Final Verdict: 7/10
Ayyyy, the 7 gets a 7! No, but seriously, this is a good route that seems to get a good amount of people on weekdays. On Saturdays, though, it might be beneficial to shave off a trip each in the morning and evening – the every hour schedule works well, but ridership is probably higher midday on the route.
Latest MBTA News: Service Updates
I'm back from Portland, Oregon! I'm finishing up the GATRA posts I hadn't written yet first, and then I have a slew of posts in store about the public transit system over there, the TriMet. I also want to give a huge thanks to my friend Sam Hegg for managing the blog while I was gone – check out his Operational Oculi if you haven't already!