A bus in New York City that's…fast? Well, this is a new one! The Q35 is a quick route from Brooklyn College (a station on the 2 and 5) to Rockaway Park Beach in Queens. On my summer ride, the route had healthy ridership from beachgoers, as well as locals heading back home. Let's take a look.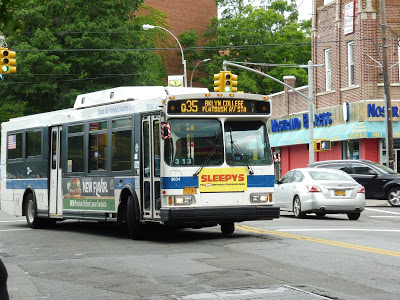 The bus in Brooklyn.
We headed onto Flatbush Ave, passing a huge shopping mall and a very tall apartment tower. After that, the street became lined with smaller buildings, mostly businesses with apartments on top. Flatbush Ave is a diagonal street within the grid, so we were intersecting with both vertical streets and horizontal avenues.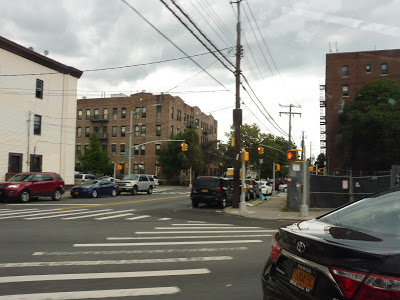 A side street.
To be honest, the scenery stayed the same for a pretty long time. Eventually (and I do mean eventually), things started to get a little more suburban-feeling, with auto shops and stores like Walgreens along the street. Even the small businesses lost their apartments on top, so it was just single-story buildings everywhere.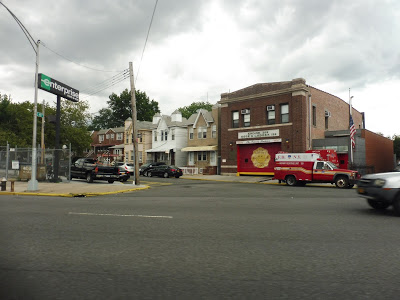 A fire station!
The street got a tree-lined median, and we passed the gigantic Kings Plaza Shopping Center. This is a huge hub for other bus routes, but we just sped right by, entering our independent section. All of a sudden, one side of the street became occupied by water, and the other side had a golf course. We made no stops until a random Toys 'R' us in the middle of nowhere.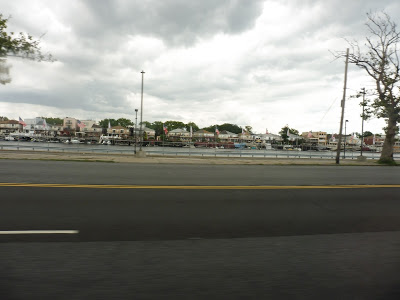 Looking across the water (and the rather wide road).
We passed through a cloverleaf interchange with Belt Parkway, and after some trees, we passed Floyd Bennett Field, a former airport. There were more woods after that, until we went through a toll, then went over the Marine Parkway Bridge. The view was excellent!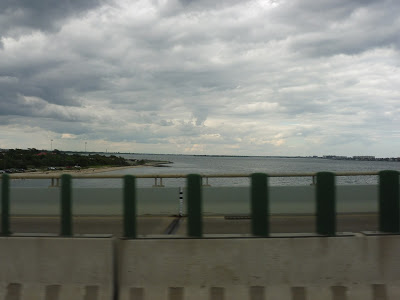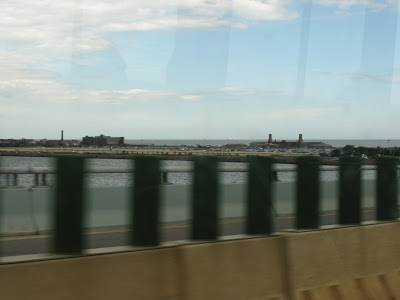 Two bridge views.
Coming off of the bridge, we made our way onto Rockaway Beach Boulevard, curving around quite possibly the hugest parking lot I've ever seen. The street gained a huge grassy median, and we dropped a few people off at the beach. From there, we entered the actual neighborhood of Neponsit.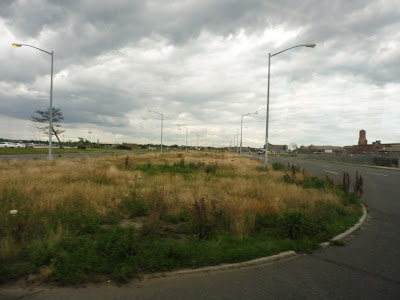 I don't think anyone's mowed that grass in a while…
We turned onto Beach 147th Street, which had a lovely median lined with evergreen trees. The neighborhood consisted of single-family houses, and it definitely didn't feel like New York. We then turned onto Newport Ave, and though it lacked the median, it was still leafy and quite nice.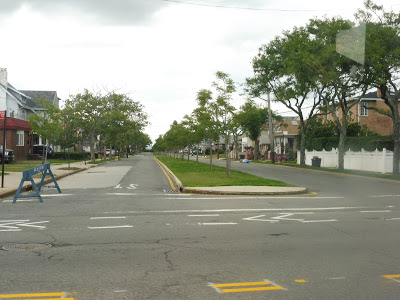 Now that's what I call a median!
It was all houses until we intersected Beach 129th Street, which was lined with an incredibly cute business block. I don't know why Beach 129th Street happened to be the one that got developed, but it looked great. The houses got denser after that, right up until Beach 116th Street, the last stop of the route. Here, everyone got out, and I headed toward the Rockaway Park subway station.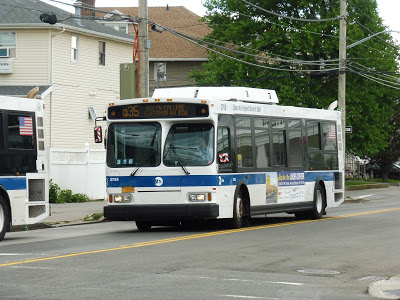 A different bus on the Q35.