Going crosstown in New York is always hellish. It doesn't matter if you're in Manhattan, the Bronx, or, in the case of the B11, Brooklyn – it's always going to be incredibly slow. At least the B11 had some nice scenery to watch while constantly being stuck at red lights.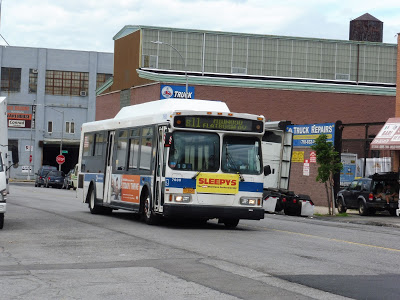 Hmm…Times Square this ain't.
As you can see, this bus starts in a rather industrial area. Located close to New York Bay, the simple terminus on 58th Street is a benchless shelter…and that's it. Needless to say, it's a good thing New York buses run so frequently – I would not have wanted to wait there for a while.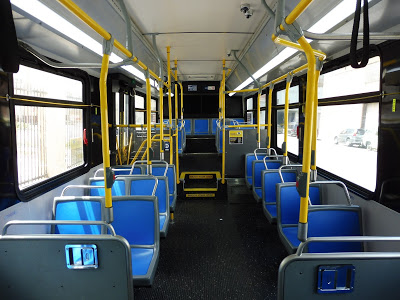 This bus will not be empty for long.
Luckily, the industry didn't last for long. We went a block down 58th Street, then turned onto 2nd Ave, which formed the bridge between industrial buildings and the actual neighborhood of Sunset Park. We passed a hospital, and after a few more blocks, turned onto 52nd Street, which was…industrial again. Well, shoot.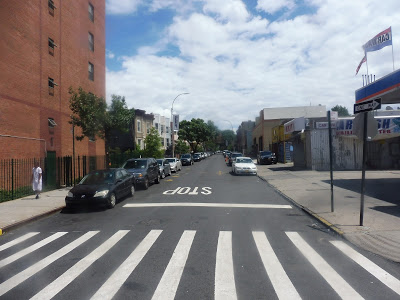 That's more like it!
We crossed 3rd Ave, which was a sight to behold – the street has an elevated highway that runs right over it! As you can imagine, it was quite a dingy road. Luckily, though, 52nd Street became much nicer after that, becoming lined with row houses. We turned onto 4th Ave for a few blocks (serving the 53rd Street subway station in the process), then onto 50th Street.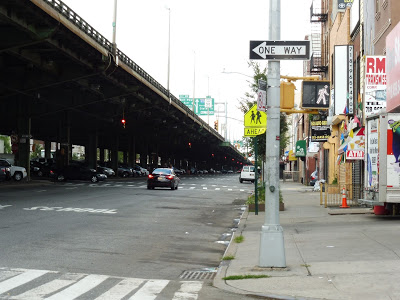 A picture of 3rd Ave from earlier in the day. Just…bask in its glory.
This narrow street was absolutely lovely, with cute little brownstones on either side of us. The apartments were broken at each intersection, though – 5th Ave, for example, was lined with businesses, while there was a school at the intersection with 6th Ave. It was at this point that we entered a rather slow rhythm: chug along the street for a block, wait at a red light, and pick up and drop off riders at a stop on the far side of the intersection.
Crossing 5th Ave (with a cameo by the B63).
After a few taller buildings around 10th Ave and Fort Hamilton Parkway, we crossed New Utrecht Ave, with the elevated D train running overhead. We got back into our slow rhythm from there, making it all the way to 20th Ave without much of note. At that point, however, we turned onto 20th, then Avenue I, crossing under the elevated F line.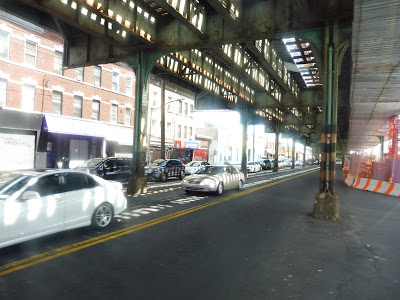 Under the dingy F.
At this point, the scenery became single-family houses, albeit very dense and tiny ones. Once we crossed the incredibly wide Ocean Parkway, though, they became surprisingly big, especially for New York. We turned for a block onto Coney Island Ave, which was lined with businesses, then onto busy Avenue J. The retail continued along here as we passed under the Avenue J station on the Q.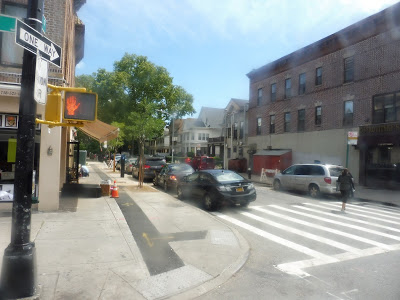 A side street from Avenue J.
Past the subway station, though, it became houses once again. We were also passing a good amount of temples, as we were in a Jewish neighborhood. There were some tall apartments as we crossed Ocean Ave, but it was back to big houses after that. Eventually, we turned onto Bedford Ave.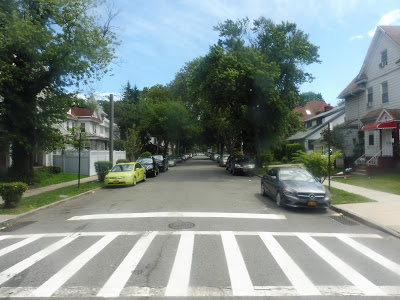 This isn't the image one typically associates with NYC…
Soon, we were going through the lovely campus of Brooklyn College. After going by a high school, we turned onto Glenwood Road, which was lined with apartments. Next, we turned onto Flatbush Ave, which brought us into a busy square with lots of retail. The bus merged onto Nostrand Ave, which is where we all got off to let the vehicle loop back around toward Sunset Park.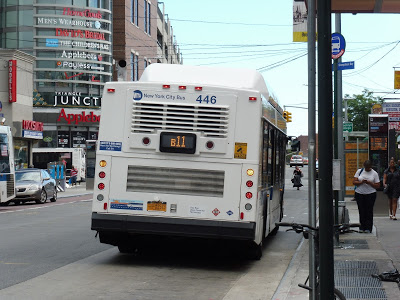 Two shots of the bus in Flatbush.