Hmm…ever got the feeling that the MBTA doesn't care much about its contracted routes? After all, the route destinations on the website (and in this post title) for the 710 are WRONG! The bus never terminates at Medford Square or Meadow Glen Mall – the two termini are Stop & Shop or Wellington Station! Hang on, I might have to explain this…many people don't know this route exists.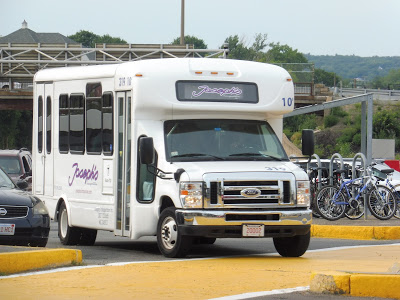 Ahh, our good friend Joseph's!
Another view.
The 710 is definitely an odd duckling. It starts at "North Medford" (Highland Ave @ Doonan Street, to be specific), and takes a very local route through residential sections of Medford. It deviates to serve a hospital, runs through Medford Square, serves the Meadow Glen Mall, and terminates at either Stop & Shop or Wellington – but never both. And it only serves Wellington during rush hour…great.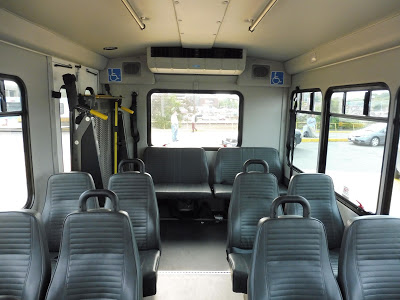 The inside of the bus.
Since the 710 is contracted, it has a bit of a weird fare system. It costs $1.70 to board ($0.85 for students and seniors), but you can only pay with cash or with a CharlieTicket pass. As it happens, I bought my monthly pass on a ticket this month, so I got on for free! Hooray!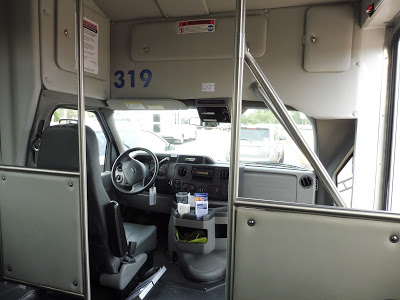 Looking towards the front.
The inside was typical for a minibus, with about 20 seats or so. Surprisingly, though, the wheelchair lift wasn't jiggly! I mean, maybe I wasn't paying attention or something, but I did not hear a single jiggle from that wheelchair lift in the back! Perhaps it was because the radio was blasting, another hallmark of minibus service.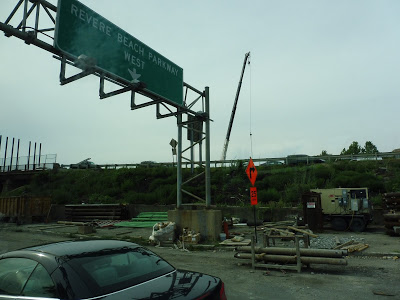 Some construction near Wellington.
The trip upon which my friend Mariana (who graciously took notes as I asked the driver questions about the route) and I embarked was a rush hour one, so we got on at Wellington. Heading out of the parking lot, we made our way onto Revere Beach Parkway and crossed over the Orange Line. We got stuck in traffic for a bit, but after a semi-illegal turn (don't worry about it), we started cruising down the Fellsway.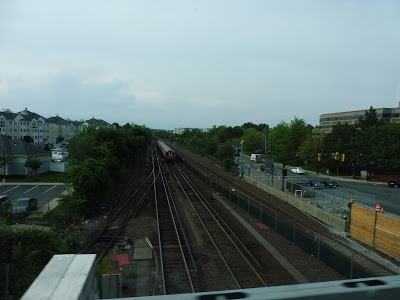 Crossing over the Orange Line tracks with a train in view.
We turned onto Riverside Ave afterwards, going by a shopping plaza (including the Stop & Shop where midday 710 trips terminate) and paralleling the 134. It got industrial from there, and when we turned onto Locust Street, it was lined with factories, auto shops, and warehouses. This was actually just a deviation to serve the Meadow Glen Mall, but since it's under construction, not much was going on there and we didn't pick anyone up.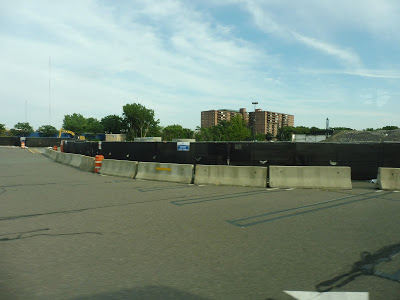 Wotta great mall…
We returned to Riverside Ave and continued the way we were going. It was now residential, with dense houses lining the road. At one point, the driver opened the window and yelled to a passerby, "Where are you going?" The woman said she was going to Forest Street, and the driver said "Hop in!" Giving a passerby a free ride is such a contracted bus thing to do, but it's quite nice. It's worth noting, by the way, that the 710 uses a flag-down system and has no actual stops.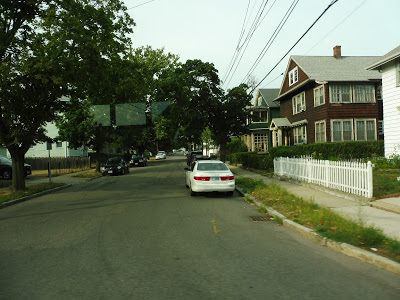 A residential street off of Riverside Ave.
We went under I-93, and instantly passed a hotel and an apartment building on the other side. From there, we did this strange figure-8 kind of route through Medford Square. First we turned into a parking lot, and then ran along Clippership Drive, with businesses on one side and the Mystic River on the other.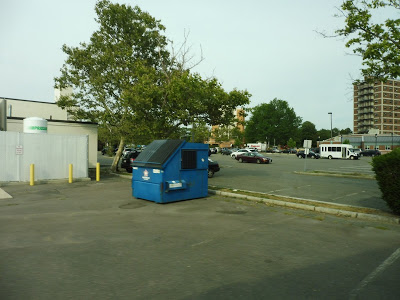 This is strange…
Instead of going directly onto Forest Street, though, we turned onto Riverside Drive, running back the way we came along Medford Square's main drag. After that, we turned onto City Hall Mall, which went by Medford City Hall, and then we turned onto Salem Street, going back the way we came again! Finally, we swung around onto Forest Street, starting the route's independent section.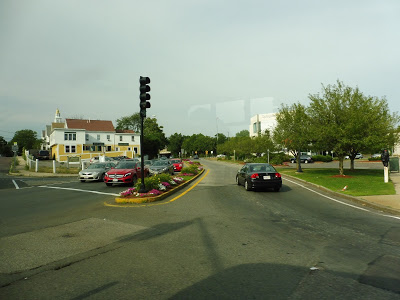 That's a nice median on Salem Street…
We left the buildings of Medford Square, and the street became lined with rather large houses. Soon, we turned onto Lawrence Road, then onto the wide Governors Ave. This was all part of the deviation to the Lawrence Memorial Hospital, whose parking lot we turned into. We looped around to serve the stop, but there was a hospital shuttle blocking our exit. The driver's solution? Reverse out of the busway and head back the way we came! Nice.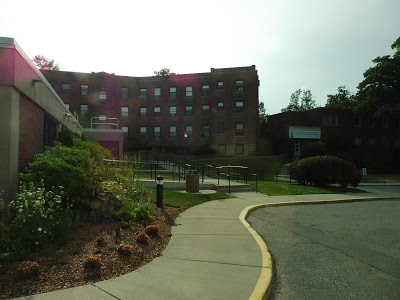 The hospital.
We returned the way we came from there, all the way back to Forest Street. This time, we turned onto Webster Street, which was entirely residential aside from a playground. After going under I-93 again, we turned onto Fulton Street, whose houses were denser. We passed a field and crossed the Fellsway, but Fulton Street was all houses from there.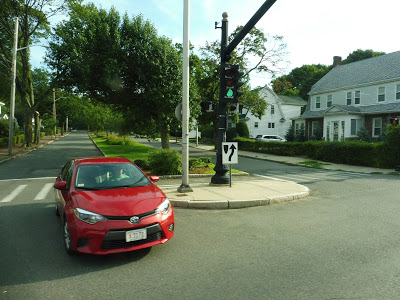 Gotta love leafy medians!
There were a few small businesses at a strange intersection where the street went up a hill and curved left a bit, and then curved right at the next intersection. This was where the road got pretty crazy and twisty, and I can definitely see why the MBTA would entrust this service to Joseph's and its minibuses – a full-sized bus could never take those turns!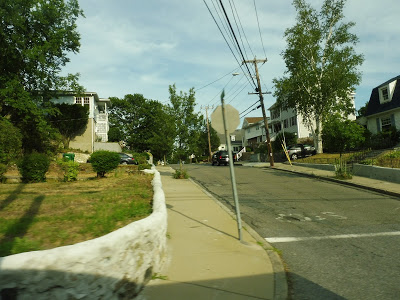 A residential side street.
Amidst all houses once again, the street went down a hill and curved around leftward. We went along some slight hills for a little while before reaching Molineaux Circle, where we joined the 99 on Highland Ave. We followed that route in the inbound direction for a little bit before reaching Doonan Street. Here, we stopped for about a minute, then made a full u-turn to head back to Wellington.
The bus at Doonan Street.
Route: 710 (Contracted Bus: North Medford – Medford Square, Meadow Glen Mall, or Wellington Station)
Ridership: Nothing special, as you would probably expect – there were only two other people on both my outbound and inbound trips, and the driver said that's about average. The route only gets an average of 19,176 riders per year (about 76 per day), after all. HOWEVER, when the bus came into Wellington while I was waiting for it, it dropped off almost 20 people! Turns out they were just headin' into town and had asked the driver if the bus was going to Wellington.
Pros: Yes, it's a very niche route, but it serves its purpose. The hospital deviation is a pretty long one, but it's one of the biggest ridership draws on the route; ditto for Meadow Glen Mall, although that's partly due to an apartment complex located nearby. During rush hour, it gets a few commuters from Wellington, although they don't seem to be the main reason for this route's existance. I also think the 710's 60-minute headways are sensible, and can be done with one bus.
Cons: I have some…okay, a lot of problems with this route, particularly in the schedule, but I'll get a few small issues out of the way first. Number 1, the outbound route in Medford Square is ridiculous and needs to be simplified. Number 2, there needs to be proper signage for the route at Wellington; right now, it boards in the drop-off area for cars with a "Shuttle buses only" sign being the only indication of a potential bus that stops there. Okay, so now onto the schedule…
Right, so first of all, why is there a two hour gap in the schedule? The driver informed me that a switch happens there, which requires driving the bus back to the yard and handing it over to the next driver. Seriously??? Just drive a car to the terminus and have the two drivers swap vehicles. Mission accomplished! Okay, secondly, I think the 710 should have Saturday service. One of its main ridership draws is shoppers, and I imagine it would get a similar level of ridership on Saturdays as on weekdays. According to the driver, the route used to have Saturday service, and many of its riders want it back.
And now for the big problem: why the heck does this route only serve Wellington at rush hour? Look at that huge group of people that took the bus there before I got on! Had that not been a rush hour trip, they would've been out of luck for getting into the city. Now, my guess for this service pattern is that the trip takes a half hour with no layover time, so it could get late if it served both Stop & Shop and Wellington. So…why not only serve Stop & Shop one way, in the peak direction? And Meadow Glen Mall, for that matter? Observe…
With this schedule, the route would be able to serve Wellington all day, plus it would get a layover! Hooray! But what about people going against the peak? Well, shoppers going from Meadow Glen or Stop & Shop back to North Medford in the morning could stay on the bus through Wellington and then head back, and vice versa in the afternoon. I think having an all-day connection to Wellington would increase ridership from people wanting to head into Boston.
Nearby and Noteworthy: There's nothing along the 710's independent section that's really worth seeing, although if you happen to be going to Medford Square or Meadow Glen during rush hour, this is an alternative to the 134.
Final Verdict: 6/10
I gotta be honest, this isn't a bad route. It serves some nice neighborhoods and gets a few local shoppers and commuters every day. Yes, it may be the lowest-ridership contracted route, but it's pretty short and it does its job. THAT BEING SAID, it has many problems that ought to be addressed, the most glaring of which is all-day Wellington service. The whole driver switch thing is pretty badly handled, too. And get some dang signage at Wellington!
Latest MBTA News: Service Updates