Ahh, here we go! This was the route my friend Nathan and I used to get back from CCRI, and it definitely seems superior to the 73. The 51 is a straight shot, with the trunk route remaining almost entirely on Charles Street down to Providence.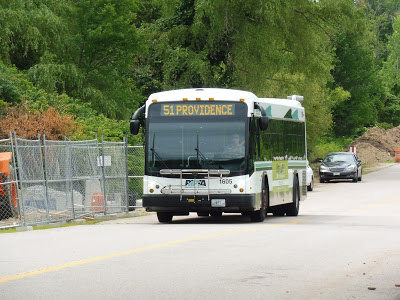 The bus coming from a layover point at CCRI.
But first, I'd just like to take a minute to discuss the interesting stop at CCRI. It was a shelter, and despite being very beat up, at least it was there. However, there was no "RIPTA" bus sign, and it was entirely unmarked aside from an old schedule card on the wall of the shelter. There was also this pot that seemed like it should be used for plants, but people had thrown cigarettes in there instead – it wasn't the greatest place to wait.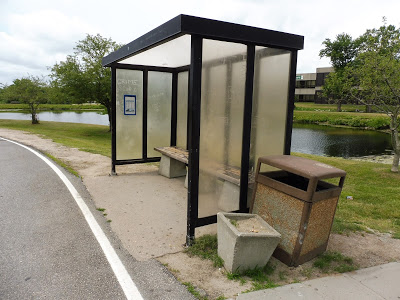 Ew…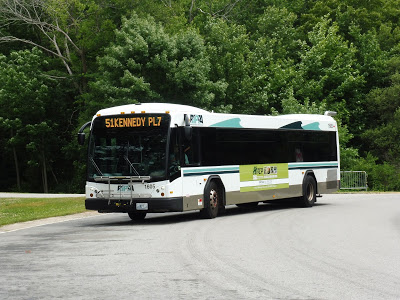 Also, here's another shot of the bus coming in.
From CCRI, the 51 takes the same route as the 73. Thus, we headed down Old Louisquisset Pike, which was lined with houses. Unlike on the 73, the driver took the regular route this time, so we continued down the Pike until Paul Street, where we deviated and served the Twin River Casino. No one got on, so we headed back down Paul Street and returned to the Pike once more.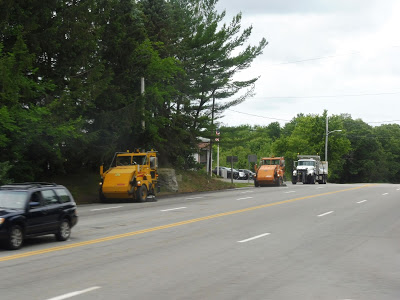 Is this really a street that needs sweeping from these street sweepers?
After a few businesses, it started to feel pretty rural, with mostly woods and the occasional house coming through. The street eventually went under Route 146, and we entered North Providence. It became an interesting mix of businesses, industrial buildings, and houses. The 73 left us at Mineral Spring Ave, and we were on our own.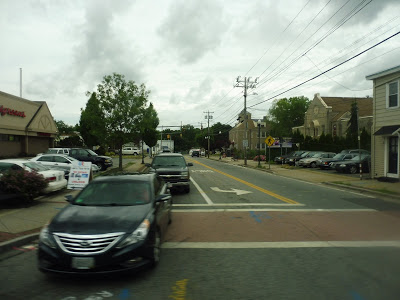 The intersection with Mineral Spring Ave.
The scenery was pretty consistent from there. There was a surprising number of auto shops along the street, with a few other businesses. and the rare residential block. Once we entered Providence, though, the proportion of dense houses got larger. The industrial side of things started to go down, and what businesses remained were nicer than the ones that were appearing before.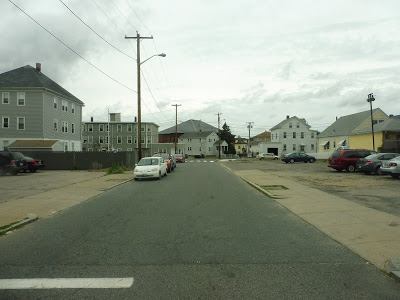 A side street with lots of houses.
At a small park, we were joined by the 52 from Branch Ave. Charles Street was mostly houses from there, although we also passed a school and a big apartment building. After the apartment, the street became lined with businesses again, including a massive Home Depot. We were joined by the 55 and the 72 around this time, and together we crossed over the Northeast Corridor.
Hmm…this intersection doesn't look too great.
Charles Street became one-way for a stretch, so we had to merge onto Ashburton Street. It came right up next to the tracks, with industrial buildings on the other side. Alongside a big Marriot, we rejoined Charles Street, which was pretty leafy aside from some big office buildings behind the trees.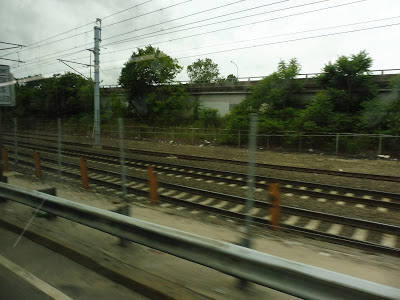 Man, we're quite close to those tracks.
The street became Mill Street, but we merged onto Canal Street right after the name changed. Paralleling the Moshassuck River, there was a rather nice park on the other side of the street. Eventually, we started to go by more buildings before crossing the river into downtown Providence. After a few more turns, we arrived at Kennedy Plaza.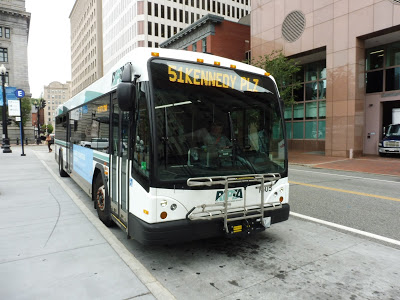 The bus at Kennedy Plaza.
RIPTA Route: 51 (Charles Street)
Ridership: This one is tricky. See, when RIPTA did its ridership counts, the 51 was a very different route, running between Providence and Pawtucket with infrequent service. At that time, it would get a measly 520 riders per weekday and 240 per Saturday, with no Sunday service. But now, with the CCRI routing, my ride got great ridership, with about 25 passengers in total. No one got on at CCRI or Twin River, though, so all of the ridership came from the urban section of the route.
Pros: There's a lot to like about this route. I love how it's basically straight all the way up to Twin River, and it serves a busy corridor along the way. It also has a great schedule for the RIPTA, with every half hour service weekdays and Saturdays, and every hour service nights and Sundays. I also really like how service to CCRI is scaled back to every 90 minutes on Saturdays and completely eliminated on Sundays, since it really doesn't have to go all the way up there on weekends. Trips terminate at Twin River when they don't go to CCRI.
Cons: However, I wonder if service even needs to go up to CCRI all the time on weekdays. I mean, on our trip, there was no one until Charles Street. Plus, the 54 provides express service from CCRI and Twin River to Providence, making the 51 kind of redundant. I'm wondering if short-turning every other 51 at Mineral Spring Ave would be worthwhile, since it seems like the large majority of ridership comes from south of there.
Nearby and Noteworthy: There were definitely businesses on Charles Street, but none of them were very appealing. I guess this is a fine connection to Twin River, but the 54 is faster.
Final Verdict: 7/10
For a non-key RIPTA route, the 51 has a great schedule. And based on the ridership I saw, that's definitely worth it. However, short-turning trips at Mineral Spring Ave could be worthwhile, especially during the summer when CCRI isn't in session. Other than that, though, this route does a good job and serves its corridor well!
Latest MBTA News: Service Updates