Yes! I finally got a trip on the EZRide! I see these all the time whenever I'm in East Cambridge on a weekday, and I've always wondered what the heck they are. Well, the mysteries behind these strange blue buses plying the streets of Cambridge have finally been solved. Let's see what this service is.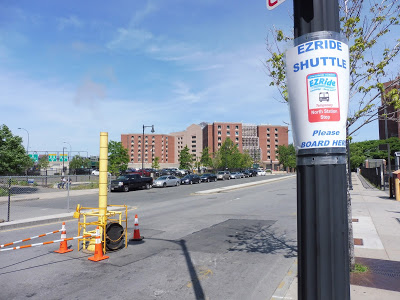 The temporary stop at North Station, a few hundred feet away from the normal one.
The EZRide's main route is from North Station to Cambridgeport via Kendall. However, it changes pretty drastically based on the time of day. The morning and evening routes are different, while the bus operates as a shuttle loop from Cambridgeport to Kendall Square middays. I took the bus in the morning (thanks to a delayed opening at school), so that's the route I'll be covering. You can see the different variations here.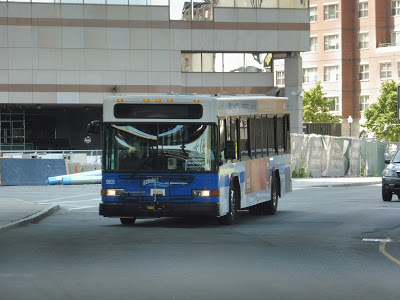 The bus arriving at North Station.
Okay, so the fares are a bit weird, too. The thing is, most EZRide passengers don't have to pay at all. The majority of its ridership comes from either commuters or MIT students, both of which ride free (participating companies give free EZRide passes, while flashing an MIT ID gets you on the bus at no cost). For anyone else who may be riding, the fare is $2.00 for adults and $1.00 for students or seniors.
The inside of the bus.
The bus that came to North Station was one of the older ones, and it didn't have the greatest interior. The seats had a pretty ugly design, and the general look was quite bland and utilitarian. Worst of all, though, was the destination sign – it was literally just a piece of paper at the front of the bus that the driver would flip around at either terminus! That's pretty bad…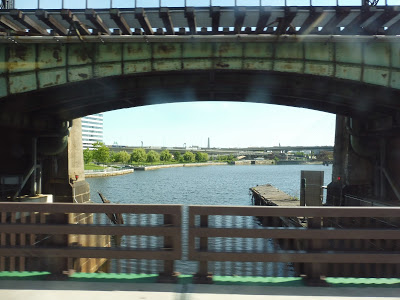 It's weird being on a bus over here.
Leaving the North Station stop on Nashua Street, we curved around alongside a park and the Charles River, then turned onto Monsignor O'Brien Highway at Science Park Station. Running alongside the Green Line's elevated structure, we went by the Museum of Science on the other side. Eventually, we turned onto Museum Way, a strange narrow street lined with apartment buildings and offices.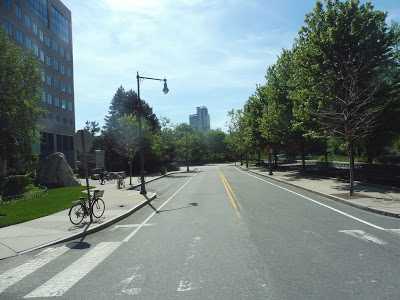 Where the heck are we??
We then turned onto North Point Boulevard, with undeveloped industrial land on one side and more modern apartments on the other. After passing a park, we turned onto East Street and merged our way under the Green Line once more. We turned onto First Street, going by Lechmere on the right, but not actually going into the busway.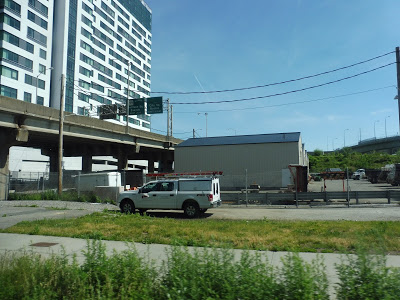 About to go under the Gilmore Bridge on North Point Boulevard.
There were offices on either side, but they got replaced by various small businesses and the behemoth of the CambridgeSide Galleria mall. Weirdly, we made a two-block deviation from the route – it's supposed to go right onto Binney from First, but instead we made this strange jog via Charles Street and Second Street, then Binney. As we got closer to Kendall Square, we were going by a lot of pharmaceutical companies and the like, because, you know, it's Kendall Square.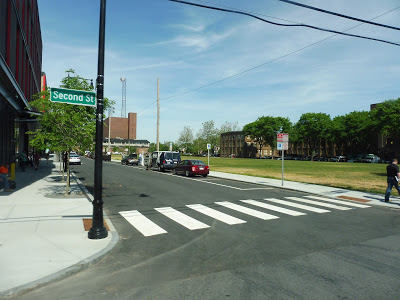 Look! Photographic proof that we went onto Second Street!
As the street curved south, it became Galileo Galilei Way, with still more offices lining it. We paralleled the Grand Junction Railroad for a bit, then turned onto Broadway, passing more – gasp! – offices. After that, we curved around onto Main Street, arriving at Kendall Square Station. However, no one was waiting, so we continued on to Cambridgeport.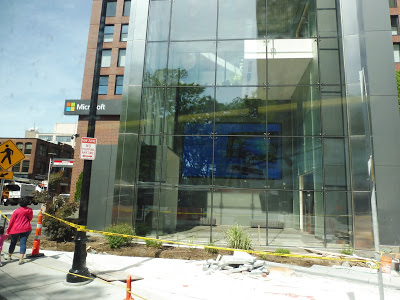 The Microsoft building.
We headed down Main Street once more, and with all those offices still lining the street. We crossed over the Grand Junction Railroad, then turned onto Portland Street, which merged onto Albany Street. After that, we turned onto Mass Ave, and it seemed like we were heading into Central Square, but we headed onto Landsdowne Street before that happened.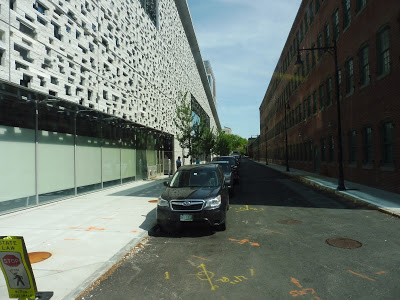 That building on the left is pretty cool.
Landsdowne Street was lined with…more offices! The University Park MBTA stop was in view, where a bunch of 70s were laying over, then we made a few quick turns onto Pacific Street, then Sydney Street. Now the area was just plain ol' industrial, with one and two story warehouses and offices everywhere. Once we turned onto Erie Street, it was the last stop, and the driver let me out in this strange neighborhood.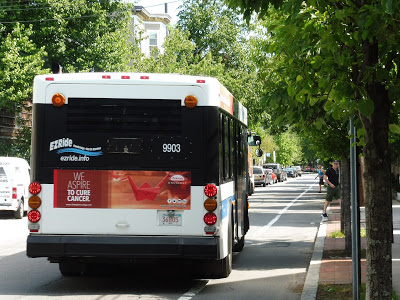 The bus heading down Brookline Street.
Now I had to get back to Kendall Square. I probably could have stayed on the previous bus if I had wanted to, but no…I wanted to ride one of EZRide's newer buses. And lo and behold, the next bus that came was a new one! I got on it one stop later, just around the corner on Brookline Street.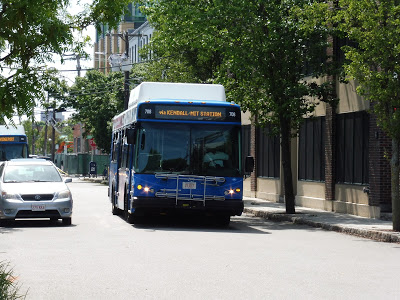 The bus on Erie Street.
Unfortunately, the inside of this vehicle wasn't much better. The seats were still ugly (but at least comfortable) and it was very dark. I mean, at least the new buses have proper electronic destination boards unlike the old ones, but it was still disappointing on the inside.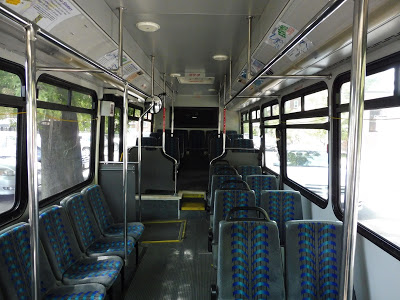 Ehh…
Brookline Street was lined with apartments, but we soon turned onto Pacific Street, where offices once again ruled. However, we did pick some passengers up outside of 70 Pacific Street, an MIT dorm. Then we turned onto Albany Street, passing a mixture of old factories and more MIT buildings.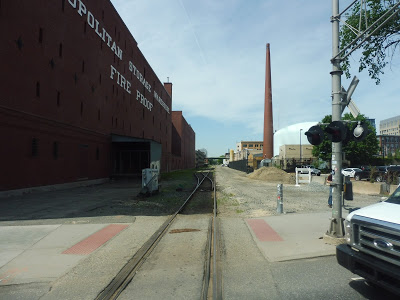 Going over the Grand Junction.
We turned onto Mass Ave for a block, but only to cross over the Grand Junction Railroad once more. After that, we turned onto Vassar Street along with the CT2, with a big MIT factory on one side. We went by the Stata Center, and since this was a late morning run, it was only going as far as Kendall Square. Thus, we made a simple loop on Galileo Galilei Way, Broadway, and Main Street, arriving at the stop outside of the station.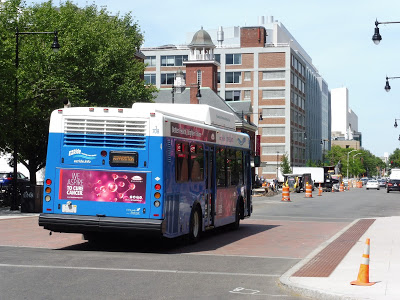 The bus going back to Cambridgeport, now on its midday routing.
Route: EZRide (Cambridgeport – North Station or Kendall Square)
Ridership:
My trips were pretty quiet, since it was the tail end of the "morning" route, hardly even the rush anymore. Outbound from North Station, there were only two other passengers, although there were about 10 students who got on at the dorm coming back. According to
The Amateur Planner
(whose writer, Ari, works for the company that runs the route), the EZRide gets about 2500 riders per day, and it can get
packed
during the height of the rush. At other times, though, particularly midday, the route doesn't get many people at all.
Pros: This is a great, much-needed link between Kendall and North Station to get Commuter Rail riders down to the former. The Cambridgeport section doesn't get quite as many people, but it's still a valuable link, as well. Also, though it's weekdays only (and for good reason), it runs quite frequently: every 7-10 minutes during rush hour, and every 20 minutes midday. Also, the fact that the route is free for MIT students and workers at certain companies is great! If this were an MBTA route, such a deal most certainly wouldn't be offered, so it's fantastic that the EZRide is willing to give free fares to those people.
Cons: Two main problems: number one is the fact that the routes change based on the time of day. I understand that this is based on the fact that the evening route caters to MIT students that don't ride in the morning (as Ari says), but it makes finding the bus awfully confusing. Maybe this doesn't affect longtime riders, but it's pretty confusing for me and likely other new passengers. Also, I wish the EZRide's buses were a bit better. The old ones in particular should really be replaced, although I'm not sure if they actually get enough funding for new buses.
Nearby and Noteworthy:
Well…nothing much for people who aren't students or commuters. I have a friend who once mistook an EZRide bus for the
Kendall-Cambridgeside Galleria shuttle route
and took it to the mall, so I guess there's that. But the shuttle is free while the EZRide is not…
Final Verdict: 8/10
Overall, this is a great service that caters to a bunch of commuters and students! I love how those ridership categories don't have to pay, which also encourages more people to use the route. It runs very frequently, and even though its buses could be better, that's a small price to pay for a direct North Station-Kendall Square service (and indeed, Cambridgeport-Kendall Square).