I remember reading an article about the isolation of Newburyport Station. It talked about how the station is in the middle of nowhere, and it described how vacant the place is at night. I will agree that the station is a hallmark of parking over pedestrians, and I'm sure it can feel awfully foreboding at night, but for tourists coming in during the day? It's really not that bad.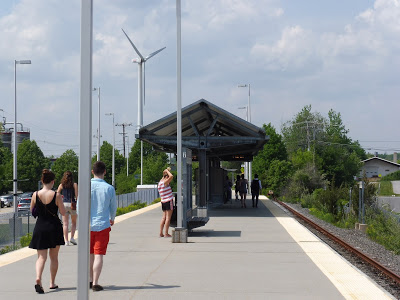 The platform.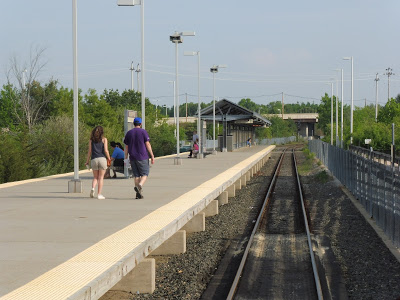 Another view looking the other way.
Of course, Newburyport is the quintessential modern Commuter Rail station, having been built in 1998. This means that it has a pretty bland feeling. The platform is entirely high-level, with two identical metal shelters. One of them is completely useless, though, since it's way on the north end of the platform where no trains stop! I mean, more shelter is always welcome, but it does mean you have to walk back a bit to get to the train. The rest of the platform is what you would expect, with a few benches and wastebaskets scattered here and there, but not much else.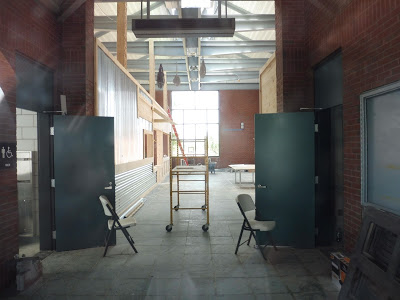 Cool, a station building – ohhhhhhh…
Newburyport has a building that could house something great! I mean, it used to have a restaurant in it, and it featured bathrooms and sheltered waiting and everything! But…as you can see, it's been abandoned. Why can't they at least open up the bathrooms and put some seating in there? It all looks intact!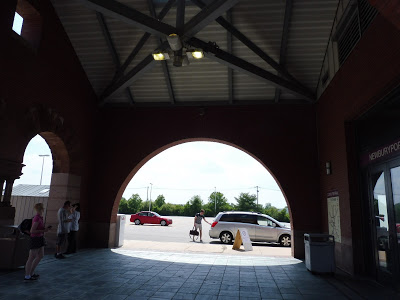 Oh dear…I think the photographer is drunk. That's quite crooked.
Still, the building offers some form of shelter in its plaza outside the entrance. However, with no seating space, you're forced to either stand or sit on the floor. Other points of interest in the "plaza" are a wastebasket, an outdated Commuter Rail map, and a broken payphone.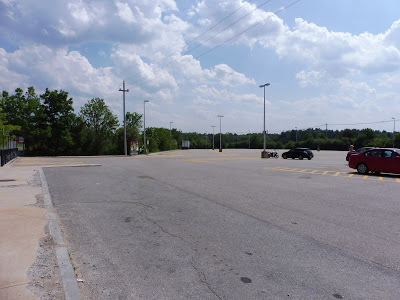 Can you believe that there are two other lots?
I mentioned that this is the quintessential modern Commuter Rail station, and you know what that means: lots of parking! In fact, way too much parking. The station has 814 spaces, yet they only get 21% occupied on weekdays. As for bike spaces, the station has 22 of 'em, with some by the parking lots and others right on the platform.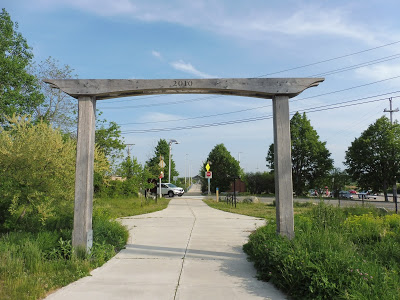 *gasp* What's this?
Another thing that article mentioned was that the walk to downtown Newburyport is long and on roads with no sidewalks. It is a reasonably long walk, at around 25 minutes, but there's no need to walk along the roads when you have the Clipper City Rail Trail! This pedestrian path has lots of art along its length and starts literally right where the station platform ends. It takes you right downtown, and is a lovely walk.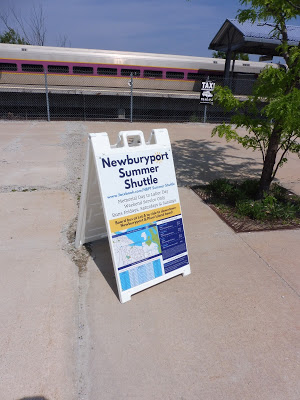 Why didn't I include this in my summer shuttle post? Oh well…
Of course, if you're unable to walk downtown (or you're just lazy), you can also use the MVRTA services that come to this station. I've already discussed the 53, as well as the strange shuttle that just runs downtown, but those are summer-only. Another option is the MVRTA's year-round service here, the 54, which runs to Salisbury Beach one way (via downtown Newburyport), and to Amesbury the other way. It serves the station every 70 minutes weekdays and Saturdays.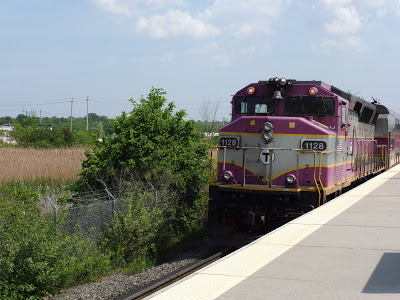 A train with marshland in the background.
Station: Newburyport
Ridership: Per weekday, the station gets two less riders than there are parking spaces – 812 – making it the busiest station on either branch of the Newburyport/Rockport Lines (but Salem, Beverly, and Swampscott get more ridership on the shared section). Still, I find it interesting that the lot only gets 20% full, which means that most people must commute here in other ways. I also wonder if the data is skewed a bit, since this station must get way more riders in the summer than in the winter.
Pros: The platform is fully high-level, which is always a plus, and the two shelters on the platform are welcome, despite being oddly placed. Newburyport certainly offers lots of parking, and it's a LOT more than necessary, but at least you'll always get a space! And yes, the station is far from downtown Newburyport, but the Clipper City Rail Trail is a really great walk.
Cons: Well, it's a modern Commuter Rail station, so don't expect a lot of character here. However, the Clipper City Rail Trail makes up for that department with its numerous art installations. Newburyport's building just seems like a wasted opportunity, though. If no restaurant or café wants to occupy, then at least stick some seats in there and reopen the bathrooms! It would help make the station feel more hospitable, especially since it's basically in the middle of nowhere.
Nearby and Noteworthy: There's nothing in the immediate vicinity of the station, of course, but if you walk to downtown Newburyport, you'll find an absolutely lovely historical place. It's one of greater Boston's most charming seaside towns.
Final Verdict: 7/10
If the rail trail didn't exist, the score would be much lower. But since the trail is there, you can take a scenic trip to downtown Newburyport even though the station isn't particularly close to it. As for the station itself, it's boring, but it gets the job done fine. Really, its only main problem is that building that's completely closed. Do something with that thing, MBTA!
UPDATE 9/30/2018: noahproblem in the comments has told me that a Mexican restaurant now occupies the previously empty building. That's a good start! We can raise the score up to an 8 for that.
Latest MBTA News: Service Updates