It's strange that despite taking a way more indirect route than the 4, the 22 somehow manages to only take three minutes longer to get from Worcester to Blackstone Valley. Whereas the 4 has a lengthy express section and is mostly direct, the 22 is all local and deviates to serve Milford Center. It's one of the WRTA's longer routes (in that it actually leaves Worcester, which a lot of routes don't), so let's take a look.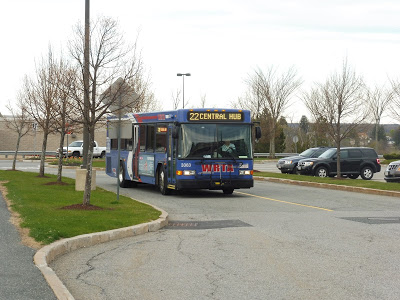 After reviewing two WRTA routes with Proterras, this Gillig looks kinda boring…
Unfortunately, though the electric Proterra buses are awesome, the bulk of WRTA routes use Gilligs, and the 22 is no exception. On the inside, it felt like any other bus on a regional system, with cords to request stops and mostly forward-facing seats. Also, along the whole ride, the driver kept yelling "You two in the back! Are you too cold?" And my friend Nathan and I would say "No, we're good," and she would respond with "Okay, just checking." This happened at least three times! I guess it was a nice gesture…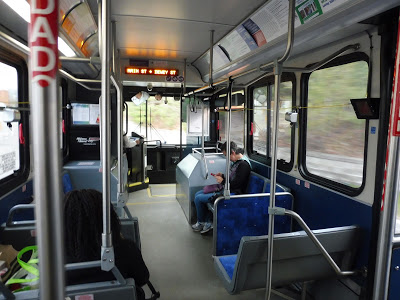 The inside of the bus.
WRTA buses have to do a bit of a strange loop to get out of the Blackstone complex, so we circled around the back of the mall, passing lots of loading docks. We then looped back around, now on the edge of the parking lot. There was a great view looking down a cliff on which the mall is situated, then we finally returned to the main road and left the complex.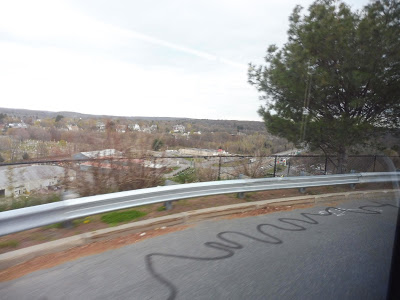 Well…consider that photo attempt a failure.
We were now on North Main Street, which crossed over Route 146. The road started to curve south, lined with suburban houses. As we continued, they slowly got denser and denser until we arrived at Millbury Center. Here, we were surrounded by businesses, which kept going as we turned onto Elm Street. There were some houses when we turned onto Canal Street, then it got industrial as we headed north along Howe Ave.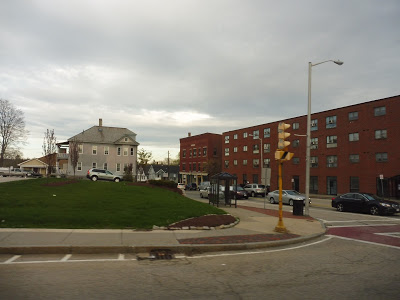 Ahhh…lovely Millbury Center.
There was a short forest section where we passed a pond and went under some pylons. The street became Millbury Ave and the houses returned once more, interspersed with a bit of retail as we progressed further north. We passed under I-90, and as we crossed Route 20, the street became Massasoit Road and we entered Worcester.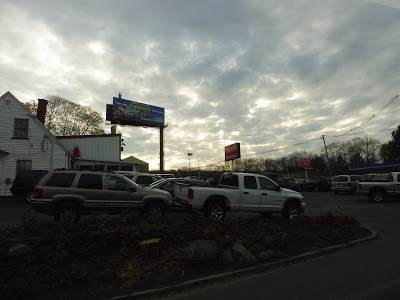 Some industrial scenery around Route 20.
The houses were denser now, and they only continued to get closer together. We passed a field, but nothing much broke the residences for quite a while. Eventually, though, we went by a school and a church, and then all of a sudden, there were apartments and businesses everywhere.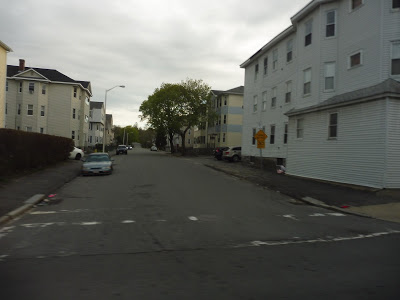 An urban side street.
However, we unexpectedly turned onto Dorchester Street, which was narrow and very hilly. In fact, buses have to bypass this section during heavy snow periods to avoid slipping. We climbed up a very steep incline, going by mostly apartments, but also two schools. The other side of the hill was also very steep as we descended down to Vernon Street, onto which we turned.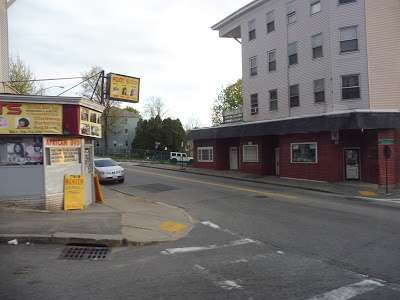 The intersection with Vernon Street.
This street was still lined with apartments. We crossed over I-295, and it got a bit industrial as we merged onto Green Street. However, the surroundings soon turned to businesses as we went under some train tracks. Finally, we turned onto Foster Street, and entered Worcester Central Hub right after.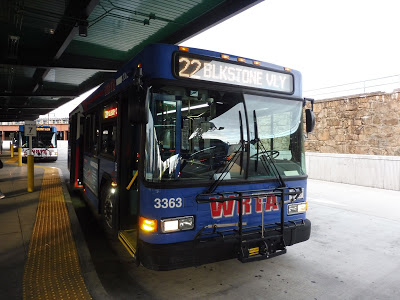 The bus back at the Central Hub.
WRTA Route: 22 (Union Station Hub – Shoppes at Blackstone Valley via Millbury Center)
Ridership: See, this is a perfect example of why the WRTA should publish ridership statistics! My ride only had five people, and they all came from Blackstone (which was odd), but I have no way of knowing if other trips are more popular. We were going against the peak direction, after all.
Pros: This is the only bus that serves Millbury Center, which presumably gives it some good local and commuter ridership. Indeed, this is basically the only bus that serves Millbury, since the 4 runs express through the town. The 22 also has a pretty good schedule, running every hour on Saturdays and about every hour on weekdays.
Cons: The key word is that "about" – the route actually runs anywhere from every 66 minutes to every 77 minutes on weekdays! The times the bus leaves the Central Hub are complete madness, and there's not much that can be done about that given its length, but it's really annoying. Additionally, and this is another issue with not knowing the route's ridership, the bus could theoretically run on Sundays, but I would have to know how many passengers it gets on Saturdays before making that call.
Nearby and Noteworthy: Eh…I would have to say Blackstone again, since the 22 takes only a few minutes longer to get there than the 4. Millbury Center just doesn't seem that interesting, and most of the rest of the route is suburbs.
Final Verdict: 7/10
The 22 definitely serves a lot, and despite taking an indirect route, it's still a quick way of getting to The Shoppes at Blackstone Valley. After all, every rider on my trip came from the mall, so clearly the route is seen as an equal to the 4. The 22's schedule is a lot less consistent than the 4's, though, and that ultimately puts my bias toward the latter, but for Millbury riders, this is a great bus. Monday through Saturday, at least.
UPDATE (6/24/17): This route was eliminated by the WRTA! Most of the sections are covered by a newly-extended 1 or 4.
Latest MBTA News: Service Updates