Welcome the MBTA's outermost station in Massachusetts! Yes, we are truly in the wild west right here. Well…the wild west if it had multi-story buildings and a fairly busy downtown. Okay, so Fitchburg might not be a true frontier, but its gateway station is certainly a good one.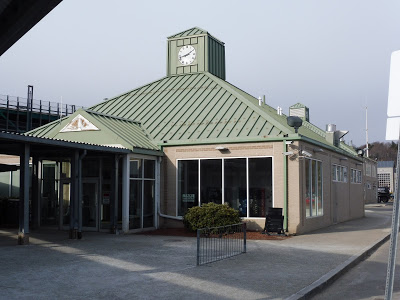 One of the station buildings.
Being a terminus, Fitchburg has plentiful amenities. This is the "Fitchburg Intermodal Transportation Center" after all, and thus it's got quite a lot of "stuff". Most of that "stuff" is housed within two connected station buildings, both of which have clock towers! Okay, they're not very high up, but a clock tower is a clock tower.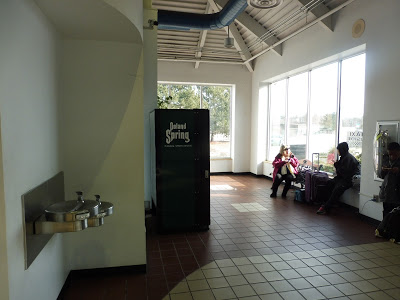 A waiting area.
Near the building's exit to the platform, there is a convenient waiting room area so people don't have to wait for trains out in the cold. It also has a vending machine and water fountains. There is a booth to buy tickets, which wasn't in operation when I was there. I think something may have been out of order on that particular day, but hopefully it's working now.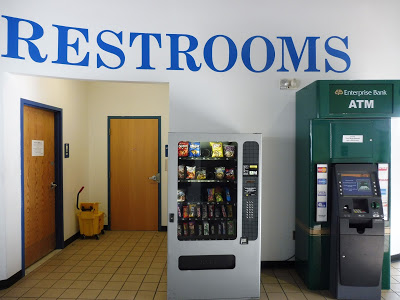 Well, they certainly make it clear where the restrooms are.
Heading further into the building, there's another vending machine, as well as an ATM. And then there are the bathrooms. Now, don't get me wrong, bathrooms are great to have in a train station. But they're only open until around 3 on weekdays and Saturdays, and not at all Sundays! Plus, you have to get a key from a ticket agent to get inside. I guess this is to prevent vandalism and loitering, but it is rather inconvenient.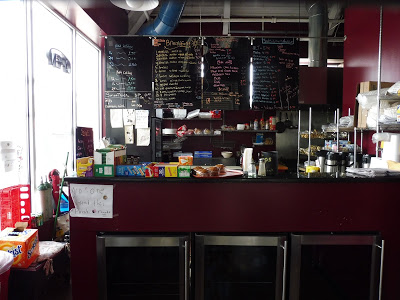 A café! Well, a closed café.
The station even has a café! Now granted, it has limited hours, only open from 5 AM to 3 PM on weekdays and 9 to 12 on Saturdays. That said, based on the picture above, its menu seems to be pretty extensive considering it's in a train station. It offers seating across the hallway, as well.
I love the natural light!
The connector between Fitchburg's two buildings also acts as the waiting area for MART buses. With glass windows on both sides, a lot of natural light gets in here, and it looks great. It has lots of seating room, as well as schedules for every MART route.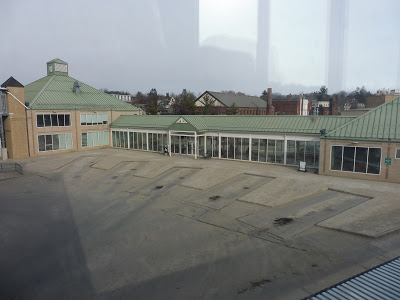 The bus area…from above.
Sometimes I have trouble writing a whole paragraph about an aspect of a station, and…yeah, this is one of those times. The actual bus area is incredibly simple, with six parking spaces and yup, that's about it. That said, this area doesn't need to be much more than this, since there's a fantastic waiting room right in the building.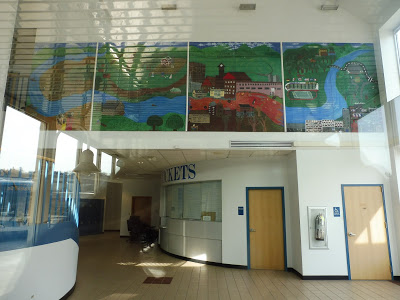 The closed second building.
Weirdly, the entire second building of the station was closed off from the bus area when I was here. Perhaps it was open elsewhere, but inside there didn't seem to be much, anyway. Aside from a fantastic mural, there were just a few doors and a handicap restroom. Perhaps it's office space? I'm not too sure.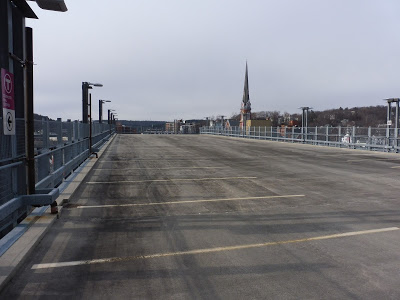 Well then.
Of course, this wouldn't be a Commuter Rail terminal without parking. And Fitchburg has a proper garage, with 400 spaces! The MBTA website doesn't give the availability rate, unfortunately, but I would imagine what's there is enough parking. I mean, the roof was completely empty when I was here, though that was on a Saturday.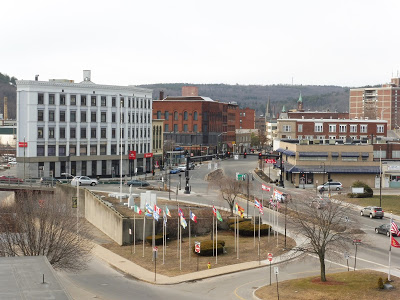 The view of downtown Fitchburg.
Is there a view from the roof of the lot? Of course! The best one is of downtown Fitchburg, offering a fantastic look at the buildings and mountains in the background. You can also look over the station and see trains if they're stopped there.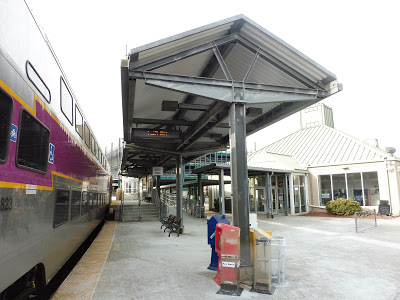 The shelter and high-level portion of the Commuter Rail platform.
Oh yeah, trains stop here, don't they? Yeah, let's talk about those. The sheltered part of the Commuter Rail platform is right next to the building, and it's that typically bland metal Commuter Rail shelter. However, this one does have a wastebasket and some newspaper boxes,
plus
benches! It's so unnecessary to have those considering the ample indoor waiting space, but it's a nice little touch. Although actually, maybe they should be moved to
North Leominster
, where they'd actually be needed…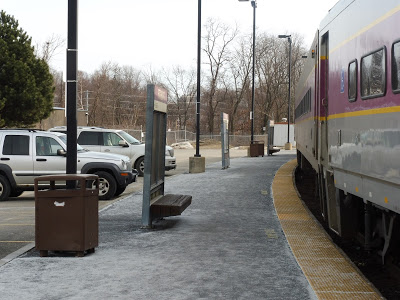 The barren part of the platform.
Then there's the part of the platform no one really cares about! I mean, it's low-level with benches and wastebaskets, that's all you really need to know. I can't think of any reason anyone would need to use this part of the station, especially since boarding at the high-level part is mandatory most of the time. Well, okay, there's a small parking lot that lines the platform, so people coming from there might use this part of it, but that's it.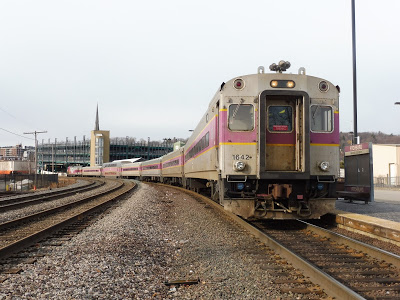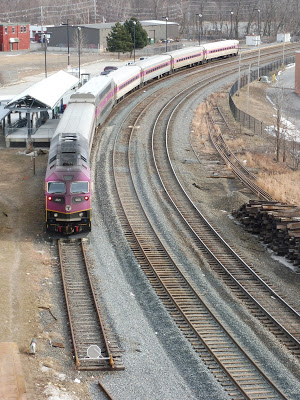 Two shots of the same train.
Station: Fitchburg
Ridership:
Alright, so Fitchburg is a super-awesome terminus, right? Surely it must get lots of ridership! Welllll…it's only the fifth-busiest station on the Fitchburg Line. 518 passengers on the average weekday seems pretty scrawny, to be honest. As for the MART, most of its routes converge here, so I would imagine it gets a fair amount of ridership, as well.
Pros: This is a great modern station with quite a few amenities. I mean, it's got lots of parking, a fabulous bus area, a café, restrooms, ticket booths, waiting areas, and more. The platform may have a simple high-level section, but why complain about the shelter's aesthetics when you can just wait inside the station?
Cons: Just the fact that some of the station's features aren't open a lot of the time. That said, though, the café probably only stays open when ridership necessitates it, while the bathrooms are under lock and key to prevent people loitering or vandalizing. But yeah…other than that, I really don't have much.
Nearby and Noteworthy: This station is essentially right in downtown Fitchburg (or at least very close to it), and there are lots of businesses there. Also, Fitchburg State University is in walking distance.
Final Verdict: 9/10
Despite its low ridership (which may go up now that the Fitchburg Line renovations are done ), Fitchburg is a great transportation center with lots of convenient amenities. It performs well both as a Commuter Rail station and the hub of the MART. And…yeah! There isn't much else to say, this is a pretty great station.
Latest MBTA News: Service Updates
This is the last post before I go on a school trip to Italy. The trip will be 10 days, but my hiatus may be a bit longer than that. I guess…expect a hiatus of at least 10 days? Sorry, guys.