Well, that's a long post name. Yeah, the MART likes to put every single major destination into its route names, so they can be a bit…lengthy. It doesn't help that I'm reviewing two different routes here. But even though the particular bus I rode was the 3, it does the same loop as the 1 except in the other direction, so I figured I'd include them both. Let's take a look.
I wasn't expecting the bus to have…well,
people
on it, to be honest. I never have very high expectations for non-MBTA systems. That said, there were exactly 17 riders on the bus when it came, which was surprising. As for the bus itself, it was pretty simple, with cords to request stops and a robotic automatic announcement system for major stops.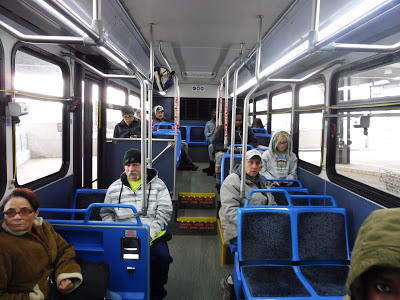 The inside of the bus.
Leaving North Leominster Station, we headed up Nashua Street, then turned onto Main Street. This was sort of an industrial area, but it stopped once we crossed over the Nashua River and Route 2. Right after the Route 2 crossing, we turned onto Haws Street, passing a police department and a cemetery on the other side.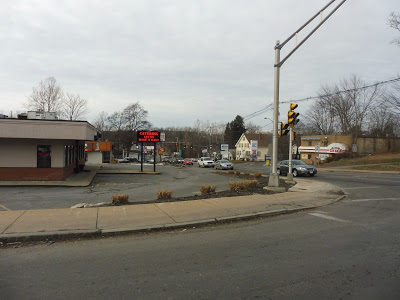 The area around North Leominster Station.
But the surroundings soon became – ech – fast food restaurants and other businesses with big parking lots. Great. We reached The Mall at Whitney Field, which certainly was a big ridership draw (a large portion of the bus got off here), but was a really long time sink for everyone else. You'll see what I mean.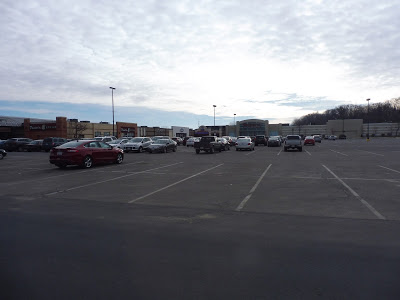 Oh, what a lovely parking lot.
Right, so first we deviated a bit, navigating through a smaller parking lot in order to serve Market Basket. Then we had to squeeze between many cars in order to get to a road that curved south of the Market Basket. We took this road all the way to the other side of the mall to serve a nondescript stop in front of the food court. Oh, and it doesn't end there.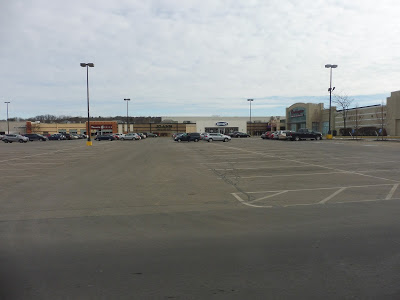 *sigh* It never ends, does it?
We headed back up the way we came, making a right turn and running alongside various mall entrances. We then turned onto Cinema Boulevard, passing a movie theater. The street curved up and there was a stop at the Leominster Reliant Medical Group, which the automatic announcement said as "Reliant Medical Group Leo". FINALLY, we left the mall complex and turned onto Mill Street.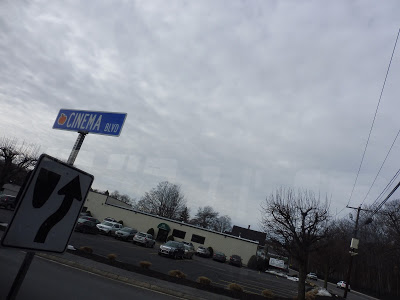 This was mainly to get a picture of that street sign. They. All. Have. Apples.
Soon we merged onto Whitney Street, passing through an industrial section. The road started going by apartment buildings, which continued as we turned onto Water Street, passing over a river. This street led us to Monument Square, which had lots of businesses. We did a few twists and turns, and laid over for a few minutes at the main bus stop, next to a common.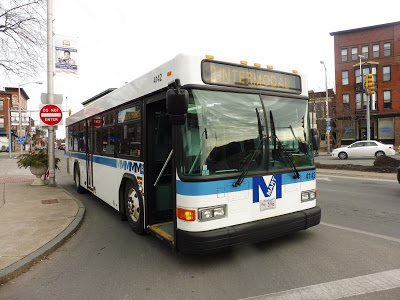 The driver let me take a picture of the bus while we were laying over.
From there, we headed down West Street, going by the Leominster Senior Center. It got residential from there, the street lined with houses. It continued like this for a while, and there was no break in the houses except for an assisted living center. Soon after that, we turned onto Doyle Street, a residential side street, and then Merriam Ave.
The turn onto Merriam Ave.
This street was all residential for quite a while, right up until we crossed over Route 2. But after that, the surroundings instantly became businesses with big parking lots again. Here, we turned into the Twin City Plaza, which quite literally was on the border between Leominster and Fitchburg. Dropping someone off at the mall, we returned to what was now called Whalom Street and continued further into Fitchburg.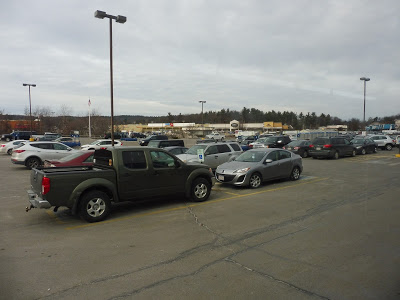 Another parking lot…fun.
The businesses with parking lots continued for a while, with Whalom Street becoming South Street. Things got less dense as we went along, though, including a short stretch of forest. Eventually, though, it got residential again. And after passing a school, the houses got pretty close together.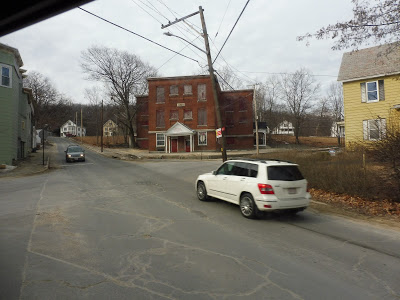 I love that little brick building!
Unfortunately, just as South Street was about to go down a fun-looking hill, we turned onto Pine Street instead. Now in the heart of a residential neighborhood, we next turned onto Walton Street, then Laurel Street, passing a cemetery. All of a sudden, we got a panoramic view of downtown Fitchburg across the Nashua River before crossing the river ourselves.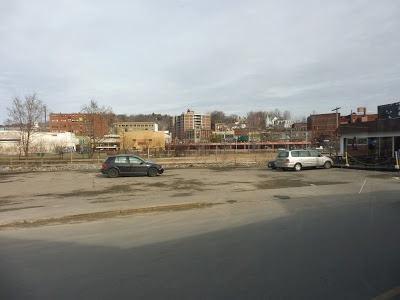 Nice view!
We turned onto Water Street, going over some train tracks (technically not the Commuter Rail). But instead of going toward downtown Fitchburg, we turned right onto Main Street, opting for the Intermodal Center instead. Also housing Fitchburg's Commuter Rail station, the Intermodal Center had a few parking spaces for buses, one of which we entered.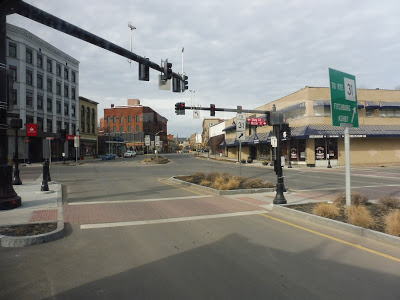 Not that downtown Fitchburg looks especially interesting…
After picking some more passengers, we returned to Main Street, then turned onto Summer Street. Climbing a hill, we left downtown and entered a residential neighborhood. Following some dense houses, we went by a school, and then…sigh…more businesses with parking lots. We entered Lunenburg, going by a Commuter Rail yard, and left the town as soon as we entered.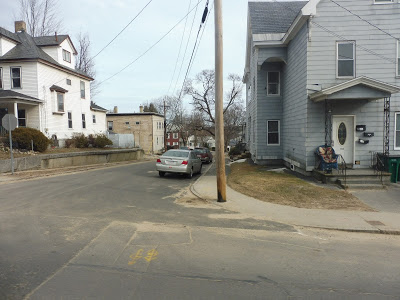 Some houses in Fitchburg.
Reentering Leominster, there were dense houses on both sides of the street. There were a few businesses at Kings Corner, where we turned onto Main Street, which was again residential. The houses were broken by a church, some retail, and Johnny Appleseed Elementary (boy, Leominster really nails in the whole Johnny Appleseed thing). The houses gave way to businesses once more when we got to the Commuter Rail tracks and turned onto Nashua Street, entering North Leominster Station. Thus, the loop was complete.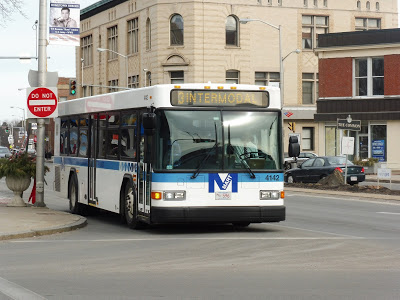 I actually continued a bit more to get off at Monument Square, so here we are.
MART Routes: 1 Counterclockwise and 3 Clockwise (Intermodal Center – Kmart – Monument Square – The Mall at Whitney Field – Kings Corner)
Ridership: As I mentioned, my ride was unexpectedly crowded. Over the course of the whole loop, there were about 25-30 riders in total, with many getting off at The Mall at Whitney Field, Monument Square, or the Fitchburg Intermodal Center. The 1 and the 3 are considered one route by the MART, and together, they have the third-best ridership on the system with about 125,000 riders per year. That means about 400 passengers per day, which…well, that seems a lot lower now.
Pros: There's nothing like a good circle line! These routes connect quite a few major transit and shopping centers around Fitchburg and Leominster, and as a bonus, they run pretty frequently! I mean, they're both every hour, including on Saturdays. But technically that's every half hour, and if you're not in a rush, you could go either way around the loop to get where you're going.
Cons: I think maybe one more weekday trip in the evening would be helpful. The last trip to the Intermodal Center is on the 1, and it gets there at 6:25. That seems pretty early to cut service. Also, some of the deviations on these routes are very lengthy, particularly The Mall at Whitney Field. It takes a full 10 minutes to navigate through that mall, which is an incredibly long deviation for people who are just passing through.
Nearby and Noteworthy: Aside from malls? Well, the routes connect downtown Fitchburg with downtown Leominster, so there's probably something or other that's noteworthy in those places. Oh, and they go by the Fitchburg Line Commuter Rail yard, in case you're interested in seeing that.
Final Verdict: 8/10
Despite their slight problems, these routes do have the third-highest ridership on the MART. I mean, my main issue is with the Mall at Whitney Field deviation, but that really does serve a lot of riders. Other than that, these routes form a good circle line with relatively frequent service.
Final Verdict UPDATE: 9/10
Okay, so it turns out that MART is changing its routes fairly drastically on March 1st. Yeah, turns out I had pretty bad timing with this review. Anyway, it seems they're adding one extra trip on weekdays, ironing out one of the issues I had with the 1 and the 3. Also, they're changing the routing through Leominster to serve an apartment complex and enter The Mall at Whitney Field from the south. It still seems quite complicated, so that doesn't fix that problem, but it's a change regardless. See the full list of service changes here.
Latest MBTA News: Service Updates