Palm Tran is the bus system servicing Palm Beach County in Florida – my first notable experience with them was a typo. In the Lake Worth inset on their system map, it says that Route 62 goes to the intracoastal "Sunday's only". "SUNDAY'S"?????? APOSTROPHES ARE NOT PLURALS!!!!!!!!!!! Okay, with that out of the way, let's look at an actual bus route.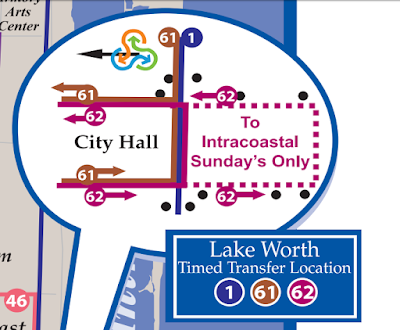 Grrrrrrrr…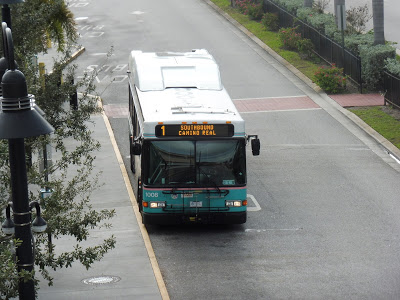 The bus…from above.
Okay, so the 1. The 1 is a long route. The 1 is a looooooooooooooong route. Over 40 miles. It takes about three hours to do the whole thing one-way. It's so long that it has an express variant called The Bolt that runs during rush hour and makes limited stops. And probably due to its sheer length, it's the busiest route on the Palm Tran system, with over 9,000 riders every weekday.
The bus…from ground level. Exciting.
Needless to say, I did not take the whole route. However, I would say I nabbed about half of it on my ride from West Palm Beach to Delray Beach. Keep in mind, this is still about an hour and a half ride with a distance of around 20 miles. It's a doozy. Although that said, the scenery along the ride remained consistently boring, but we'll get to that.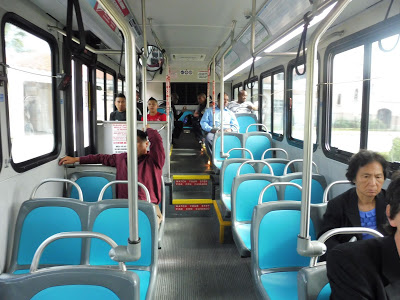 Those are some nice seats! Well, nicely colored, at least.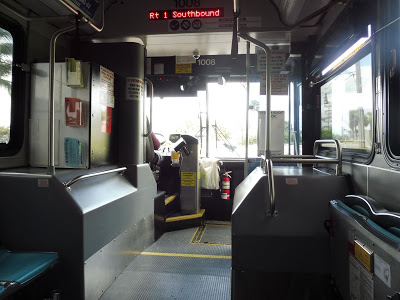 Looking toward the front.
Yeah, those seats weren't as comfortable as they look. They were actually just generic bus seats when you got right down to it. However, the bus was still nice. It had pull cords instead of buttons to request stops, as well as automatic announcements at major stops, recorded by a breezy female voice. Also, every Palm Tran bus has a holder for "System Guide Books", but not a single vehicle I rode actually had any guide books in there.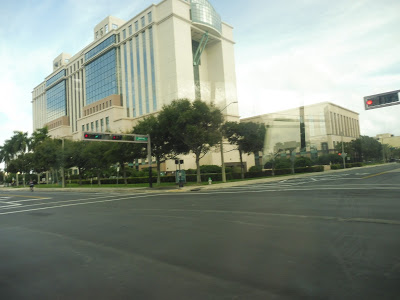 Welcome to downtown West Palm Beach…
Leaving the West Palm Beach Intermodal Transit Center, we headed up Clearwater Drive and then turned onto 1st Street, crossing the Tri-Rail tracks. We passed a few boring municipal buildings, then turned onto South Quadrille Boulevard, otherwise known as Route 1. There was a railroad track on one side of the street, while on the other, the buildings of downtown West Palm Beach were in view. It didn't look particularly interesting.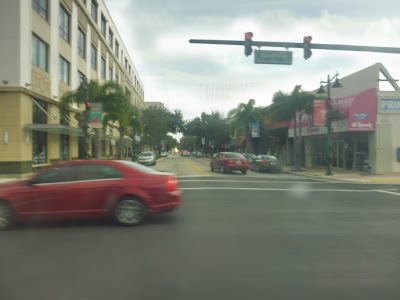 Looking down a side street.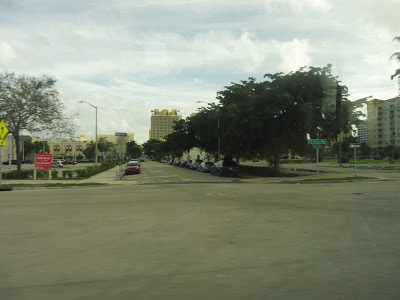 And another.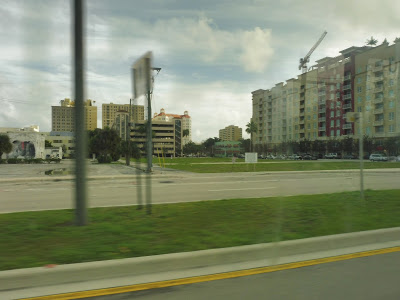 Some apartment buildings.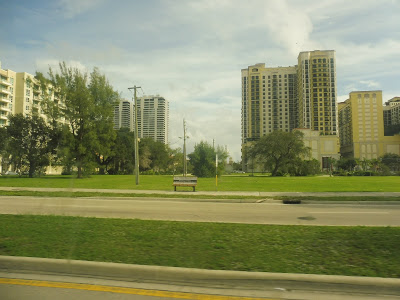 And more.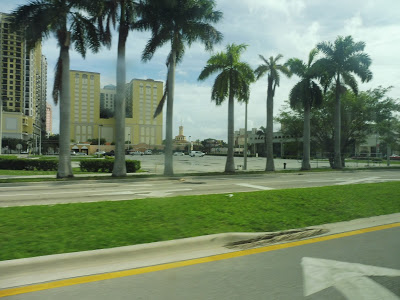 And more. Also, palm trees.
We turned onto Okeechobee Boulevard for a block, then onto South Dixie Highway, remaining on Route 1. There was a cemetery on the right, while on the left, the big resort apartments were starting to dwindle. Now the street became lined with pretty run-down businesses, and, as we continued, run-down businesses with parking lots.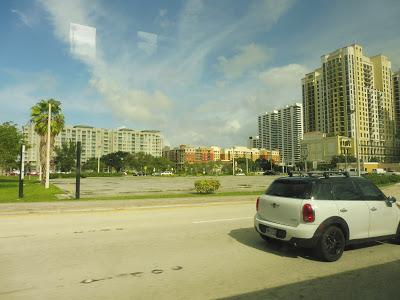 The brief section on Okeechobee Boulevard.
Some modern-looking business.
Once we reached Belvedere Road, the bus stopped at the intersection's red light for a while. Then the light turned green. But we stayed there. Then it turned red again. And…well, we had to stay at that point, because running red lights is illegal. The point is that we were stopped there for a very long time. Eventually, the driver informed us that there was an impromptu detour in effect, and so we had to deviate from the route.
The intersection with Belvedere Road.
Thus, we turned onto Belvedere Road for a block, then onto Olive Ave. This was a significant departure from the scenery along Dixie Highway, since the street was residential and very leafy. But soon, we turned onto Avila Road and then came back onto Dixie Highway, which was…ech.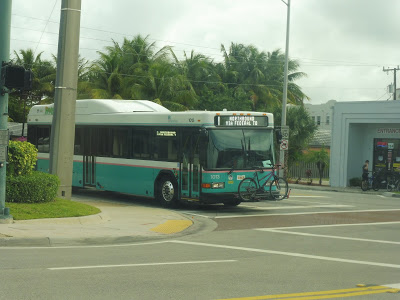 Another bus on Belvedere Road.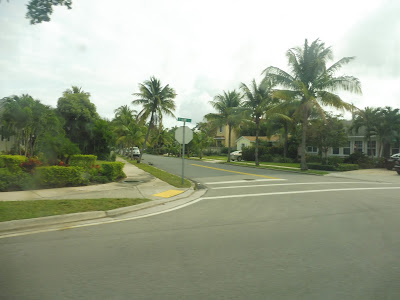 Well, this is quite nice, isn't it?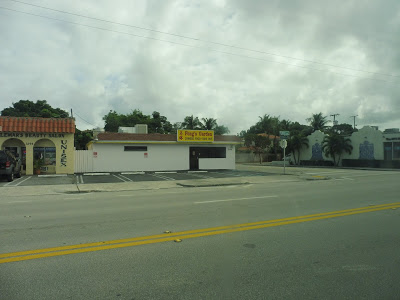 Aw…
There was a major stop at Southern Boulevard, then we passed by a park. After that, there was
another
detour, and so we had to turn onto Russlyn Drive. We returned to Olive Ave for a bit, back in the residential neighborhood, but soon we turned onto Puritan Road and came back onto Dixie Highway.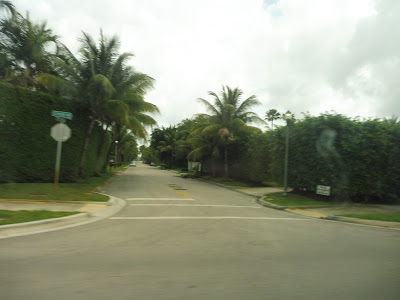 Wow, that just looks like a wall of bushes…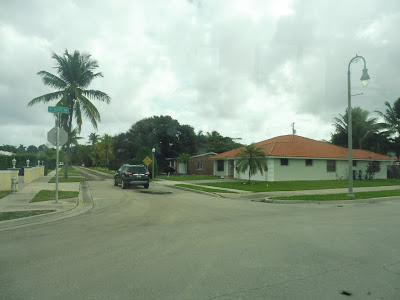 That side street looks to be in pretty poor condition.
And since the remainder of the ride had no more detours, there really isn't much to talk about for a while. We just stayed on Dixie Highway the whole time, going by all these trashy businesses. I mean, obviously we went past some major streets where there were connections with other routes, but the overall scenery never changed. This might be a bit of a boring post…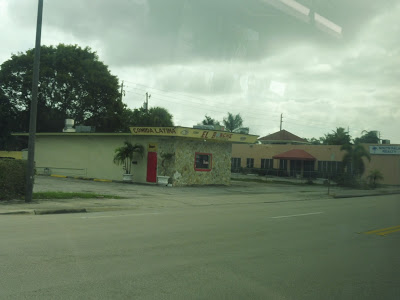 Mmm.
Interesting.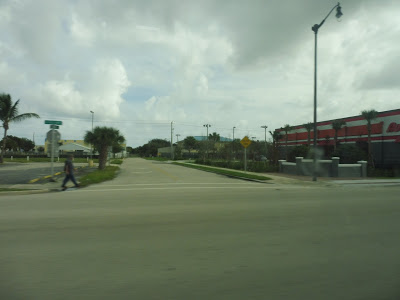 AAAAH!!! A PEDESTRIAN!!!!
Okay, now the street's deserted again.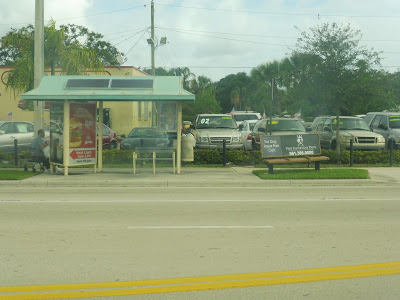 A shelter on the other side of the road.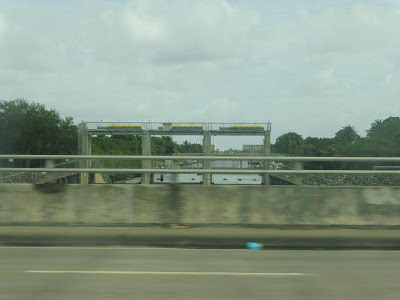 Going over a river! Hey, that's kinda cool, I guess.
The next interesting thing that happened was when we crossed over a river and entered Lake Worth. Maybe this city would offer some more enthralling surroundings…oh wait, there was a McDonald's right after we crossed the bridge. Yeah, it's gonna be more of the same stuff, isn't it?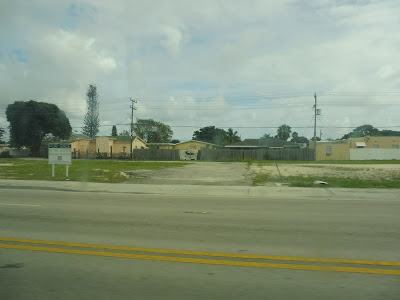 Some undeveloped land.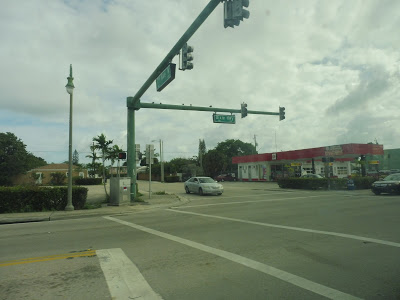 An intersection.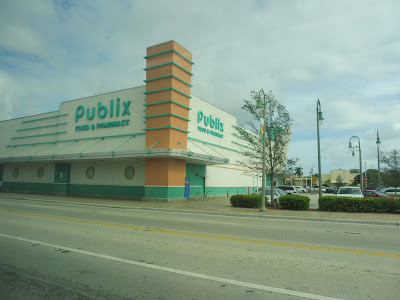 Man, that's a big supermarket.
Eventually, we had a very short break when we reached Lake Ave. Since we were going south, we crossed over it in a few seconds, but looking down that street, we could see downtown Lake Worth. It looked like a legitimately interesting place, with businesses lining a narrow, pedestrian friendly street. It may not be as happening of a city as Delray Beach, where we were headed, but I would probably check Lake Worth out if I had the time. Oh, yeah, and then after that, it got pitty again.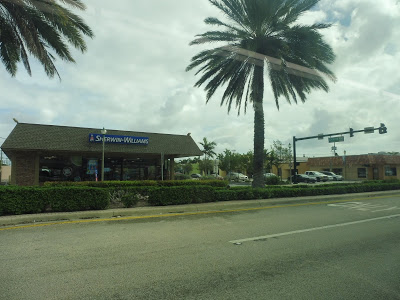 Case in point.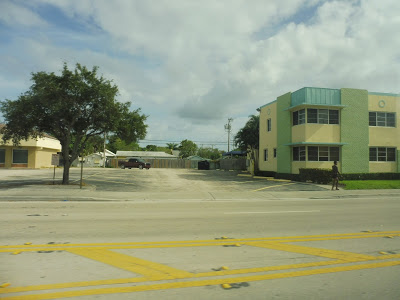 Hey, that building on the right is kind of interesting, I guess…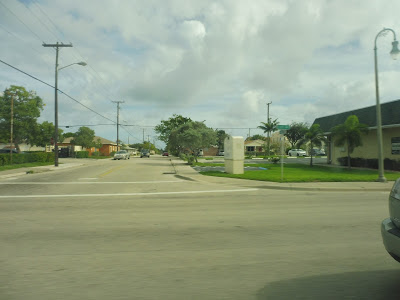 A side street.
Eventually, the street curved in a southeasterly direction, paralleling a train track on one side. But on the other? Still the same stuff as before. We soon entered the town of Lantana, getting somewhat close to the ocean. It wasn't enough to get a view, but it was some sort of variety apart from the endless run-down businesses.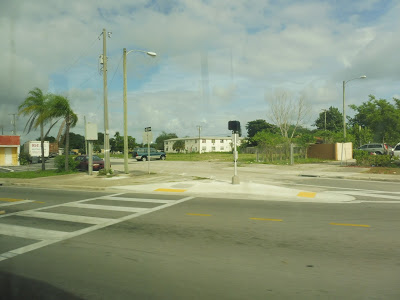 What a lovely-looking road. Yup. Looks great.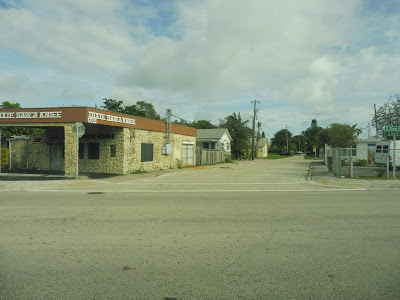 What does a "Saw and Knife" place even sell? Saws and knives, I guess.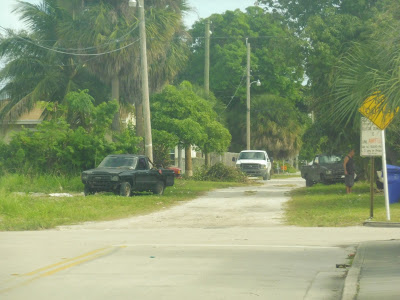 An unpaved residential road.
One of these stores is called "Gun Loans". Welcome to Florida!
Okay, so I've been making fun of the surroundings of the route, but I will say that it really was getting a lot of ridership. This section was probably the busiest, with most seats taken up and a few standees. But there was lots of local ridership, so the bus was never too crowded at any one time. So yeah, it may go through some less-than-impressive neighborhoods, but those are the places where people rely most on public transportation, so there you go.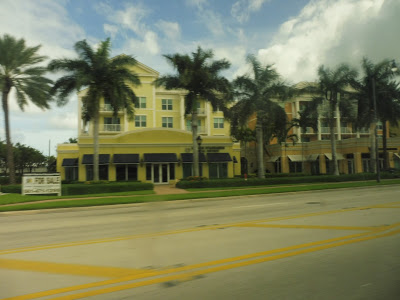 Woah! Well, things changed all of a sudden.
Once we entered the town of Hypoluxo, it got surprisingly nice. The businesses were replaced with small resort apartments and leafy gated communities, and while I'm not the biggest fan of either of those, it was quite an improvement. Of course, the ridership started to dwindle around this point, too, which makes sense.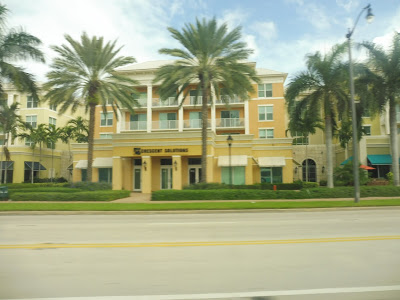 That's the fanciest-looking office park I've ever seen!
Hypoluxo is a small town, and we were soon out of it and into the city of Boynton Beach. The surroundings were similar to those of Hypoluxo, though, with weirdly-named gated communities and resort apartments. We also crossed a river at one point, but there wasn't much else to talk about along here.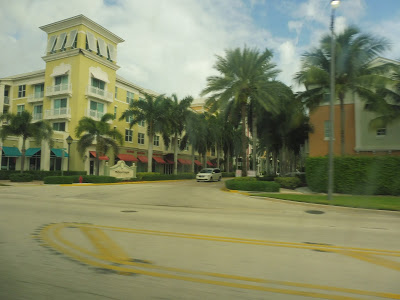 More fanciness and palm trees.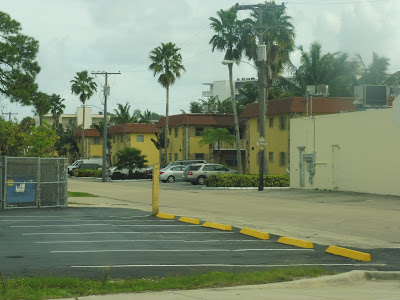 Some apartments on a side street.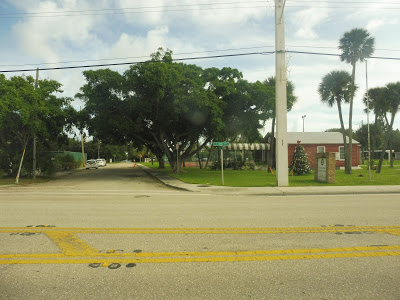 I guess that place forgot to take their Christmas tree down.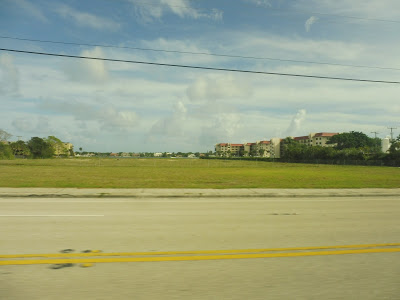 A wide-open field.
The entrance to a development/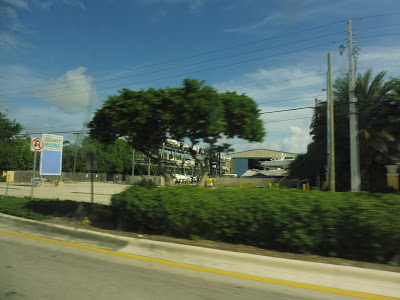 A marina.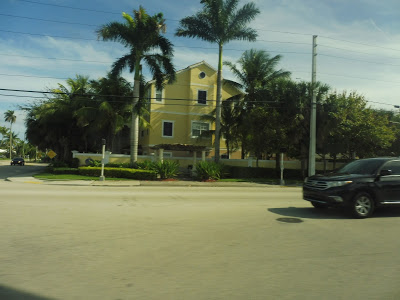 A single house.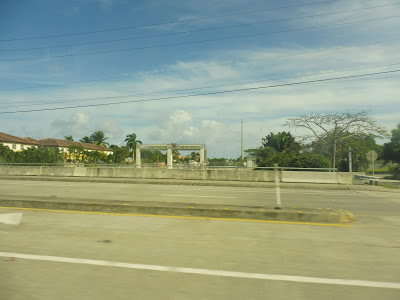 It's hard to tell, but we're crossing over that river here.
Unfortunately, after going over the river, the surroundings went back to trashy businesses again. That reprieve was nice, but alas, all good things must come to an end. There was still the occasional resort apartment that popped up, though.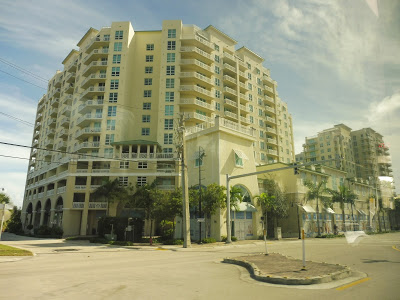 Like this one.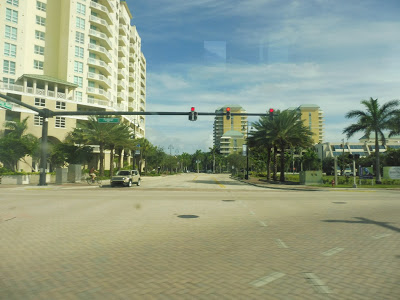 Or these.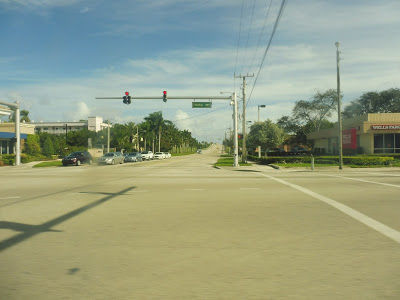 But alas, most of the surroundings were boring.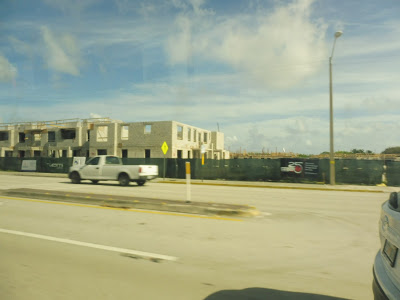 A building under construction.
Eventually, it became an almost 50-50 mix of decrepit businesses and residential buildings, which is better than nothing, I guess. Around that time, we also entered Delray Beach. We knew we were getting closer to downtown when the road split up into two separate one-way streets. The buildings got generally smaller, and we even passed a mini-golf course!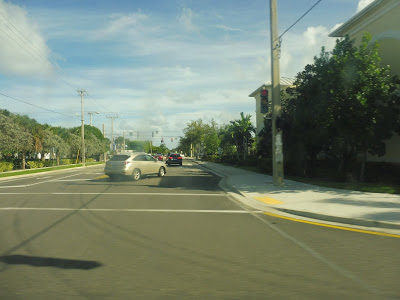 A side street.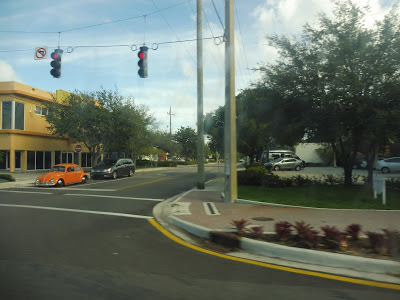 And another. Check out that old car!
Downtown Delray Beach, like Lake Worth, runs east-west, so the 1 doesn't spend much time there. However, since we were getting off here, we pulled the cord at Atlantic Ave, Delray Beach's main drag, and left the bus a little further down the road. A few other people joined us getting off, and then the bus continued on its way to Boca Raton.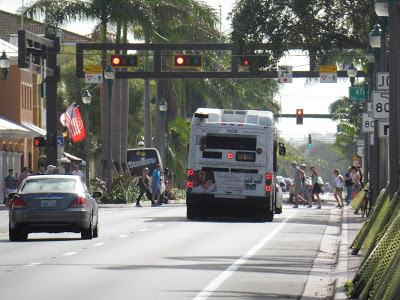 The bus was never crowded at any one time, but in total, there were about 65 riders! Impressive!