Since Fairmount and Hyde Park are so close together, passengers essentially get a choice between the two. There are advantages to both. Since Hyde Park is on the busy Providence Line, as well as the Franklin Line, it gets frequent service, while Fairmount does not. That said, if you're looking for a station that's not terrible, Hyde Park isn't the place for you…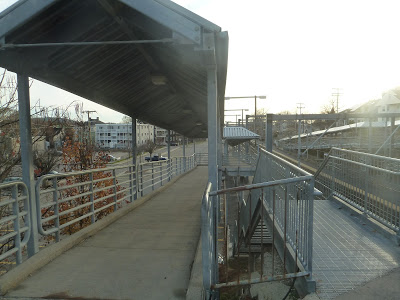 The entrance to the inbound platform – ramp on the left, stairs on the right.
The pedestrian entrances to Hyde Park are just kind of…there. I mean, there aren't any signs to mark that they lead to a train station. That said, both platforms get a set of stairs and a ramp that lead from River Street. Of course, the ramps have rusting metal shelters above them and the stairs are entirely metal and feel dangerous, but…well, no buts! That's horrible!
The station's parking lot.
Of course, there's a way for cars to get into the station, too. A T symbol along Hyde Park Ave marks the side street where cars can turn to go to the station. There, one can find a sizeable parking lot (considering the urban surroundings), with 121 spaces. And since about 60% of these spaces are available on weekdays, it's safe to say that there's more than enough parking.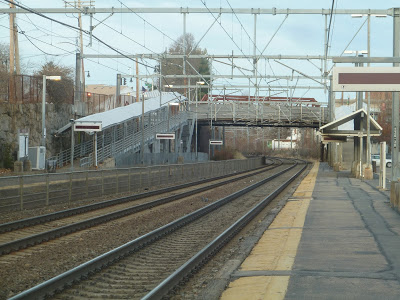 Looking down the platform.
Okay, look, this station is just decrepit. I mean, the first of its many problems is the horrible bare asphalt of the platforms. Or at least, it would be bare if it wasn't in such awful condition. The outbound platform is a mess, with these old chain link fences and a wall that's falling apart, plus some sort of mechanical box that makes a bunch of noise. The inbound side has a shelter, but it's not where the boarding platform is, so it's kind of useless.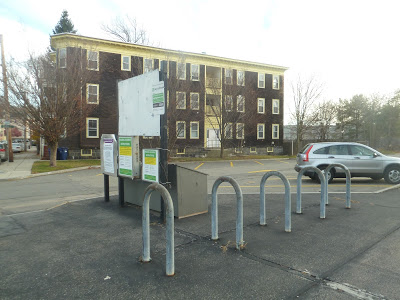 An old "honor box" and some bike spaces.
Further down the platform on the inbound side, there are a few bike spaces, which is a good thing. However, it has to be said that this station has no pedestrian level crossings across the tracks. Now, I'm not saying that's a bad thing in this case, since high-speed Amtrak trains can pass through without warning. That said, since there's no footbridge, people coming back from Boston on the outbound side have to walk all the way up to River Street, cross over, and then walk all the way back down the inbound side in order to get to their cars or bikes. A footbridge to shorten that walk would be great.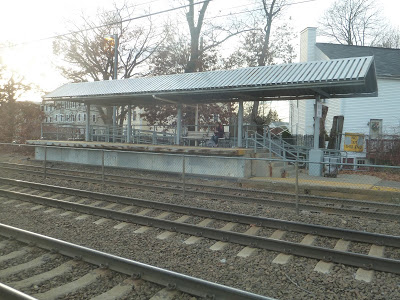 The outbound boarding platform.
Hey, speaking of long walks, this station was ingeniously designed to give commuters exercise! See, what they did was stick the boarding platforms at the veeeeeeeerrrrrrryyyyy end of the station, as far away from the entrances as possible. Fantastic! And your reward for the needlessly long walk? You get to sit at the one bench provided (assuming it's not already taken), situated under a metal shelter, which is rusting like everything else at this station. Brilliant.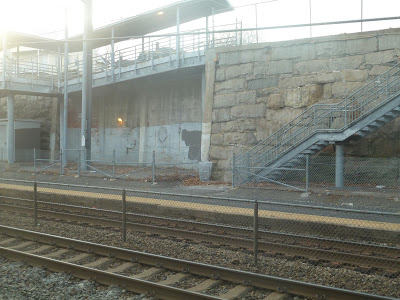 No train pictures, unfortunately, but here's a view of the outbound platform near the pedestrian entrances. It's just so…awful.
Station: Hyde Park
Ridership: I expected the ridership here to be higher, but it's actually quite low. Hyde Park only gets 148 weekday average inbound riders – less than neighboring Fairmount. Of course, Hyde Park might get outbound riders, too. Or maybe Fairmount gets more people because it's an exponentially better station…
Pros: It has a parking lot and it's accessible. Okay, now let's get to the bad stuff.
Cons: Simply put, this station is decrepit. I mean, there's no other way to say it. Walls are in terrible condition, the asphalt is worn and uneven, and all the metal is rusting – including the metal that the stairs and ramps are made of! Also, the boarding platforms are as far from the entrances as they could be, which is just annoying. At least they have benches, I suppose.
Nearby and Noteworthy: Just like Fairmount, Hyde Park is quite close to Cleary and Logan Squares. In this case, it's closer to the former than the latter, but the two squares are basically right next to each other, anyway.
Final Verdict: 4/10
I gotta give this place some credit for having the bare minimum requirements of a Commuter Rail station: accessibility and parking. But seriously, Hyde Park is a station in desperate need of some sort of overhaul. I mean, based on the state of it, it can't have been renovated for decades! Wait…it was rebuilt in 1987? That's not even 30 years ago! Wow, that's embarrassing for this place…