Whenever I return to Boston, I like to come back with a bang. So, who's up for a Commuter Rail station on its last legs? Chelsea Station has always been a bit of an outcast, a lone Commuter Rail station where there ought to be proper transit. That's being rectified now with the Silver Line Gateway, which will also move the Commuter Rail station further down the line, but while we still can, let's take a look at the current disaster that is Chelsea Station.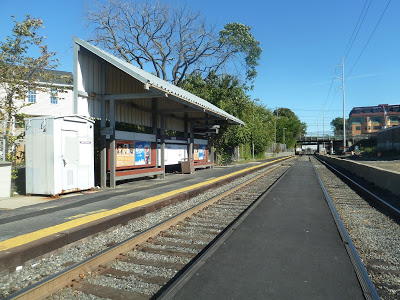 It's not much, is it?
Due to Silver Line construction, the outbound platform was completely demolished. This means that it's now just a slab of asphalt between the two tracks. The only aid given for crossing between the two is this slab of wood thrown onto the inbound track. I mean, the station was never wheelchair accessible, but come on!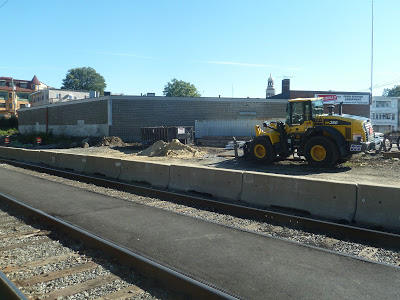 Here's a look at the construction that was going on.
The inbound platform gets a shelter, and it's standard for the Commuter Rail. You've got some benches (complete with gum and graffiti), a few crowded wastebaskets, some defaced ads, and a screen that only works on one side. You can tell this station has gotten a lot of neglect over the years…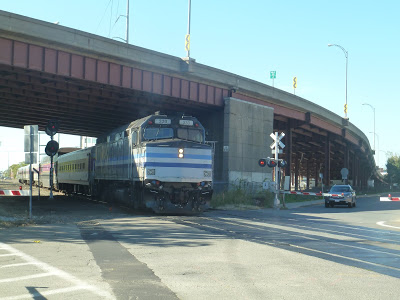 One of the MBTA's leased locomotives passing under Route 1.
This station can get…noisy. As you can see in the picture above, it's right next to the huge elevated Route 1 structure, and you can imagine how it would sound with cars speeding past all the time. Plus, the station is situated at a level crossing with a four-way intersection. And the platform is tiny, so half the train is always sticking out over the level crossing. It's a bit of a mess.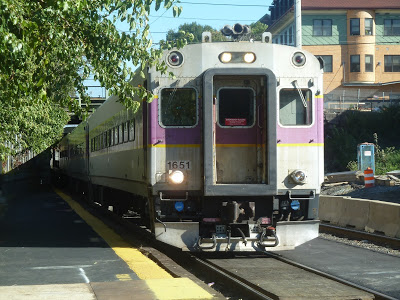 Another train, this one heading to Boston.
Station: Chelsea
Ridership: I was here on a Sunday, and there were way more people going outbound than inbound. Indeed, I was the only person that got on the Boston train, while people who had missed the previous outbound train would have to wait for quite a while longer. I will say that most of the outbound passengers were asking if the train was going to Lynn, so maybe something was going on there that day. Regardless, this station gets low inbound ridership, with only 179 passengers per weekday.
Pros: I would say the only thing the current Chelsea has going for it is location. It's much closer to Bellingham Square (pretty much downtown Chelsea) than the new location will be, and that means it has more bus connections.
Cons: Honestly, this station has always been subpar. The outbound platform has always been a slab of asphalt anyway, and the inbound shelter is decrepit. The station isn't wheelchair accessible, and it generally has this industrial, gritty feel. Plus, there's the fact that trains spill out into the level crossing because the platform isn't long enough. Oh, and did I mention how noisy Route 1 is?
Nearby and Noteworthy: Nearby Bellingham Square has a lot of businesses and restaurants, but I believe that area can be a bit sketchy. Go at your own risk, I guess?
Final Verdict: 3/10
If I didn't have the knowledge that Chelsea Station was being moved, I would probably still say that the MBTA needs to start from the ground up. I mean, this station is really horrible. The new station should hopefully be wheelchair accessible and feature more amenities. The only thing about the current Chelsea that's good is the location, but hopefully the new one will feature a parking lot (something else the current one lacks) so people can get there easily. But as for this Chelsea Station? I think it's time to say goodbye.
UPDATE 4/22/18: This is now the location of Bellingham Square Station on the SL3! Here's a link to the review.
Latest MBTA News: Service Updates