Okay, we've steadily been getting less touristy and more local here. The 28 was pretty much entirely for tourists, while the 15 was a mix. Well, now we're on the 729, and this bus route is all locals. Yes, you're not gonna find any tourists on this well-used bus in the outskirts of Lisbon.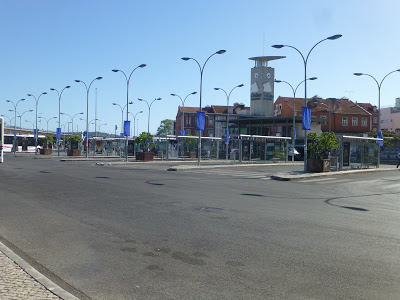 The Alges bus station.
The route starts in Alges, the area where the 15 terminates. Alges has both a suburban rail station and a bus station, where the 729 and a bunch of other routes board. It's simple in terms of architecture, with berths and shelters for each route. Geographically, however, it seems like it would be incredibly difficult to find a route. Luckily there was a 729 waiting at its berth when we got here, but if the bus isn't there, it must be hard to find.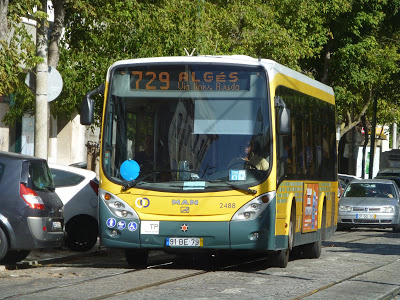 A bus a little further down the route, since I wasn't able to get a picture at the bus station. This isn't the vehicle I rode.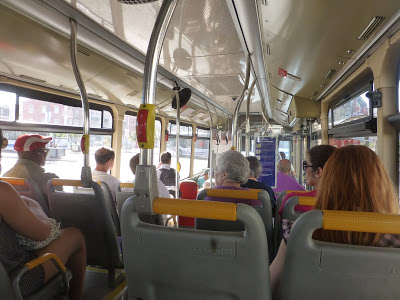 The inside of the bus was nice, as you can see.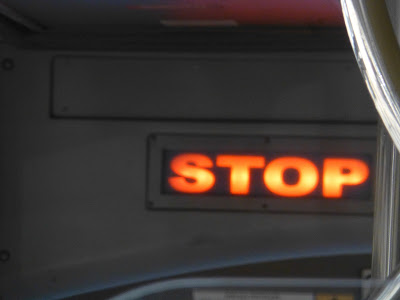 The "stop request" picture is blurry, as usual, but here it is. There weren't automatic announcements.
The first part of the 729 follows the 15 tram to Belem. Thus, we made our way to R. Pedroucos over the tram tracks. The street was leafy and lined with apartments. After we passed the amazingly titled "Colegio de Bom Sucesso" (College of Good Success), it got incredibly touristy all of a sudden.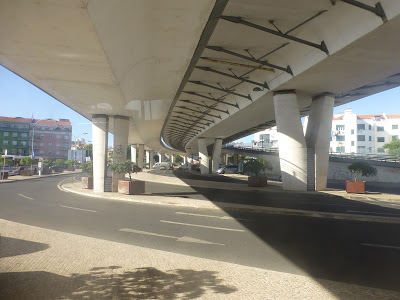 An elevated highway.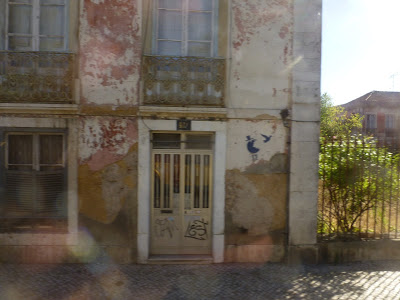 That building looks abandoned…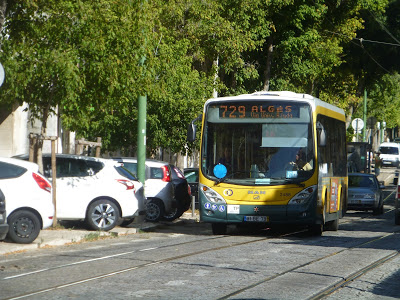 A bus.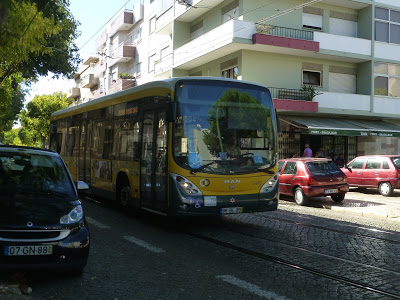 Another bus.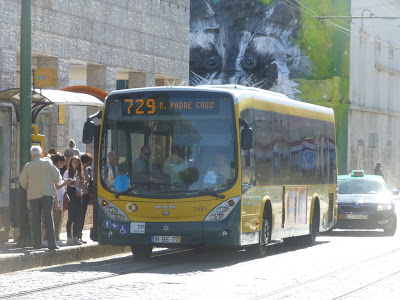 And another bus,
The street became Praca Imperio, and we were surrounded by big parks, buildings, and sightseeing buses. We then turned onto the turnaround loop for the 15, then onto Calcada Galvao, going uphill. One side of the street was lined with apartments, while the other side had a botanical garden.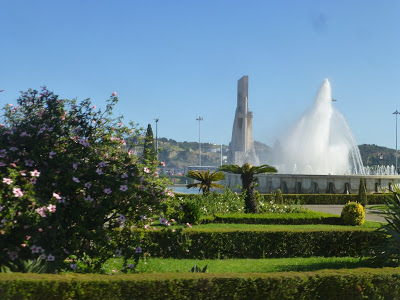 That's beautiful!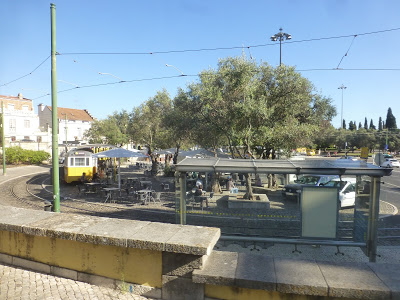 Heading above the 15's loop.
We left the botanical garden behind, continuing uphill with apartments on both sides of the street. Those apartments became walls, then we turned onto R. Acucenas, following tram 18. Almost right after that, though, we left it behind, turning onto R. dos Marcos with individual houses. From there, we turned onto the wide Av. Universidade Tecnica, stopping at – what else? – the Universidade Tecnica. We then made a u-turn and went back the way we came.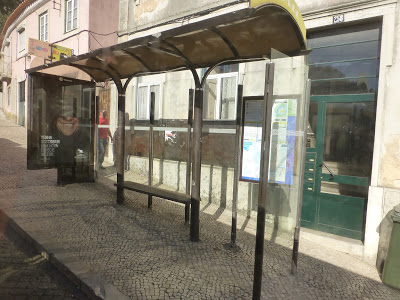 The shelter is a bit…uneven because of the hill.
Looking down a residential street.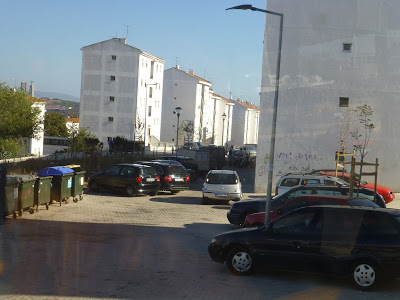 Some apartments.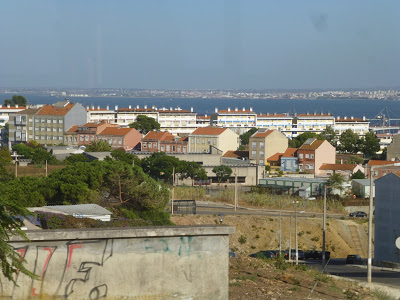 The view from the university was incredible!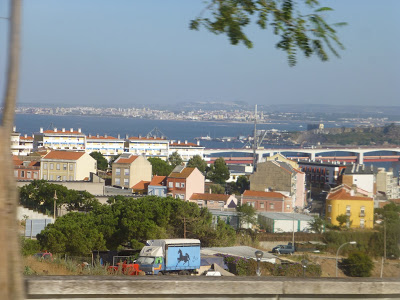 Another great view.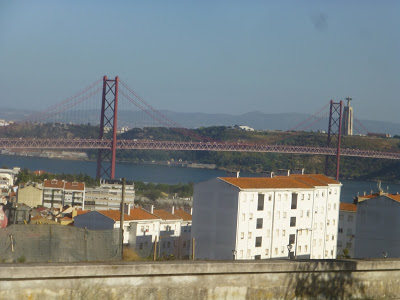 That bridge is magnificent!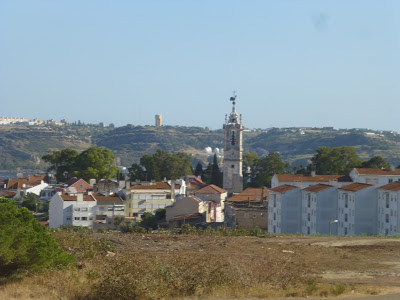 Looking at a more local area.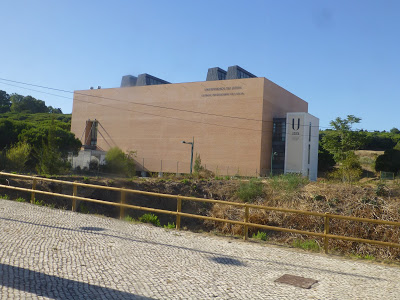 The university building – no windows, it would seem.
We turned onto Estrada de Penedo. We were now in the massive Monsanto Forest, and so (obviously) we were surrounded by trees. Surprisingly, people were still getting on and off throughout this section. The road was windy, snaking through the woods. We crossed over the A5 highway, then went around a rotary onto Estr. Monsanto.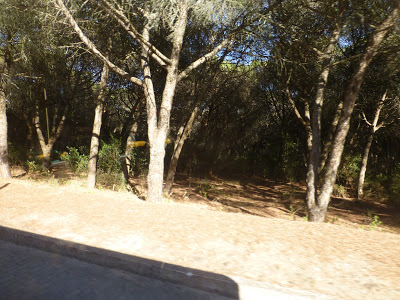 There was lots of this kind of view throughout this section.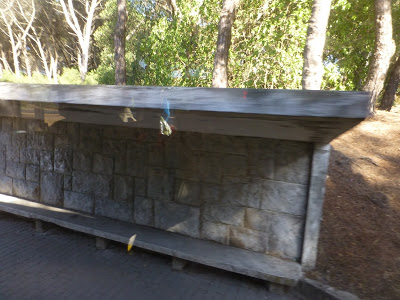 I like how this shelter sort of blends into its surroundings.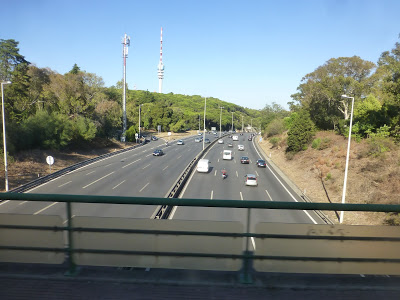 Going over the A5.
Ooh, it's starting to thin out.
We got some good speed along here, since it was a straightaway with no stops. There was a rotary where we merged onto Estrada do Calhariz de Benfica, which winded under another highway (A37). After going under it again, we made our way to R. Venezuela, once more going under that same highway. There was a stop at the Benfica suburban station, then we turned onto R. Garridas, which was lined with houses.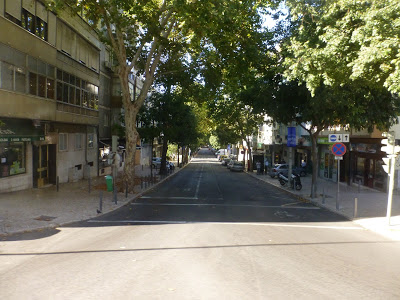 A local street.
We turned onto Av. Grao Vasco, where it was suddenly urban with businesses and apartments lining the street. From there, we turned onto Estr. de Benfica, where it became all apartments. The street curved south, then we turned onto Av. Colegio Militar, which went back north. We pulled into a busway for the Colegio Militar/Luz Metro station on the Blue Line, which was right next to a huge shopping mall.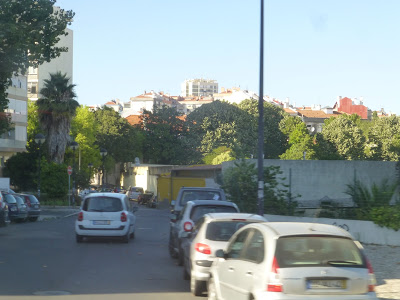 Another local street.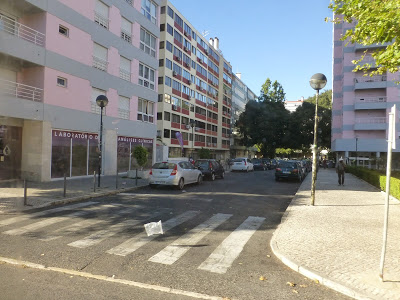 Woah, look at the plastic bag! That's pretty cool.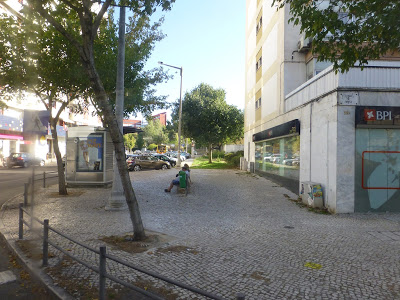 That's a huge sidewalk.
Some apartment buildings and another bus.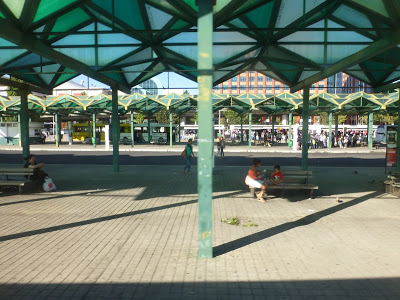 The busway at Colegio Militar/Luz.
We went down Av. Lusiada, passing the Hospital da Luz, then turned onto the wide Av. Mal. Teixeira Rebelo. After going by another Metro station, Carnide, we turned onto Estr. Correia. Soon after that, we pulled into the busway for Pontinha Station, the last Metro connection on the route. The 729 does go a few stops further, but for us, we were heading to the Blue Line.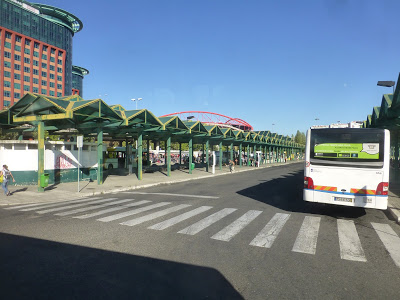 Leaving the Luz busway. There's a big stadium in the background.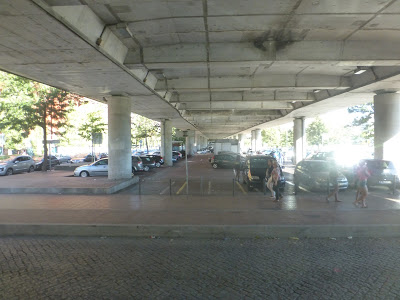 Going under an elevated road.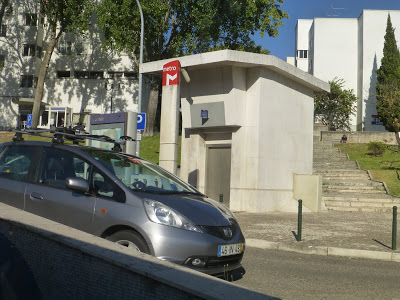 The Carnide Metro station.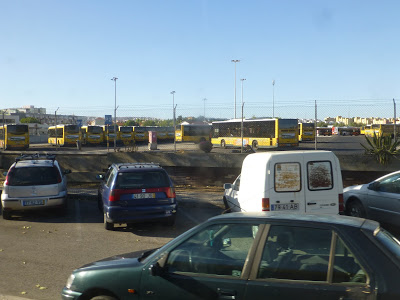 There was also a bus yard at Pontinha.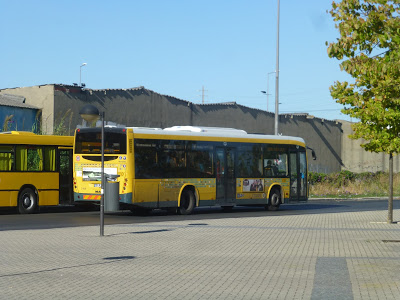 Our bus leaving to finish the route.